"Anytime you find a prevalence of a virus like this at 3.4% of the population, that's really concerning," said Dr. Ben Dalziel, assistant professor in the College of Science at OSU and co-director of the project.
Image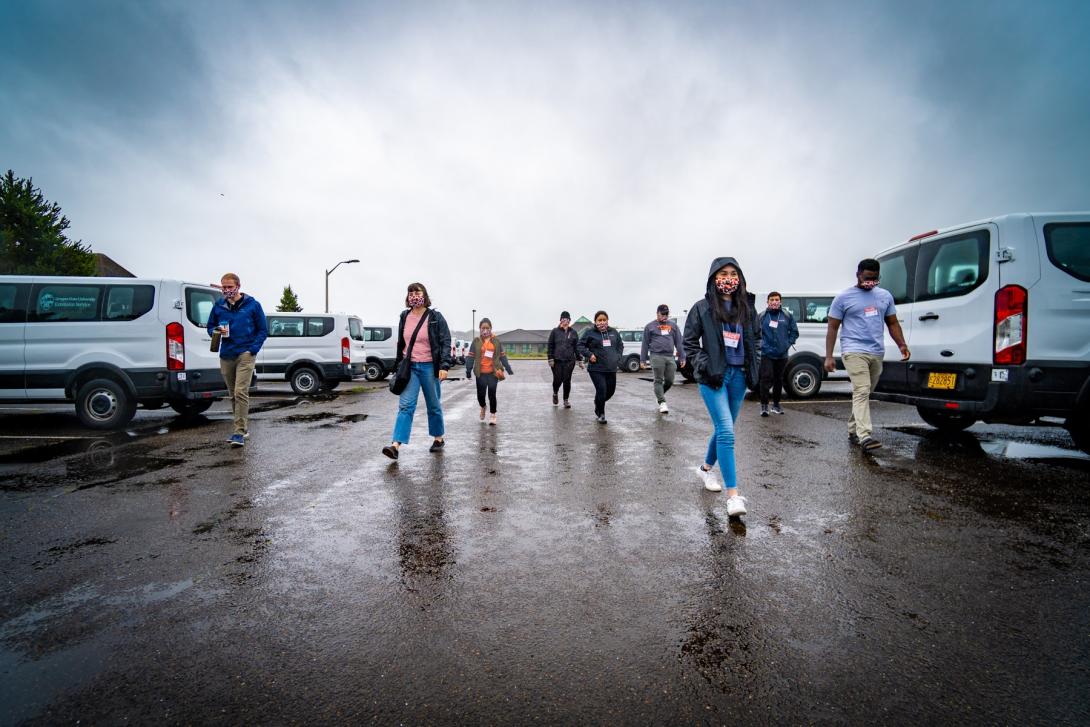 July 1, 2020
When Oregon State University researchers conducted coronavirus testing in Newport in late June, they expected to find cases. They just didn't know how many.
In their random door-to-door sampling, nearly 570 people agreed to be tested. Among those, 13 people came back positive. When the researchers ran those results through their statistical software, which adjusts the results for the percentage of cases researchers would expect to find and the likelihood that the test might not pick up every case, they came up with a surprisingly high rate: 3.4%
"We were prepared for that to some extent because there's an outbreak in Newport right now," said Dr. Ben Dalziel, assistant professor in the College of Science at OSU and co-director of the testing project. "But anytime you find a prevalence of a virus like this at 3.4% of the population, that's really concerning."
It's a red flag for other coastal communities at a time when many Oregonians plan to head to the beach this weekend. 
"This is a very transmissible disease," Dalziel said. "There is a larger risk of this becoming a multi-community outbreak."
The Newport tests, which were conducted June 20 and 21, marked the sixth weekend that OSU randomly surveyed local populations to gain a snapshot of the prevalence of COVID-19 in their communities. The first three weekends researchers focused on Corvallis, then they hit Bend and then back to Corvallis. The testing in Newport was the most recent.
In each instance, 30 teams of two people -- an OSU student and a local health care official -- picked 30 different neighborhoods to survey. They knocked on the doors of selected houses -- say every fifth house, for example -- to find locals who'd be willing to participate. The tests were self-administered and involved a relatively short nasal swab -- not the long one that health care workers plunge through a patient's nasal cavity. The team collected the samples, ran the tests and crunched the results. They informed the participants, which included minors when parents agreed, through a secure email.
The local health care departments followed up with positive cases to try to find out how the person became infected and who else might have been infected.
"This kind of random sampling gives us a type of data we don't have, and we will be working with (the Oregon Health Authority) and OSU to understand how to incorporate this into the data tools we currently use," said Lincoln County Commissioner Kaety Jacobson. "We will also be looking at the feasibility and cost of doing further sampling studies like this one."
Statewide, the Oregon Health Authority reported Wednesday 281 more people had tested positive, the highest daily count since the state started tracking cases. One more person died. The agency has tracked 8,931 cases and 208 deaths.
Multnomah County has by far the most cases statewide: 2,239. Among coastal areas, Lincoln County also stands out, with 324 cases. That compares with 49 in Clatsop County, 11 in Tillamook, 41 in Coos County and seven in Curry County. It's not clear how many Lane County cases -- 165 -- are on the coast.
Lincoln County's high case count reflects an outbreak at Pacific Seafood where one person tested positive June 1. The toll quickly ballooned to more than 124 in mid-June, with a third of the company's Lincoln City staff infected. 
Dalziel said OSU's study supplements the health authority's toll, which he called the tip of the iceberg. Some of those tested by OSU researchers were symptomatic but others were not, unlike the tests that the health authority tracks.
"Testing is usually focused on folks with symptoms, usually severe symptoms, and by definition it's testing people who can make it to a testing center and get a test ordered for them," Dalziel said. "Those can be significant barriers, and they affect the case numbers you're getting back." 
The project -- Team-based Rapid Assessment of Community-Level Coronavirus Epidemics or TRACE-COVID-19 -- was launched by a grant from David and Lucile Packard Foundation. Funding from PacificSource Health Plans enabled researchers to sample people in Bend and Newport and to conduct additional testing in Corvallis. 
In Bend, they found a positive rate of 0.1% or one in 1,000. 
"That's a relatively low prevalence," Dalziel said. 
On Wednesday, the Oregon Health Authority noted 183 cases in Deschutes County. That's higher than Lane County as well as Linn, with 151 cases, and Polk County, with 149 but lower than Union County's  342 cases and Umatilla County, with 533 cases.
In Corvallis, surveyors found about the same rate -- 0.1% -- the first three weekends. Though OSU has not released the most recent results, Dalzeil said they're comparable.
The researchers have enough money to do testing in a few more communities but they have no plans for the moment to take TRACE to Portland. 
"We definitely want to be useful but what we've learned is that as we've expanded, we need to do so at the appropriate pace," Dalziel said. "When we partner with a new community, it takes time to get set up. That would be (the case) even more so in a big city."
The number of new cases in Multnomah and other counties statewide has risen rapidly in the past week, with cases spiking over 200 new infections in recent days. Dalzeil said Oregonians need to brace for a second wave of infections.
"There's a lot of unpredictability," Dalziel said, but "I think at this point we will have another curve to flatten."
You can reach Lynne Terry at [email protected] or on Twitter @LynnePDX.