State report on climate change in Oregon serves as a starting point for policymakers and agencies.
Image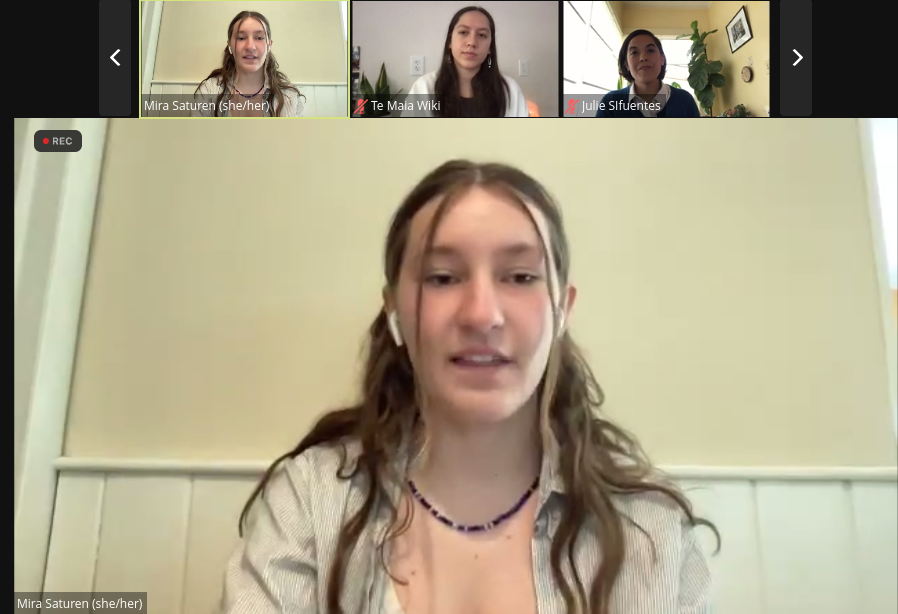 June 15, 2022
Oregon youth face despair, anxiety and hopelessness as they suffer the impacts of climate change, which can include climate-driven driven natural disasters like forest fires.
That's a key takeaway of a new report released Tuesday by the Oregon Health Authority. The report, drafted with feedback from high school students, found that youth are angry and concerned about the future and they fear that government inaction about climate change dims their future. 
Three aspects of climate change affect mental health, the report said:
Extreme weather events and natural disasters like wildfires and extreme heat waves, 
Climate-related environmental impacts, like insecurity about the availability of water and food, and 
"Climate anxiety," which is increased awareness of climate change.
The Oregon Health Authority drafted the report in response to Gov. Kate Brown's executive order in 2020 that directs state agencies to, among other things, help vulnerable communities adapt to climate change. 
"People who are at higher risk of experiencing the effects of these climate related disasters and stressors are naturally at higher risk of experiencing the negative mental health effects that are associated with them," said Julie Early Sifuentes, the health authority's Climate and Health Program lead and the report's lead author, in a call with reporters. "These groups include tribes, Black communities, other communities of color, and rural and low-income communities."
Dr. Meg Cary, child and adolescent psychiatrist and senior health advisor at OHA, helped with the study. She said the report and the conversations are a "first step to promoting youth emotional health during this time of uncertainty, fear and dismay."
"They have fear and worry about the effects of climate change on their lives and on the lives of their siblings," Cary said. "They feel the frustration of powerlessness."
Reforms to address climate change have been an elusive goal for Brown as she approaches the end of her tenure. GOP-led lawmaker walkouts in the Legislature in 2019 and 2020 kept carbon tax bills from advancing. Brown's executive order came after the bill died in 2020.
For youth who participated in the study, climate change goes beyond the politics of the Oregon Legislature.
Youth Weigh In 
Mira Saturen, 16, of Ashland, spoke about her experience of living through the Almeda Fire that hammered the Rogue Valley in September 2020. Her father, who works for the fire department, spent more than 36 hours out fighting the fire, she said, adding that was "super scary for me as we heard about the fire.
"The whole experience of the Almeda Fire was a terrible wake up call for me," she said, stressing the need for climate action and for adults "to step up way more."
Saturen added, "I'm not even old enough to vote yet, but I'm doing all that I can to try and make change. I hope that through the action myself and others my age take, it inspires other young people in Oregon to stand up for climate change and to feel less helpless."
Te Maia Wiki, 16, also from Ashland, has Indigenous ancestry on her mother's side that has lived for many years where the Klamath River meets the Pacific Ocean. 
Now, she said, she knows not to go outside in August because of the frequent forest fires.
"They're taking the homes of the people I love and they're consuming entire towns," she said.
Climate change also affects the availability of salmon to catch and smoke for traditional events that reflect the ancient ways of her Indigenous ancestors.
She said it's "necessary for leaders to take action" and make "bold, necessary decisions."
Next Steps 
The report encourages policymakers, mental health professionals, environmental players and other who work with youth to take the following steps:
Get youth involved in decision-making about climate and mental health policy and solutions to give them hope for the long-term future.
Educate themselves about the ties between climate change and youth mental health.
Increase investments in school and community mental health services. 
You can reach Ben Botkin at [email protected] or via Twitter @BenBotkin1.