Behavioral Health Director: 'Workforce Is One Of My Key Priorities'
Gov. Kate Brown has identified behavioral health as an area in which Oregon needs to improve, particularly in serving the 1 million people on Medicaid. She's formed a task force to look at the issue, and the Oregon Health Authority hired a director of behavioral health services after a months-long search.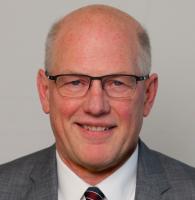 Steve Allen, 63, has been Oregon's behavioral health director since April, overseeing a biennial budget of $36.5 million and a staff of 79. His staff doesn't provide direct behavioral health care. That's done by other units of the Oregon Health Authority. Rather, Allen's unit develops policy, manages contracts, writes rules, audits programs and provides technical help to other branches of the OHA.
Right now, Allen's focus is on developing policies to improve the state's programs for people with mental health problems and addictions, particularly those on the Oregon Health Plan or who have no means to pay for services.
Allen, who's married with two children in college and is not related to the OHA director, previously was a senior policy advisor at the Council of State Governments. There he worked with 10 states, including Oregon, on behavioral health services for people in the criminal justice system. In his new role, he earns $225,000 a year. 
The Lund Report recently spoke with Allen about the challenges the state faces. His answers have been edited and condensed for clarity.
Q: What is the biggest challenge facing the state's behavioral health and addiction services system?
A: Our fundamental challenge will be to refocus our attention on the people that we serve so that whenever we make an adjustment to the system, whenever we make a policy choice, we keep in mind the people in need who are receiving this care, along with the workforce that's supporting them. How can we simplify access to services? How can we make the care (that patients) are receiving more responsive to what they actually need? Are they able to maintain a safe and supportive place to live? Do they have friends that care about them? Are they able to do meaningful engagement or work? If we get all that right, we can better achieve the triple aim: better care and better health at a lower cost.
Q: What are some of the specific problems facing Oregon Health Plan members and people who are indigent or have no means of paying for mental health care?
A: There is a really strong need (for care for mental illness and for addictions) here in Oregon. And I think that's borne out by some of the numbers: We have some of the highest rates of mental illness and substance use (in the country) and a rapidly rising suicide rate. There are a lot of challenges here in Oregon.
Q: How does CCO 2.0, the state's Medicaid/Oregon Health Plan revamp that starts Jan. 1 promote better behavioral health care?
A: One of the key pieces moving ahead for (coordinated care organizations) is CCO 2.0. It has an increase in accountability. CCOs are now fully responsible for the behavioral health care benefit (for members), which means that they can't contract it out in such a way that they don't have internal accountability for it. They are required to have a robust network (of providers), which will be a challenge for the CCOs. They have to demonstrate how they are going to have a robust group of providers to do the work that their members need.
Q: There is a lot of discussion in Oregon about the so-called social determinants of health, factors such as housing, the environment and other elements that affect the well-being of people receiving behavioral health and addiction services. What is the role of the state and CCOs in addressing social determinants of health?
A: Social determinants of health are those things that really can undermine (health) outcomes if they are not (available). The most prominent example of that is housing. CCOs are now required to consider in their plans and invest in housing options (and other social determinants of health) for their members as part of their overall financial planning and community investment planning.
Q: How are CCOs supposed to address something as complex and expensive as housing for people with mental illness when their main focus is intended to be funding health care for low-income people?
A: (There is) the need to have partners. No one can do this work alone. We need to partner together. We need the CCOs, the counties, local communities. (Their focus) can't just be housing. It needs to have (patient) supports and services that go with it. We need local communities to invest in housing. They have the developers, they have the "not in my back yard" challenges. They have the zoning challenges that they need to work through. OHA's role is partly educational, to confirm that (without housing) we can't make progress with people with serious mental illness who need housing. Without housing, it just doesn't work.
Q: There's also concern about staff turnover at behavioral health and addiction services agencies.
A: Workforce is one of my key priorities. Right now we don't have the workforce to do the work that's ahead of us. The Legislature is interested in partnering on a proposal that will end up being a long-term investment in strengthening Oregon's behavioral health workforce. But the Legislature and the OHA can't do this work alone, which is why it's really important to have the counties and the CCOs also (be) a part of this investment in strengthening the workforce, along with the commercial (health insurance companies). Clearly there is a financial component (to people leaving the field). It's very expensive to live here in Oregon and people need to earn a living wage. That's been part of the challenge to recruiting, retaining people in the workforce, (to give sufficient Medicaid reimbursement rates to providers) so they can support a high enough wage that people are willing to be in this work. 
There is a large churn rate (in behavioral health and addiction services work). That has less to do with money and more to do with the conditions in which they are working. There is the matter of caseloads, how many people they are serving, (of workers) getting the right kinds of training, getting the right supports that help them have the right tools for the job. These are all things we can do to better support the workforce that we have, so that they stay working in the field for a long time.
Q: How can state government address that?
A: OHA has the ability to write rules or provide funding in such a way as to incentivize providers to help their (staff). There is also work that can be done by higher education to make sure that the curriculum, the way people are trained, can help providers be more effective.
You can reach Christian Wihtol at [email protected].
×
This article is for premium subscribers. If you are one, please sign in below.
You can see
two
more premium stories for free. To subscribe,
click here
. We depend on premium subscriptions to survive, and they are tax deductible.