Beaverton Activist Brings Community Health Partners Together
The project has already received a $1.6 million grant from the Centers for Disease Control and has won the support of Governor John Kitzhaber
October 4, 2012 -- Betty Bode is on a mission to create a healthier community for the city of Beaverton. A public health advocate, she's spent more than a decade pursuing what many people told her was impossible -- bringing together all the healthcare stakeholders with a shared vision.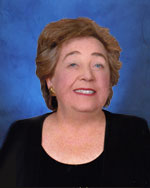 "My goal has been to integrate healthcare in a way that's not been done before," said Bode, who's been on the Beaverton City Council for the past 12 years and also chairs the state's Public Health Advisory Board. "The potential impact for the community is tremendous."
What's evolved has become known as the Beaverton Community Health Partnership, which was recently awarded a $1.6 million grant by the Centers for Disease Control and designated an Oregon Solutions project by Governor John Kitzhaber.
All told, 10 community partners are working together to provide medical, dental and mental health, public health and wellness services under one roof – a 150,000 square foot building that will be constructed in downtown Beaverton near public transit. Healthcare related training will also be offered for Pacific University and Portland State University students.
Currently these services are scattered throughout the Beaverton area and are frequently overcrowded, which makes it difficult for many – including low-income households and people with special needs -- to get the care they need.
"This is going to be much more than just a building," Bode said. "It's a place where the community can come together to improve and maintain their health. We're on the cusp of real implementation; the groundwork's been laid." She'd like to see the building open in the next four years.
Oregon Solutions is helping the partners come up with a vision statement, develop a governance structure and decide which programs should be offered at the new building, said Jim Jacks, project manager. "We're helping them build a model of care for all the programs to fit together and provide services," he said. "Several of the organizations have worked together before, and some are on each other's board. Now they're trying to be more innovative than ever before."
Dr. Tina Castanares, the convener for the project, brings a background in public health, system reform as well as having spent more than two decades as a family physician. What attracted her attention was the city of Beaverton's involvement at such a high strategic level and the enthusiasm of the community partners.
"What they're doing goes beyond bricks and mortar," said Castanares, who chairs the Northwest Health Foundation board of directors. "They're creating a healthcare community for the city; it's very inspirational. I wish every city educated themselves so thoroughly about the social determinants of health."
The Beaverton City Council is also taking an active role by updating its comprehensive plan to include a chapter on the social determinants of health – safe housing, availability of transportation, nutrition – that are considered responsible for chronic health conditions such as diabetes and asthma.
"We need to take an honest look at some of the health conditions that impact peoples' lives and make Beaverton a safer and healthier community," Bode said. "We know that children who have good nutrition and a good education and a balanced family do better."
Bode's also chairs a Washington County advisory board focused on ending homelessness within the next ten years by helping people find permanent housing with support services.