Bay Area, St. Charles Bend Hit Hardest in CMS Penalties; Adventist Shows Highest Gain
These penalties and rewards are a result of a measure known as value-based purchasing which CMS introduced to encourage hospitals to improve inpatient care.
Oregon hospitals fared well under Medicare's value-based purchasing program, based on federal data of more than 3,500 hospitals. Overall, the 62 hospitals netted an estimated $2.97 million in rewards with $705,000 in penalties.
Bay Area was among five hospitals penalized for its performance (-.624%), with the second highest dollar amount -- $184,500, while St. Charles Bend (-.401%) had the largest in terms of dollars at $$282,900. The other hospitals penalized included Tuality (-.44%) losing $110,700, Legacy Emanuel (-.18%) losing $121,500 and Providence Medford (-.014%) losing $5,200.
On the other side of the spectrum, Adventist led the way in receiving the highest incentive for its value-based purchasing -- $364,000, followed by Sacred Heart – Riverbend , $312,000; Oregon Health & Science University, $280,000; Legacy Mt. Hood, $224,900 and Legacy Meridian Park, $186,000.
In October 2012, the Centers for Medicare and Medicaid Services launched the value-based purchasing program to improve quality in the inpatient setting under the Patient Protection and Affordable Care Act.
According to an analysis of the CMS data posted by Modern Healthcare, nationwide 1,714 hospitals will have their Medicare payments boosted in 2015, 463 more than in 2014. Meanwhile, 1,375 hospitals will see their Medicare payments decline. Last year, 1,400 hospitals were penalized under this program.
The overall components of the Medicare penalty/reward program include readmission adjustments, value-based purchasing the hospital-acquired conditions score.
The Lund Report used data available through the Oregon Databank to derive 2013 net inpatient revenue, which was the most complete year available, to estimate the financial penalty each hospital had to pay.
Looking at the readmissions penalty which was effective in fiscal 2013, all base DRG payment amounts were reduced by a factor determined by a payment formula calculating excess readmissions. In 2013, that policy applied to heart attacks, heart failure, and pneumonia. Other conditions were added in 2015 including chronic obstructive pulmonary disease, coronary bypass artery graft surgery and other vascular diseases.
Medicare implemented value-based purchasing in 2013, whereby hospitals received both an achievement and an improvement score. That year there were 13 quality indicators; the following year, 17. Hospitals that meet those standards during a performance period receive incentive payments, and
the amount of the total pool allocated to such measures rises from 1 percent in 2013 to 2 percent by 2017.
Scores for hospital-acquired conditions are effective this year, and currently eight such measures have been adopted by the Hospital Inpatient Quality Reporting Program. Hospitals in the top quartile as compared to national rates will see their Medicare payments for all inpatient discharges reduced by 1 percent.
In Oregon, Providence St. Vincent is expected to lose the most money ($1.17 Million) because of Medicare penalties, followed by Legacy Emanuel ($926,000 Million), Legacy Good Samaritan ($793,800 Million), Providence Medford ($403,600), and Legacy Mount Hood ($585,000). Together they will lose $3.34 million in payments.
Legacy Emanuel earned the highest overall penalty rate, losing 1.37% of all Medicare payments, receiving penalties in all three categories, translating to an estimated $926,000
Three of the hospitals with the highest anticipated monetary loss -- Legacy Emanuel, Providence Medford, and especially Bay Area are not among the state's largest hospitals, falling solidly in the middle of the group in terms of net inpatient Medicare revenue. Bay Area's estimated 2013 net inpatient Medicare revenue was only $29.5M; Providence Medford's $37.5M, and Legacy Emanuel $67.6M. Legacy and Providence took their largest penalty hit by receiving the 1 percent hospital-acquired admissions score. Bay Area did not receive a HAC penalty but received the largest readmission and value-based purchasing penalty out of all the hospitals.
Providence St. Vincent Medical Center led the way among 12 hospitals whose total penalties and rewards were a net loss, followed by Legacy Good Samaritan Medical Center.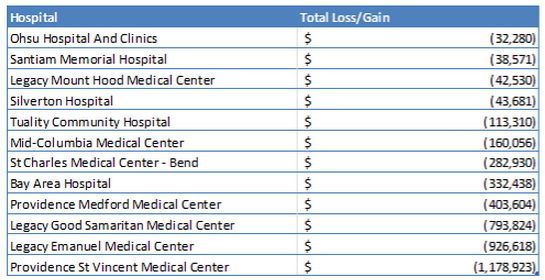 Among the 21 hospitals seeing a net gain, Adventist Medical Center led the way followed by Sacred Heart Medical Center-Riverbend.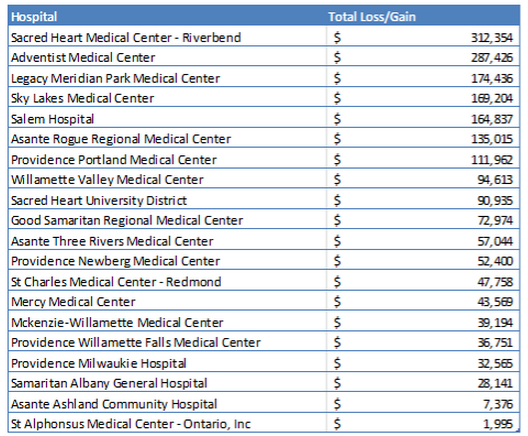 Even though 28 hospitals received positive payments for their value-based purchasing performance, OHSU, Legacy Mt. Hood, Silverton, Santiam, Providence St. Vincent, and Mid-Columbia Medical's other penalties outweighed the positive incentive they received under the value-based purchasing rule.
Hospitals earning the highest monetary reward by the value-based purchasing measure were: Adventist Medical, Sacred Heart Medical, OHSU, Legacy Mt. Hood, and Legacy Meridian, earning $364,000, $312,000, $280,000, $224,900, and $186,000 respectively.
Hospital-acquired condition scores are the most reliable indicator of a hospital receiving monetary penalties. Four of the five hospitals (Providence St. Vincent, Legacy Good Samaritan, Legacy Emanuel, and Providence Medford) that have the highest total expected monetary loss because of Medicare penalties were in the top quartile for hospital-acquired condition scores.
In contrast, none of the five most highly rewarded hospitals (Sacred Heart Medical, Adventist, Legacy Meridian, Sky Lakes, and Salem) received the 1 percent hospital-acquired condition score penalty.
Note: Kaiser Sunnyside has the highest payment reward percent, however no financial data is available to estimate the hospital's monetary reward.
When asked for a comment on this latest data Diane Waldo, vice president of quality and clinical operations with the Oregon Association of Hospitals and Health Systems, shared the following comment with The Lund Report:
"As Modern Healthcare's spreadsheet tallying the effects of CMS' quality and value payment programs shows, the federal government is paying close attention to certain data to try to measure and incentivize quality in hospitals. The CMS data is one set of measures—and there are others. All of the these sorts of measures, however, are just a snapshot of the overall quality of care that hospitals deliver each day to people in their communities. At the heart of the work for Oregon hospitals is a deep dedication to ensuring every patient is given timely, quality, value-based treatment.
"Oregon hospitals have worked diligently to improve their measures on quality and outcomes and value. To be clear, Oregon hospitals focus on quality and value not just because of these CMS measures or other programs, but because it is the right thing to do for patients.
"Our hospital members are proud of the progress they have made in this realm, and consider their efforts to be central to their mission. By way of example, consider the work that Oregon hospitals did on this subject through the CMS Partnership for Patients (PfP) quality initiative. The outstanding success in that program nationally was noted by the US Department of Health and Human Services in December. Locally, standardization of best practices by participant hospitals in the PfP initiative resulted in excess of an 80% reduction in harms by the end of the program.
"Without exception, Oregon hospitals are hard at work to improve quality and reduce patient harm."
FOR MORE INFORMATION
To learn more about these CMS penalties and rewards, click here:
http://www.modernhealthcare.com/article/20141108/INFO/141109959?appSession=51146015304491
http://www.cms.gov/Medicare/Medicare-Fee-for-Service-Payment/AcuteInpatientPPS/Readmissions-Reduction-Program.html
Jen can be reached at [email protected] and Diane can be reached at [email protected]
×
This article is for premium subscribers. If you are one, please sign in below.
You can see
two
more premium stories for free. To subscribe,
click here
. We depend on premium subscriptions to survive, and they are tax deductible.