Bay Area, OHSU Hospitals Trail in Safety Scores
Infections down despite ongoing challenges
October 29, 2012 -- Add customer savvy to the lengthy list of resources Oregonians might need when they face hospital care. A survey of U.S. hospitals details infection and other risks posed by even the most "routine" hospital stays.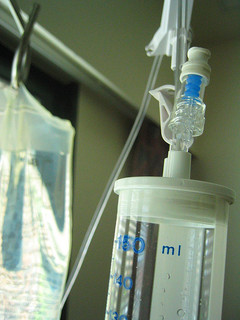 Twenty-seven Oregon hospitals were ranked in a survey that appeared in Consumer Reports's August, 2012 edition, and many received low scores. Salem Hospital ranked the highest, while Bay Area Hospital in Coos Bay and Oregon Health & Science University Hospital in Portland each had the lowest scores (incomplete scores for another 31 hospitals were also reported). The magazine's rankings only included 18 percent of hospitals nationwide because mandatory, uniform reporting of patient safety data doesn't exist, but the rankings are constantly updated online as new data becomes available.
"While we may consider a variety of other things, what we're always thinking about are consumers," said Dr. John Santa, who directs the Consumer Reports Health Ratings Center and led the survey.
Santa's team identified six metrics to gauge patient safety — a hospital's ability to avoid infections from a number of procedures, the likelihood of readmission within 30 days of a discharge for heart attack, heart failure or pneumonia patients, communication with patients, how often CT scans are ordered twice for the same patient, the frequency of eight adverse complications and mortality. The composite of those scores became the magazine's hospital rankings.
Santa says Consumer Reports hoped to better inform patients and families about safety risks when making healthcare decisions
"They can do something to make it safer themselves, whether the doctor or hospital does anything," Santa said. "For example, when it comes to hospital infections we urge patients to pay attention to the simple things. Are the doctors and nurses washing their hands? When they have a procedure in which a central line or a urinary catheter is inserted, do the doctors and nurses use appropriate technique? Do they have a gown? Do they cover their hair?"
Patients should also be clear that they have a grasp on their medications after hospital treatment, Santa said, and that all their care providers — primary physicians, specialists, etc. — know they've been treated and discharged. There should also be clear communication about who patients can call after a hospital stay to answer any questions about follow-up.
"You have to be an active member of the healthcare team," Santa said.
Though OHSU and Bay Area hospitals' 40 point scores were the lowest scores, many other hospitals were within a few points of those institutions. Even Salem Hospital, the highest-scoring, only scored 63 out of 100 total points possible.
Complicated Data
Bay Area Hospital didn't reply to requests for comment for this story, but OHSU's chief of medicine said that rankings like the Consumer Reports survey don't take into account the nuances of institutions that offer varying services to vastly different populations
"It's not like going out to a restaurant or buying a car when you're choosing your doctor or looking for your medical care, because people inherently understand that there's lots more complexity," said OHSU Chief Medical Officer Dr. Chuck Kilo.
OHSU supports transparency of hospital safety data, Kilo said, but he said there should be standards for how this data is collected and reported. Moreover, there should be an industry consensus that data will be stringently validated before it's reported, Kilo said.
"I don't want to make any excuses about the data," Kilo said. "We know we have a long way for improvement. I just think there needs to be some sort of standards for the data reporting that the companies currently publicly reporting aren't really adhering to."
Kilo, who said he respects Santa, wasn't singling out Consumer Reports, but a broader industry of healthcare rankings that also includes Leapfrog — which OHSU has pulled out of — and U.S. News and World Report.
The data concerning readmission and infections in the Consumer Reports survey was only as recent as 2010. As of late October, even the online version — which Santa said is updated as quickly as possible — didn't include new hospital-acquired infection data released in June by Oregon's Office for Health Policy and Research (which Santa administered a decade ago). That data shows that healthcare acquired infections declined across the state between 2009 and 2011. OHSU was no exception. Bloodstream infections associated with central lines dropped each year.
"We worked really hard on our hospital associated infections including our central line-associated bloodstream infections, catheter-associated urinary tract infections and some of the other things that are publicly reported, so that's been very intentional," Kilo said.
Bay Area Hospital, meanwhile, didn't report any such infections any of those years while infections from knee replacement surgery declined from four per one thousand in 2009 to zero in 2011. However, the Consumer Reports survey and the state's report measured infections differently.
Kilo said hospital safety data needs to be risk adjusted. Different hospitals treat different populations, and some of these populations may have more likelihood of complications to begin with. OHSU and Legacy Emanuel are Oregon's only Level 1 trauma centers, for example. These hospitals are the ones most likely to treat car accident victims and other patients with multiple injuries. Such conditions begin with a greater risk for infection than pneumonia, or heart disease. Kilo says this reality should be factored into any safety rankings.
But infections were only one area the Consumer Reports survey tracked. Hospitals also need to do better communicating with patients, especially when they are given new medications.
"You should know what's going on when it comes to medications in the hospital because that's one of the most common areas in which errors are made," Santa said.
In one category — the number of CT scans performed on the same patient — Oregon's hospitals are improving "pretty much across the board," Santa said.
It's possible that the rankings will be far more comprehensive by 2013, when the federal government will publish a year's worth of data on hospital infections.
"Our country doesn't have a comprehensive, mandated hospital reporting system yet," Santa said. "The federal government reports some things, states report other things, and private organizations report yet another set of things and we're going to work with that to do the best we can. We felt we had enough hospitals to publish these results about safety."
The rankings are available online — and regularly updated — for paying Consumer Reports subscribers here.
Image for this story by Rachel Cobcroft (CC BY-NC-SA 2.0) via Flickr.