Youth Conference Focuses on Health -- and Funding
Sen. Elizabeth Steiner Hayward and others stress a policy focus on the root causes of health.
"Health is more than health care."
Doug Riggs said this a few times during his opening remarks at the recent Alliance 4 Kids conference, and it was a drum beat that continued throughout the day. Attendees at the sold-out gathering, held in Salem on January 30, included child and youth welfare advocates, public administrators, coordinated care organization representatives, social service agents, and state and local policymakers.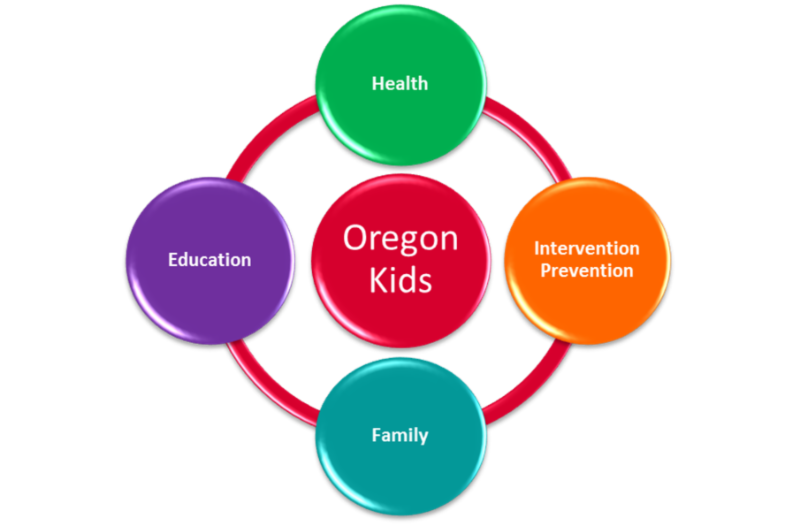 The social influences on population health were emphasized by Rep. Nancy Nathanson (D-Eugene) who spoke about "211" service call programs, calling them "as important to the health of our population as state health agencies."
Rep. Nathanson made similar statements about school-based health centers, which consistently demonstrate positive health outcomes for children and youth. And yet, as she indicated, these programs are too often inadequately, and even inefficiently funded.
"I cringe when school-based health centers tell me how we are getting in the way of them doing their jobs."
Sen. Elizabeth Steiner Hayward (D-Portland/Beaverton) also emphasized the need for more policy focusing on the root causes of health. She urged those in the room to educate policymakers about the connection between child and youth welfare and overall population health.
"The more informed legislators are about how agencies use every dime they get to leverage our public investment, the more we'll see well educated kids who are healthy, in stable housing, eating well and not suffering from disabling illnesses."
State agency representatives, including Brenda Brooks, from the Youth Development Council, shared funding opportunities, while those in the audience listened attentively and took careful notes. Brooks made sure the audience knew how her agency's funding priorities are tied to Oregon's "40-40-20" education strategy.
Brooks also acknowledged "agency-speak" language, pointing out that is often coined in Washington, D.C., and subsequently used by state agencies. She cited such terms as "opportunity youth" (aged 16-24 and disengaged from the education system) or "priority youth" (aged 6-16 disengaged or at risk of becoming disengaged), with audience members commenting, through the Q&A session and in the hallways, that such language can be intrinsically counterproductive.
As presenter Bob Nystrom from the State's Center for Prevention and Health Promotion said, "we no longer talk about youth as a disease state or social problem but as true potential." Although the association between the language and outcomes have not been explicitly measured, Nystrom clearly stated that when language changed from focusing on "diseases, risks, and problems" to "health, access and promotion," there was a 44 percent reduction in teen pregnancy over ten years, with 2013 seeing the lowest teen pregnancy rate ever measured in Oregon at roughly 13.5 per thousand.
Joe O'Leary, Deputy Director of the Oregon Youth Authority, shared his agency's cutting edge "predictive analytics," calling them transformational the way data transformed baseball a la Moneyball.
Nevertheless, despite technological advances, O'Leary concluded with a warning.
"Studies are seeing disproportionate minority contacts at decision points across the spectrum from police contact to court referral to detention to incarceration, particularly in Multnomah County."
In other words, "equity is getting worse. We're still not doing all the right things."
Luncheon keynote Carol Redding presented findings from the "Adverse Child Experiences" Study, a research collaboration between the Centers for Disease Control and Prevention and Kaiser Permanente's Health Appraisal Clinic in San Diego. Beginning in the 1990s, the study included more than 17,000 Kaiser members who identified strong and significant associations between childhood maltreatment and later-life health and well-being. While no one in the room was surprised by the connections between adverse child experiences and health, together, they account for as much as two-thirds of serious drug problems, according to the findings. In the end, Redding's presentation underscored the repeated beat of the day -- that health is about so much more than healthcare.
Riggs, a lobbyist for the Alliance for Children's Programs, said he was satisfied with the conference, which also included breakout sessions by age group and a "fishbowl" session, where the audience observed a roundtable conversation between state, nonprofit, and foundation leaders.
"But I don't think of this as a one-day conference," he told The Lund Report. "It's a year-long dialogue, and I hope it continues well beyond the coming year."
"The biggest challenge for all of us here today," he said, "is articulating the value of prevention."
While Riggs noted how hard it is to calculate the long-term public health costs of youth trauma, poverty and drug use, the sense from the event was that, between technological advances, epidemiological research such as that around adverse child experiences, and convening of advocates, that there are reasons to remain sanguine.
Through new successes in "community self-determination" such as a program in Coos County where community counselors are embedded in schools, attendees found solutions in other parts of the state that can be replicated, or at least modified, elsewhere.
As one attendee said, "Prevention is always a tough sell, but as dedicated advocates, we will persevere. "
Chris Palmedo, a Lund Report board member, is also board president of Youth Progress Association. He can be reached at [email protected].