After hearing a report on client satisfaction, Health Share of Oregon ran out of time for a scheduled brainstorming session on member engagement
June 13, 2013
June 13, 2013 – Billing issues, provider rudeness and access to primary care – particularly for people living with chronic pain – top the list of complaints that Oregon Health Plan patients have with providers and the plan itself, said Ellen Pinney, patient ombudsperson for the Oregon Health Authority, at last week's meeting of Health Share of Oregon's community advisory council.
During her discussion with the coordinated care organization's advisory body, Pinney stressed the importance of looking at all the feedback the plan gets from patients – not just the formal complaints.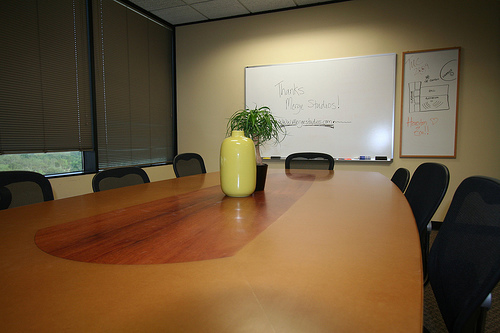 "There is a legal definition around complaint as defined by the Centers for Medicare and Medicaid Services, and it requires a certain level of complaint," Pinney said. Sometimes the way a call is categorized depends on how staff respond, or how the caller approaches the issue, and it's possible for similar problems to be categorized differently for that reason. "You have a client who says, 'I'm so confused. I'm on your website, but where is your provider list?' Or a client calls and says, 'Gosh darn it, I've been on your website for five hours. I want to make a complaint.'"
Since Health Share got underway, only 4 percent of the calls her office receives have come from its members, and none of them had any formal complaints or raised issues with the plan itself.
In addition to provider rudeness – which officials are trying to get a better picture of – inappropriate billing of patients is a huge problem, Pinney said. Legally, Oregon Health Plan patients should never be billed for covered services, but it does occur on a relatively frequent basis – or patients receive statements that resemble medical bills, and have even garnished wages for patients who were wrongly thought to owe the providers money. She also believes provider outreach is the key to this – providers sometimes don't realize they are seeing Oregon Health Plan patients and shouldn't send out bills.
"I think the solution for this is provider education. We're telling providers, 'if you need help figuring out if your patient is an OHP patient, please call us,'" Pinney said.
On the flip side, finding a primary care provider in the first place can be an uphill battle, especially for patients with chronic pain.
"What comes to mind immediately is, if we're having this problem now, how are we going to deal with this next year?" said council chair Steve Weiss. "If we have an existing problem and we have 40,000 folks coming in, it seems likely the existing problem is going to be exacerbated." Next January, with the Medicaid expansion, people earning up to 138 percent of the Federal Poverty Level will be eligible including 80,000 people in the tri-county area with about half expected to join Health Share.
Covering treatments for chronic pain is one solution, since many patients say they don't want to take pain medications, but right now that's all that's offered. "The number one thing they say is I don't want to be here, I want to get off this medication," Pinney said.
The way physicians handle chronic pain patients was the "biggest pet peeve" of council member Glendora Claybrooks when she worked in doctors' offices. "Once they prescribe these pain pills, when a patient becomes addicted to it they will no longer treat that patient," Claybrooks said.
Council members also looked at how Health Share could increase member engagement. "To set some boundaries, we are not going to discuss whether an idea is feasible, or will be accepted," said community engagement coordinator Jacob Figas. Instead, the idea was to generate a list of how members could be better engaged in the process.
Several issues were suggested – a weekend-long conference for clients to educate them about coordinated care, broadcasting the public sections of board meetings over closed-circuit television, live streaming meetings over the Internet (and archiving them for later viewing) and improved social media outreach -- along with accessibility issues in the council's meeting spaces.
Moving ahead, Susan Kirchoff, who was recently hired as chief operations officer, said executive staff are looking at the next development phase for the coordinated care organization calling it "CCO 2.0."
"We had a year of just getting started," Kirchoff said, but now upper management recognize the need to get out of the startup mode and start implementing new programs such as dental care, as well as non-emergency medical transport, which will become available in the fall. In July, Health Share will begin contracting with providers of residential addictions treatment and dental care organizations.
The meeting's sole public comment came from Ross Peterson, director of consulting services for Ride Connection, who confirmed the agency has received grant funding to assist Health Share with non-emergency medical transportation.
As part of the public comment period, Amy Anderson, co-chair of the Addictions and Mental Health Committee, asked if she could read the results of a three-page survey that was sent to Health Share members with developmental disabilities and mental health concerns..
"I want us to do this. I just think, as a chair, that I would like to have a little bit of a heads up so that we could take a more strategic approach," said co-chair Gary Cobb.
Anderson agreed, saying, "Some of the information does need to be reviewed before we present it, and I just want to do it in a way that's productive."
Right now the committee is looking at what mental health providers are already doing to make sure services are not duplicated, and determine the gaps that need to be filled. "We have invited the local mental health authorities I think that's a good place to start and find out what's happening in the different counties," Cobb said.
Health Share should also consider the needs of people re-entering the community after incarceration, Anderson said."There are some folks who do not fall into mental health or addictions but have criminal issues and the criminality is not really represented in our group. "They will be able to get on OHP as they reenter the community and it's through a different process. I think it's important that we address that topic."
TO LEARN MORE:
To view the reports cited by Ellen Pinney, click here.
To learn more about Health Share's CAC, click here.
Image for this story by Schipul (CC BY 2.0) via Flickr.
Christen McCurdy can be reached at [email protected].
Comments
Submitted by

Dan Fielding

on Thu, 06/13/2013 - 13:36
Permalink
Let me get this straight during a session regarding member engagement Gary Cobb REFUSED to hear the results of a member survey? How is that productive?.......That's a retorical question- it isn't productive at all, and proves that this meeting was a gigantic waste of time and resources.