Legislation Attempts to Corral Regence BlueCross BlueShield
The local insurer has been trying to coerce ambulatory surgery centers to join their networks by sending checks to patients
March 8, 2013 — Regence BlueCross BlueShield is attempting to coerce ambulatory surgery centers to sign their insurance contracts by sending the checks to the patients, leaving it up to the center to collect the payments, according to Evalyn Cole, administrator of the Spine Surgery Center in Eugene who testified earlier this week in front of the Senate Health Committee. At times, those checks amount to $50,000.
Furthermore, up to 3 percent of patients never pay the bill, requiring the surgery centers to send those people to collection agencies, according to Kecia Norling, a past president of the Oregon Ambulatory Surgery Centers Association.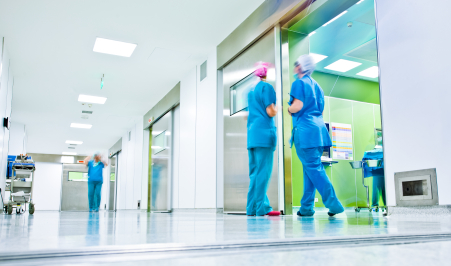 In other instances, Regence has sent the check to person holding the insurance card, which may not even be the patient. That happened to a University of Oregon student who was sent to a collections agency after her father, living in New York, received the payment for the surgery without any written notice of what the check was for, except saying the student could log onto a website to learn more.
Checks have also gone to ex-husbands who pocket the money intended for their ex-wife's surgeries.
"When the check goes to the spouse who was not the patient, they're not really inclined to send that check to pay for their ex-spouse's medical bills," said Cole. "We've had to hire an attorney and file a complaint in court and get a judgment against an ex-spouse to garnish his wages for the check that he had kept."
Although Regence is the prime offender, occasionally other health insurers follow the same pattern -- United Healthcare, Cigna and LifeWise. "Providence never sends the check to the patient, even though we're out-of-network with them," Cole said.
Sen. Alan Bates, D-Medford, sponsored Senate Bill 366, which would prohibit insurers from sending such checks to patients and instead route them directly to the physicians who provided the care.
Before voting on the measure, Committee Chair Sen. Laurie Monnes Anderson, D-Gresham, asked both the ambulatory surgery center and Regence to clarify some issues about credentialing and charges.
The practice of sending checks directly to patients is illegal in California and several other states, according to Cole.
"If we provide services, pay us for those services, and don't make us track down the payment," said Greg Miller, a lobbyist from PacWest Communications who lobbies for the Oregon Ambulatory Surgery Centers Association.
Alison Goldwater, the vice president of provider services for Regence, said sending bills to patients is a way to keep providers in their network who otherwise might terminate their contracts when Regence won't pay what they demand,
"Having that incentive for them, if you do that, the payment is going to members is an incentive for them to stay in-network," Goldwater said.
At times, providers try to charge 10 times the Medicare rate, said Goldwater, adding that 98 to 99 percent of its claims are actually from in-network providers who sign contracts with the insurer for agreed-upon prices. She said Regence has a policy of excluding providers who are uncredentialed and those who charge exorbitant rates.
But, Sen. Chip Shields, D-Portland, was skeptical of Goldwater's testimony. "I don't know that you have some evidence that ambulatory surgery centers are asking these outlandish prices. I'd like to see it."
Dr. Jonathan Sherman, a neurosurgeon at Spine Surgery Center, said Regence and other insurers have tried to get him to sign contracts at only 25 percent of his cost. And, the checks that insurers send to patients only represent 40 to 60 percent of physician charges.
The surgery center then lowers their fee from a retail price to the amount of the check, plus a co-pay percentage equal to what the insurer would pay the hospital.
Tom Holt, a lobbyist for Regence, accused the surgery centers of gaming the system by knocking down the charges and that in-network contracts were needed to protect some providers from gouging insurance companies and patients with unsustainable charges and rate increases.
"Basically, providers by Oregon law can write down to what the contracted rate would be, and there's nothing illegal for providers to do that," Shields told Holt and Goldwater. "If they're going to what the contract would be anyway, then that argument that they're six, seven or eight times more expensive doesn't hold as much water."
After the hearing, Cole told The Lund Report she thought Goldwater's testimony was false and misleading. She said several ambulatory care centers in her association are excluded from Regence's network and none charge any more than five times the reimbursement of Medicare for surgery and even then because Medicare does not cover implants needed for knee surgery to fix a torn anterior cruciate ligament or ACL.
Few seniors tear their ACL, so the Spine Surgery Center just absorbs the extra costs if surgery is needed. But for younger people covered by commercial insurance, the injury is a common sports injury.
Regence also followed Medicare's lead in refusing to reimburse for implants like the plates and screws that are left in a knee after ACL surgery, Cole explained.
Cole said Regence patients choose surgery centers because they get more personalized care, have a shorter wait than at the hospital and a lower rate of infection. They also pay less at Spine Surgery Center than they would if they went to Sacred Heart Medical Center in Eugene, even though the hospital is in-network and the surgery center is out-of-network.
"Our charges are always lower than hospitals, and hospitals get paid at about 80 percent of what their charges are by insurance companies," said Sherman, the neurosurgeon at Spine Surgery Center.
SB 366 has the backing of the Oregon Medical Association, which argued that physicians provide services to patients with the expectation of being reimbursed, regardless of a network contract.