Planned Parenthood Petition Wants Tighter Regulation of Crisis Pregnancy Centers
A 2010 investigation found many offices that offer free pregnancy testing and ultrasounds give inaccurate information about abortion, birth control and STDs – and many don't offer the services they advertise
September 12, 2012 -- Around the state and around the country, billboards, bus stop ads and clinic signs offer help to women who think they may be pregnant, or know they are. All of them say that they offer free pregnancy tests, and some say they provide additional prenatal care or support for young women. Others encourage women to come in for free STD tests.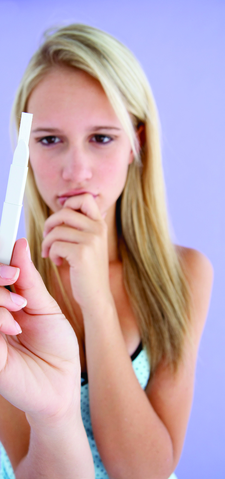 But they have an agenda – to urge young women not to have an abortion. Some even disseminate inaccurate information about how common contraceptives work, and don't offer the services they advertise. Two years ago Planned Parenthood Advocates of Oregon (Planned Parenthood's political arm) conducted an investigation, sending volunteers undercover to crisis pregnancy centers.
One volunteer, after describing symptoms of a sexually transmitted disease, was told she'd have to wait several weeks to see a nurse for a test, and not offered a referral to another clinic – such as a county health center – that could have provided free, rapid testing and treatment.
More concerning, women's health advocates say, is that they don't always advertise their services accurately, and they disseminate medically inaccurate information. Medical groups and pro-choice organizations have advocated for tighter regulations and improved transparency, so women know what they're getting into when they seek testing or advice from a crisis pregnancy center.
"The problem is that crisis pregnancy centers really promote themselves being an all options counseling, but actually they're anti-abortion," said Parker Dockray, president of the board of Backline, a pregnancy options counseling line which is based in Portland but takes calls from women all over the country. "Our feeling is really, if a crisis pregnancy center wants to say, 'we're anti-abortion and we want to tell you about why we think abortion is wrong or why you shouldn't have an abortion, more power to them.'"
Planned Parenthood Advocates of Oregon is circulating an online petition to the Oregon Legislature in support of "improved accuracy, transparency and privacy requirements" for crisis pregnancy centers. Its earlier investigation also found that some clinic volunteers were not told about HIPAA, and some of their names were posted on church prayer trees. Also, they received phone calls from church members after their visit.
Thus far, more than 10,000 signatures have been gathered on petition, which mirrors legislation introduced in 2011 that died in committee. No decision has been reached on whether to introduce similar legislation next February.
The Oregon Medical Association supported the earlier bill. "The primary issue was just in terms of transparency and making sure the patients get the information they need," said Betsy Boyd-Flynn, deputy executive vice president and chief operating officer.
Since crisis pregnancy centers offer their services for free, they are usually staffed by volunteers and therefore not subject to inspections or licensing requirements.
However, laws do regulate the operation of ultrasound machines and the interpretation of results and also prohibit people from misrepresenting themselves as medical professionals. Such violations can be reported to the respective licensing boards.
Ed Conlow, executive director of the Oregon Board of Medical Imaging, isn't aware of any complaints about crisis pregnancy centers.
"If someone is a technologist who does sonography and ultrasound, they're required to have a license from the Board of Medical Imaging," Conlow said. There are exceptions: dentist's offices, nursing or medical students.
Although the law does not require that a medical imaging license be posted, people can ask to see the license or enter that person's name on the licensing board's website and search for that information.
"If they're calling themselves nurses and they're not, we'd like to know about that," said Barbara Holtry, communications manager with the Oregon Board of Nursing.
Rebecca Turner is executive director of Faith Aloud, a pro-choice pregnancy options counseling service that offers faith-based counseling. The organization usually links women with clergy of their own fait.
In many parts of the country, state legislatures have enacted laws preventing crisis prevention centers from being regulated which, she said, creates a double standard since most medical clinics are held to more stringent requirements.
Baltimore and New York City have passed ordinances regulating crisis prevention centers and those laws are being battled in court.
Turner and Dockray said their organizations have heard from women who called them after visiting a crisis prevention center. None of those women changed their mind about having an abortion, even though they were told that they were further along in their pregnancy than they actually were, Dockray said.
Turner, who called the counseling tactics at these centers manipulative, said it's possible to provide faith-based pregnancy counseling that doesn't coerce women into making any particular choice.
"Counseling should never be about the needs and desires of people doing the counseling," Turner said.
Public domain image for this story courtesy of the Centers for Disease Control and Prevention.