On World Elder Abuse Day, advocates point out warning signs
Investigators now have more tools to detect financial abuse – and address the systemic causes of neglect
June 14, 2012 – In 2010, 1,676 Oregon seniors and were found to be victims of abuse or neglect – with the majority of abuses happening at the hands of direct caregivers.
While that number accounts for a small percentage of total abuse reports, advocates have declared June 14 World Elder Abuse Awareness Day in hopes of raising awareness about the issue.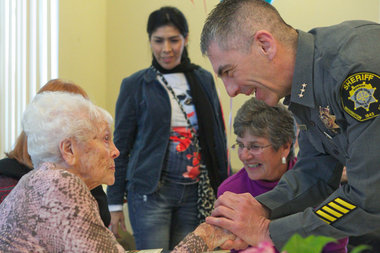 Jerry Cohen, executive director of AARP Oregon, said for seniors living in community settings (either on their own or in adult foster care), financial exploitation is by far the most common form of elder abuse, where seniors living in care facilities are more likely to experience neglect.
Investigators addressing elder abuse now have more tools to conduct their investigations due House Bill 4084, passed by the Legislature earlier this year. The bill allows abuse investigators easier access to seniors' financial records – which raised some concerns about seniors' privacy, though access is limited only toInvestigating agencies.
Often, once financial exploitation occurs, it can be difficult to provide restitution.
"I would say that in most cases, the chances for some type of restitution or recovery of financial assets is unfortunately pretty limited," said Rebecca Fetters, operations and policy analyst for the Community Adult Protective Services, who estimated that law enforcement officials get involved in about 25 percent of the cases the Department of Human Services tracks.
Joyce Demonnin, outreach director at AARP Oregon, said tracking elder abuse in itself can be difficult, because it takes so many forms and is often reported to different agencies. Those suspecting physical abuse or neglect are more to contact Adult Protective Services, where those suspecting financial exploitation are more likely to go directly to law enforcement to report theft or fraud, and to report to the Department of Consumer and Business Services to report financial scams aimed at seniors.
"Part of the issue is people don't know who to go to," Demonin said.
Cohen said one aspect of HB 4084 that hasn't been discussed much, but that he is particularly excited about, is that it created the Resident Safety Review Council, which was intended to fill a role similar to the one the Patient Safety Commission plays with respect to hospitals: addressing the systemic causes of neglect in care facilities.
For instance, medication errors are a common form of neglect. Cohen gave the example of a certified nurse's assistant who self-reported that while she was passing medication in a care facility, she got distracted by a conversation and a patient grabbed and took someone else's medication. The employee immediately reported what had happened, and immediately found herself the subject of a neglect investigation – which didn't address the root problem of a distracting work environment, Cohen said.
"The old school is, uh oh, if we catch something, it's going to be reported. It's going to be an incident, and there's going to be punishment. We don't have to punish. We just have to correct the situation," Cohen said.
Health care professionals and social workers are mandatory abuse reporters who are required to report anything they find suspicious, including marks, bruises or signs of neglect – as well as signs of financial exploitation, such as a caregiver making large, lavish purchase or an older person suddenly losing basic amenities. Fetters said due to increased awareness of the financial exploitation of seniors, bankers have become good reporters, alerting authorities of unusual transactions or problems with an account.
Fetters said it's suspected that only a small number of cases of elder abuse are reported, and urged people who deal with seniors on a regular basis to make a report if they see anything suspicious/
"When you're filing a report you don't need to know that it's happening," Fetters said. "If you even suspect that it is we would want you to report."
TO LEARN MORE:
Visit DHS' Elder Abuse and Neglect page.
Image for this story appears courtesy of The Oregonian.