Workgroup Recommends Oregon Health Plan Use Doulas
Members think doulas could be easily integrated into services
February 29, 2012—A workgroup charged with studying how doulas could be incorporated into the Oregon Health Plan told legislators earlier this week that doing so could help improve birth outcomes, particularly in minority communities.
Last year, the Legislature passed House Bill 3311, which required the Oregon Health Authority to investigate how doulas and other community health workers could improve the birth outcomes of underprivileged and underserved women.
Oregon's infant mortality rate among African Americans is 9.4 per thousand, compared with 5.5 per thousand in the Caucasian population, according to statistics from the Oregon Public Health Division.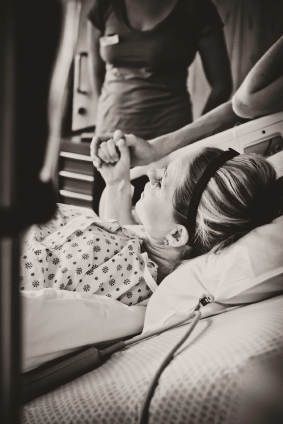 African American infants, according to the Urban League of Portland, are twice as likely as Caucasian infants to be born with low birth weight. And the March of Dimes gave Oregon a "C" grade in 2010 for having an immature birth rate of 10.1 per thousand, compared with a national average of 7.6 per thousand.
The report developed by the Oregon Health Authority and the workgroup concurred. "Oregon Health Authority data clearly demonstrate a consistent pattern of disparities in birth outcomes between women of color and the Non-Latino white population regardless of geography or payer. As Oregon's population grows and diversifies, it is essential that these disparities be addressed."
Doulas can be used to decrease health inequities in Oregon's birth outcomes, according to the report. "Additionally," said Tricia Tillman, the director of the Oregon Health Authority's Office of Equity and Inclusion (formerly known as the Office of Multicultural Health and Services), "the committee found doulas would be an overall strategy to improve birth outcomes funded by both Medicaid and private insurance."
"We expect this would result in healthier births for women and their children, while mitigating the long term costs of poor birth outcomes," said Amelia Psymthe, director of the Breast Feeding Coalition of Oregon.
The easiest way to incorporate doulas into the Oregon Health Plan, Tillman told legislators, is by pursuing a waiver from the Centers for Medicaid & Medicare Services allowing doulas to be reimbursed for their services. Doulas may be "a new healthcare workforce that we haven't paid much attention to," she said.
The report also analyzed how doulas were used in Chicago, Pittsburg, Minnesota, Michigan and Texas
Doulas are birth coaches who provide emotional support to a mother during pregnancy, birth and immediately after giving birth. They can help women by being a sounding board, provide service referrals, help women navigate the healthcare system, and educate them about their pregnancy experience and being a mother.
"They are very effective, especially when it comes to working with different cultural communities," said Rep. Lew Frederick (D-Portland), who co-sponsored House Bill 3311.
"Doula care is a place where an ounce of prevention is worth a pound of very expensive cure," Psymthe agreed.
According to Shafia Monroe, the executive director of Portland's International Center for Traditional Childbearing, which trains doulas and is a member of the workgroup, there are approximately 150 doulas working in Oregon.
Currently doulas don't play a major role in Oregon's healthcare system. Like midwives, they aren't required to be licensed, and aren't trained or certified by the state. Doulas use the fee-for-service model, and insurance companies rarely provide coverage.
Frederick said the workgroup's research met the expectations set out by the bill, and that the research will form the basis of any legislation that might be pursued in the 2013 session.
Psymthe believes it will be fairly easy to begin incorporating doulas into the healthcare system. "We already have a lot of the criteria that we need," she said. "We know their scope of practice. We know their training, and we have provider and billing codes."
She said doulas could play a similar role to community health workers, who visit chronically ill patients at their home and that doulas could also become part of the patient team at hospitals that provide bundled care for pre-natal and birth care.