Whooping Cough Epidemic Could Lead to More Vaccinations in Clark County
The epidemic has motivated health providers to increase immunization rates
May 17, 2012—Clark County, and the rest of Washington, is experiencing the worst whooping cough epidemic in 70 years, and health officials are using the increased public attention being paid to the upper respiratory infection to increase the immunization rate, both among adults and children.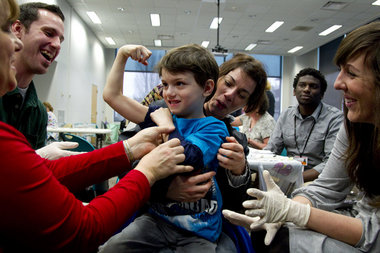 "This is one of those great opportunities" to eradicate a communicable disease, said Dr. Marcia Starling, the Vancouver Clinic's assistant medical director.

She thinks it's "ridiculous" that the level of whooping cough has gotten so high. "We've done a pretty good job of eradicating pretty serious illnesses like polio or tetanus," she said. "This is really unnecessary. It's a serious illness for babies, and [in the 21st century] I think we just forget
that."

Public health officials are reporting that there have been nearly 1,300 cases of whooping cough (also known as "pertussis") statewide since the beginning of the year. In Clark County, there have been 112 cases to date. That's more than 10 times the number of cases last year.

State health officials declared the rash of whooping cough to be at epidemic levels in early April. In early May, Washington Governor Chris Gregoire made $90,000 available in emergency funds for a public awareness campaign to encourage vaccinations.

Dr. Alan Melnick, the public health officer of Clark, Cowlitz, Skamania and Wahkaikum counties, says addressing the epidemic is the top priority of Clark County's public health department. "It's consuming us at this point," Melnick said.

Whooping cough is an upper respiratory infection caused by bacteria, and large outbreaks of whooping cough occur every four to five years in a cyclical pattern. Early symptoms are much like cold symptoms—a runny nose, sore throat, sneezing, fever and mild coughing. The
coughing becomes more violent and severe over the course of two weeks, and people have coughing spasms, gasp for breath or even vomit.

The infection typically lasts an average of six weeks. Whooping cough is treated with antibiotics; children are vaccinated against the disease with booster shots. "The vaccine is still the best way to prevent the disease," Melnick said.

Melnick worries about infants and children, who can die from whooping cough. "Adults don't get super sick with pertussis," he said. "It's still annoying."

There have been few hospitalizations in Clark County, and no one has died from the infection thus far. Debby Kelley, PeaceHealth Southwest Medical Center's infection preventionist, guesses that only 10 percent of people infected with whooping cough go to a hospital. Instead, people are more likely to go to their primary care doctor because the infection's symptoms are similar to cold symptoms.

Starling said the epidemic is having a palpable effect in Vancouver. "There's a lot of anxiety about it in the schools," she said. "I think people are bringing their families in for care more."

Recently, 30 people lined up outside of the clinic's urgent care department, which Starling said is atypical.

Melnick attributes the epidemic level of whooping cough cases to "a large unimmunized population, especially among the adults."

Washington allows people to refuse being vaccinated for religious reasons; until recently, people could also take a "personal exemption" for a vaccine, meaning, according to Melnick, that they could choose any reason not to be vaccinated. The Washington Legislature outlawed
that provision last year and also limited the circumstances for school children whose families wouldn't allow them to be vaccinated.

Melnick believes a large number of school children have not been vaccinated. In 2009-2010, the Clark County public health department counted 5,623 non-vaccinated school children; compared to 77,000 children who had the shots.

In Washington, children who've not been vaccinated are four and a half times more likely to be infected with whooping cough, Melnick said.

Starling says the Vancouver Clinic is focusing on increasing the number of people immunized against the infection. The clinic's immunization rate is three to four times higher than it was last year. "Some patients come in asking for it," she said. "They know [whooping cough is] a risk for children."

Clark County's public health department is not only encouraging providers to vaccinate, but also investigating cases, and interviewing people to learn who they've been in contact with to prevent the disease from spreading.

Starling thinks the clinic will continue its immunization effort until next year, adding that immunization is the only way to stop whooping cough from continuing to spread. Melnick and others believe the number of whooping cough cases in Clark County won't start leveling off until
well into the summer.

Dr. Gary Oxman, public health officer for the Portland metro area, is keeping a close eye on what's occurring in southwest Washington. The whooping cough levels in the Portland metro area are twice what they were last year—not as bad as in Washington, but still enough to be
concerned, he said.

Multnomah County has established a program called "the Metropolitan Area Pertussis Surveillance," funded by the Centers for Disease Control to actively reach out to clinicians and doctors and encourage them to test their patients for whooping cough. "We're looking for it more," he said, in an effort to stem transmission.
Image for this story appears courtesy of The Oregonian.