After weeks of discussion, the Washington County Board of Commissioners voted to ban the flavored products.
Image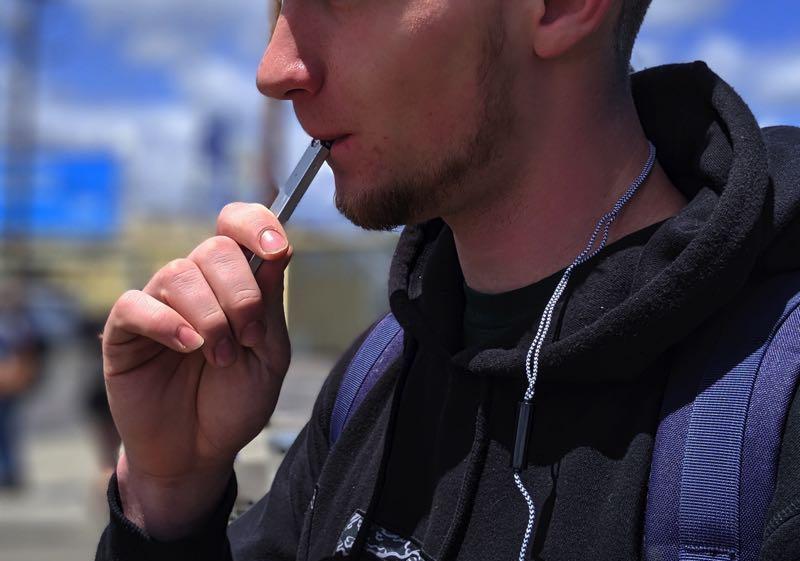 November 11, 2021
The Washington County Board of Commissioners has voted to ban the sale of flavored tobacco and vaping products countywide.
Ordinance 878 was adopted in a 3-2 vote Tuesday, Nov. 2, with Commissioners Jerry Willey and Roy Rogers voting "no."
The vote makes Washington County the only county in the state where flavored tobacco products, including menthol cigarettes, and flavored synthetic nicotine products are prohibited. Additionally, any inhalant delivery system that imparts a flavor is also prohibited.
The ordinance doesn't impact non-flavored tobacco and vaping products or retailers who sell them.
It also requires vendor-assisted sales of all tobacco products, prohibiting self-service purchasing, and bans tobacco sales from moveable places of business such as a vehicle or kiosk.
The ordinance will go into effect 30 days from its passage, which is Dec. 2.
Enforcement of the ordinance will begin Jan. 1, 2022, in accordance with state legislation passed earlier this year requiring retailers who sell tobacco and vaping products to have a license to do so.
Senate Bill 587 also subjects licensed tobacco and vaping product retailers to two annual inspections, which could lead to penalties for non-compliance with state and local regulations.
As it was first proposed, Ordinance 878 would have been less restrictive, only prohibiting the sale of flavored tobacco and vaping products at retail locations where people under the age of 21 are permitted.
During the last public hearing on the ordinance on Oct. 19, the board voted 3-2 to amend the ordinance by expanding the restrictions to all retail locations in the county.
The vote on the ordinance came after its third public hearing, which included nearly two hours of public comments.
Two previous public hearings for the ordinance in recent weeks also included similarly lengthy public comment periods.
Supporters of the ordinance — including parents, public health officials and representatives of anti-smoking and vaping groups — say the ordinance is an important tool to prevent harmful tobacco and vaping products from being used by local youth amid an explosion of teen vaping nationwide.
During previous meetings, county public health officials showed data about the high prevalence of vaping among local youth. They also referred to research showing that teen use of tobacco and vaping products declines in places where bans are in place.
Public health officials add that the negative health impacts of tobacco and vaping products disproportionately affect low-income residents and people of color, as marketing for the products is crafted to appeal to minority groups and targeted in certain neighborhoods.
Opponents of the ordinance, who have consistently outnumbered supporters during public hearings, include convenience store owners, retail distributors and trade group representatives.
Store owners say the ordinance would dramatically reduce their revenue as they continue to feel the economic impacts of the pandemic. Some have said they will have to cut staff or even close completely.
They argue that the ordinance would be ineffective at reducing tobacco and vaping product use among teens, who could still travel to other counties or go online and try to purchase the products there, putting Washington County retailers at a competitive disadvantage in the region.
Some public commenters Tuesday included people who use vaping products as smoking cessation tools, saying they might resort to cigarettes during a nicotine withdrawal if they can't purchase a vaping product.
Rogers was the first among the commissioners to speak during a discussion on the ordinance Tuesday.
Maintaining his position from previous meetings, Rogers said he isn't a proponent of tobacco or vaping products but wouldn't vote for regulations that could have such a severe negative impact on businesses' revenue.
Following Rogers' comments, Commissioner Nafisa Fai made a motion to end the discussion, which, if passed, would have forced an immediate vote on the ordinance.
Willey, who has consistently opposed the countywide ban, took issue with the motion.
"I cannot believe that we have sat here for three hours and Commissioner Fai calls the question before anyone gets to comment," Willey said. "'Disingenuous' would be a light word for that, Commissioner."
The motion to end the discussion failed 3-2, with Fai and Kathryn Harrington, the board's chair, voting "yes." Commissioner Pam Treece voted "no," although she voted for the ordinance's final passage minutes later.
In his comments, Willey criticized the board for having little discussion on the ordinance as it was originally proposed before amending it to become a countywide ban of flavored tobacco and vaping products.
He maintained that the board could have come up with regulations that would have limited youth access to the products without dramatically impacting more than 200 estimated convenience stores in the county.
"We can do this better, differently," Willey said.
In her comments, Fai pointed out that the arguments in opposition to the ordinance have focused on potential losses of revenue for business, while arguments in favor of it have focused the public health benefits of such a policy.
"As the public health authority for Washington County, we have a critical role to play in addressing the youth smoking epidemic," Fai said.
This story was originally published by the Hillsboro News-Times. You can reach Max Egener at [email protected].