Washington County Ahead Of Multnomah In Moving Towards Lower Risk Category
Multnomah and Washington counties split over applying to be moved quickly into the "lower risk" pandemic restriction categories authorized by Oregon Gov. Kate Brown.
Both counties are close to meeting the standard Brown announced on Wednesday, May 12, that 65% of residents 16 and older must have received their first COVID-19 vaccination.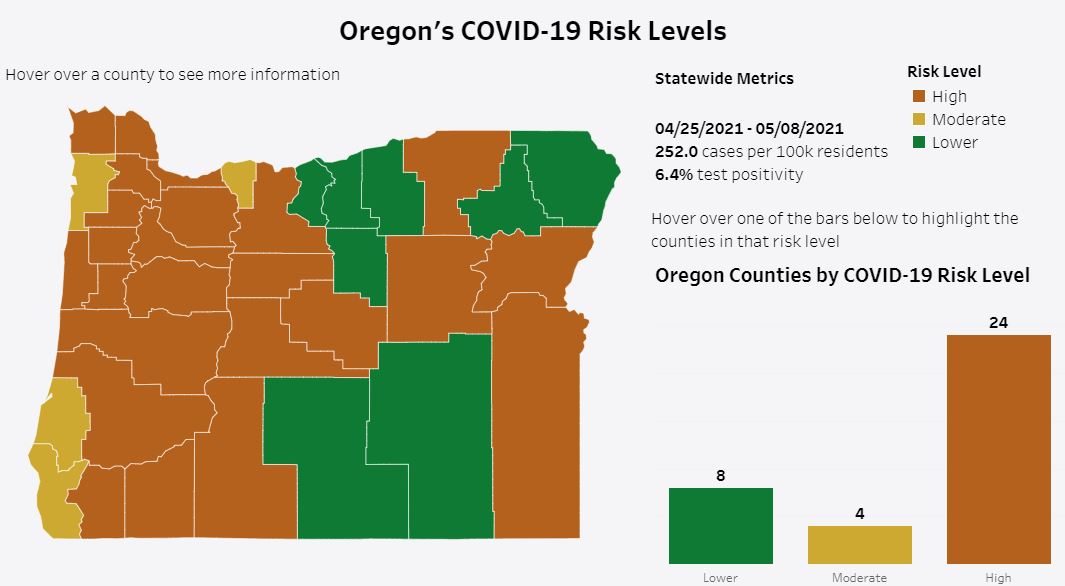 Washington County applied to move out of the more restrictive "high risk" category by also submitting a plan to the Oregon Health Authority to close the vaccination gap between ethnic groups. If approved, the county could be classified as "lower risk" on Friday.
But Multnomah County did not apply by the Friday deadline. As first reported by the Portland Mercury, county officials said they did not have enough time to prepare a plan to close the vaccination gap.
The differences between the two classifications are significant. In counties classified as "high risk," indoor dining is limited to 25% capacity. In "lower risk" categories, it is 50%.
Multnomah County officials said they expect to submit their application this Friday in the hopes of being reclassified by May 28, just before Memorial Day.
Other counties that applied for the "lower risk" classification include Benton, Lincoln, Washington, Hood River and Deschutes. Their plans are under review.
This story was published by the Portland Tribune, which gave The Lund Report permission to post it here.