Oregon's vaccine rollout has been slow and inconsistent, with hospitals setting different policies on who to inoculate in the first round.
Image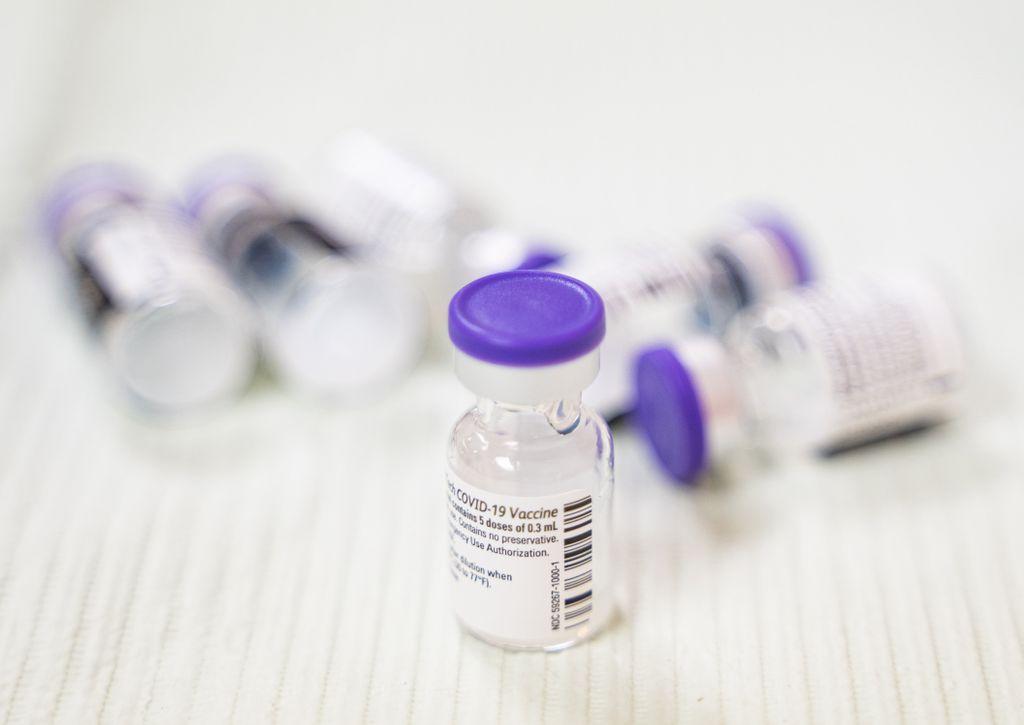 January 5, 2021
The Oregon Health Authority promised an accelerated vaccination campaign against COVID-19, but so far the rollout has been rocky, with a majority of federally delivered doses yet to be injected and Oregon diverging from federal recommendations on who should be vaccinated first.
The Centers for Disease Control and Prevention's vaccine advisory group recommended that only health care employees who risk coming into contact with infected patients or infectious substances -- either directly or indirectly -- qualify for a vaccine in the first round. But in Oregon, if you work for a hospital, you move to the front of the line anyway, regardless whether you work in the billing department, at home or in an emergency room. 
Nevertheless, with a total of 118,000 recorded COVID-19 cases and more than 1,500 deaths in the state, hospitals are sitting on thousands of vials of vaccine, with Oregon lagging many other states in giving vaccine shots despite having potentially more administrators: The state is the first and perhaps the only one so far to authorize dentists to give COVID-19 vaccine injections. 
According to federal data, Oregon has used 25% of the doses of Moderna and Pfizer-BioNTech vaccine that have been shipped to the state. Overall, providers have injected more than 51,000 doses out of 202,200 received. 
Only 10 other states have administered a smaller percentage of doses received, including Washington state, California and Nevada, according to Bloomberg's vaccine data.
Amid criticism of the state's dismal performance, Gov. Kate Brown announced a new goal for the state on Monday. Brown said she has directed the Oregon Health Authority to hit a goal of administering 12,000 vaccinations a day by the end of the next two weeks.
"That will put us on track to deploy every vaccine we have in our hands each week," Brown said in a statement. "OHA will be working with health care providers, pharmacies and local public health partners to streamline the distribution process to achieve that goal."
The state's move to allow all hospital workers to get vaccinations regardless of their potential exposure to COVID-19 patients means that health care workers outside of hospitals will largely have to wait, something that angers many private practitioners and dentists.
Dr.  Barry Taylor, executive director of the Oregon Dental Association, said dentists need vaccinations too: They are essential health care workers who are allowed to administer vaccinations when properly trained.
"Dentists are also essential health care workers, and especially in light of the number of dentists now trained to administer vaccines, it's vital that dentists and their staff members are able to be vaccinated soon, which won't happen if they're the last group in the state's current tier of priorities," Taylor said in a statement. "Dentistry is not just about preventive care; dentists and dental care teams ensure that oral health emergencies do not stress the state's already overburdened hospital system. Dental care is also associated with better health outcomes for people who have diabetes, heart conditions, and other diseases, further reducing the number of patients entering the hospital system."
All Hospital Staff Offered Shots
On Sunday, Oregon Health & Science University announced in an email to staff and students that it was opening up its vaccination clinics to all of its more than 18,000 employees and about 3,000 students in its medical, nursing and dental schools. Providence Health & Services has even bigger plans: It plans by Jan. 20 to offer a first injection to all of the 27,000 people who either work directly for the company in Oregon or are affiliated with it. 
A first shot might offer some protection but for full inoculation both the Moderna or Pfizer-BioNTech vaccines require two injections. According to the Oregon Health Authority, only nine people have so far received two shots.
St. Charles Health System, based in Bend, is also offering vaccines to all employees, regardless of whether they risk getting infected. Salem Health, Sky Lakes Medical Center in Klamath Falls said St. Alphonsus, with hospitals in Ontario and Baker City, will do the same. 
But spokespersons at Kaiser Permanente, Legacy Health and PeaceHealth said that staff who do not come into direct or indirect contact with infected patients and infectious substances have been excluded from the top priority group, mirroring the practice in neighboring states. 
California and Washington state are following CDC recommendations that only workers in health care settings -- not all hospital staff -- be in the first group.
Administrative personnel and those who work from home are being excluded in the first group at the Seattle-based University of Washington, the state's top academic medical center.
"They're not being prioritized at this time," Dr. Shireesha Dhanireddy, medical director of the University of Washington's infectious diseases clinic, told The Lund Report. "They're essential workers, but they're not essential workers in a direct health care setting."
But the Oregon Health Authority gave hospitals free rein on vaccinating all of their employees by lumping hospitals with first responders, urgent care clinics, nursing homes and memory care staff and residents and tribal health workers in the state's first vaccination group.
A spokesman said the health authority opted to add "more granularity to federal recommendations" and target " specific populations within the broad groups -- and in a wide range of health settings" for vaccination. As an example, Oregon listed urgent care clinics, emergency medical responders and other first responders -- like fire departments -- in its 1a group.
"Our goal is that most if not all of the estimated 300,000 to 400,000 health care workers in Oregon will receive the COVID-19 vaccine," said health authority spokesman Jonathan Modie.
Hospitals are big employers -- more than 18,000 work at OHSU and 23,000 are employed by Providence Health & Services in Oregon. Not all of their employees have contact with patients or risk becoming infected by caring for a patient, serving food or cleaning a room for example. In fact many, like Matt Hilton, an OHSU call center employee, now work from home.
"OHSU wants a healthy workforce, and we want a healthy membership," Hilton said of the vaccine rollout. 
Hilton is president of the American Federation of State, County and Municipal Employees Local 328, which represents 7,000 employees at OHSU, including pharmacy technicians, phlebotomists, and dietary and housekeeping staff. Hilton said he was pleased with how the vaccine campaign is rolling out among the union's members, who include many minorities and lower-paid staff.
But another staff member who also now works at home criticized OHSU's policy to open up vaccinations to everyone. "I would prefer that someone over 65 get my vaccine," said the professional, who requested anonymity for fear of reprisal.
OHSU's administration said in a university-wide message on Monday that employees recognized that getting the vaccine was a "privilege."
"Vaccinating all members will enable OHSU to better support the state in the implementation of their vaccine plan and care for all of our community," the message said.
OHSU said on Monday it has given at least one shot to more than 10,300 people out of the 12,350 doses of vaccine by Moderna and Pfizer-BioNTech it has received. Providence, which has received 26,000 doses of the two vaccines, had given an initial shot to more than 14,000 employees by Tuesday morning, a spokesman said. It expects to have vaccinated 16,000 by Thursday.
Legacy Health, which did not detail how many doses it's received, has given about 6,000 people a first shot and hopes to complete the first injections by Jan. 31. Kaiser Permanente, which has received 18,025 doses of the two vaccines, has inoculated more than 5,780 employees with an initial dose on Monday.
Vaccinations are also underway in hospitals outside the Portland area:
Salem Health has given more than 3,430 staff members from the more than 5,800 doses of the Pfizer-BioNTech vaccine it's received;
St. Charles Health System in Bend, which has received nearly 11,270 doses of the Pfizer-BioNTech vaccine, has vaccinated more than 2,100 staff;
Sky Lakes Medical Center in Klamath Falls has received 2,375 doses of the two vaccines and has inoculated 1,157 employees.
Saint Alphonsus said it has received 1,275 doses, mainly from Pfizer-BioNTech. The majority - 975 doses - went to its hospital in Ontario with the rest going to its Baker City facility. A spokesman said the health care system has vaccinated more than 500 people, including hospital staff, community health care workers and emergency responders.
'Not Moving Fast Enough'
If the state maintained the current pace of about 2,560 vaccinations a day, it would take until 2025 for the state's population of 4.2 million to get just the first dose of two required shots, assuming everyone wanted the vaccine. Full inoculation would take nine years.
By then, the state likely would have achieved so-called herd immunity, when enough people have immunity to prevent viral spread. 
"Oregon, like most of the country, is not moving fast enough," Brown said. "All states are grappling with the same logistical challenges, and while we are making steady progress, we must move even more quickly when every vaccination has the potential to save someone's life."
Several lawmakers agreed. 
In a statement, Rep. David Brock Smith, R-Port Orford, said the governor and leading Democrats in the Legislature should do better.
"It is unfathomable that Oregon is in the bottom 10 amongst states across the nation in COVID-19 vaccination distribution," Brock Smith said. "Our state's been ranked near the bottom of high school graduation rate and now the governor and Democrat supermajority's continued failures are highlighted with their inability to govern and oversee an effective distribution system of COVID-19 Pfizer-BioNtech and Moderna vaccines to the public." 
Brown said that Oregon has "administered about the same number of vaccinations as other states" when looking at the percentage of the state's population. 
But Oregon lags neighboring Washington, according to federal data. In Washington state, 1,217 people per 100,000 population have received a first dose, the data show. In Oregon, the rate is about 1,155 per 100,000 people, according to the Centers for Disease Control and Prevention.
Oregon also lags the national average. The U.S. has administered nearly 4.7 million doses, which is 30% of the 15.4 million doses distributed. 
The federal government has been under widespread criticism for being slow to deliver doses. Modie said the state expects to receive 25,350 doses of vaccine both this week and next. State officials expect the vaccination of people in the 1a group to continue well into February.
The "Phase 1b plan likely won't be finalized and implemented until late February or early March," Modie said, adding that those in the 1b group include "teachers, bus drivers, food processing workers and other people who keep our society open and economy moving." 
Oregon's newly formed Vaccine Advisory Committee, which includes community members and represents underserved pockets of society like tribes and ethnic minorities, will advise the health authority on the vaccine rollout for Phase 1b and 1c, which includes people with underlying health conditions and people older than 65. The committee meets for the first time this week.
You can reach Ben Botkin at [email protected] or on Twitter @BenBotkin1.
You can reach Lynne Terry at [email protected] or on Twitter @LynnePDX.