Village Gardens Recognized for Health Equity Work
This multifaceted program includes community gardens, a healthy convenience store and visits from community health workers
December 6, 2012 -- Village Gardens started in 2001 as a small community garden project now includes several community programs, including a healthy convenience store. Now it's received the 2012 Billi Odegaard Genius Award for an "exceptional group" from the Oregon Public Health Institute.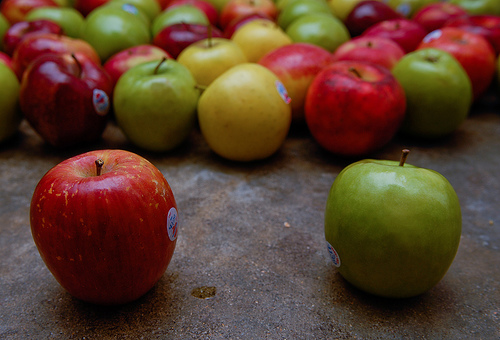 The first community garden grew out of a partnership between tenants at the St. Johns Woods apartments and Janus Youth Programs, according to Amber Baker, program director. Tenants wanted a community garden, and about 20 families participated. The program also started hiring teenagers to help grow food for residents, some of whom were seniors or had disabilities that prevented them from working in the garden themselves.
"They started just growing food for their community," Baker said. "But they thought they could sell food as well." Initially, staff and volunteers set up a booth at the Portland Farmers Market, but in 2006 got funding to start a farm on Sauvie Island on METRO land.
The organization also started hosting food demonstrations and nutrition classes to teach community members about healthy eating, and Village Gardens has continued to build other community gardens in North Portland. Most recently, a garden has been installed between a public housing development and a senior living facility.
The garden committee – which includes team members from each neighborhood served – meets once a week to discuss issues that have come up in the gardens, between volunteers or residents. Those conversations led to a livestock program (egg-laying chickens tended in the community gardens) as well as the Village Market – a healthy corner store that opened in North Portland's New Columbia neighborhood in 2011.
The Village Market was the product of efforts by neighbors to build a neighborhood grocery store, and is also part of Multnomah County's Healthy Retail Initiative (http://www.multco-itstartshere.org/healthy-retail-initiative), which includes 21 other neighborhood markets and "works with neighborhood store owners to increase healthy, fresh food options and to demonstrate how offering healthy products is a win-win for businesses and for community health," according to the county's website.
In addition to growing and selling food to improve the health of North Portland residents, Village Gardens has trained 50 community health workers – most of whom are volunteers, Barker said, though some have the opportunity to receive a small stipend – to perform home visits, lead walking clubs, check vitals such as blood pressure and even lead meditation workshops.
Like the organization's other projects, the community health worker program came out of questions and conversations among neighbors in the communities served. Volunteers and staff "were getting questions like, "Where do I get my kid health insurance? What do I do with these WIC [Women, Infants and Children, a food assistance program] coupons for the farmer's market?"
"We've really worked with our folks to know what their individual interests are," Baker said of the training provided to community health workers.
If the common thread running through all of Village Gardens' programs is food, Baker said it's because food connects to so many other aspects of individual and community health.
"It touches on economic development, hunger and cross-cultural relationship building," Baker said. "It's been a good vehicle for addressing a number of different concerns and opportunities in the neighborhoods where we've worked."
The Billi Odegaard Public Health Genius Awards – which have recognized two individuals and one group every year for outstanding public health achievement since 2002 – credited Village Gardens with "providing jobs, reducing crime, and improving community health and equity," according to the Oregon Public Health Institute's website.
Image for this story by msr (CC BY-NC-SA 2.0) via Flickr.