U.S. Supreme Court Decision on Subsidized Insurance Premiums Nervously Awaited
If the high court sides with the plaintiffs in King v. Burwell, the impact will be felt in Oregon, where nearly 80,000 people currently receive government-subsidized insurance premiums under the Affordable Care Act.
The U.S. Supreme Court is expected to issue its decision later this month in King v. Burwell, the case challenging whether the federal government can legally subsidize insurance premiums for low- and middle-income people who qualify for coverage under the Patient Protection and Affordable Care Act (ACA).
In the 30-some states now using the federal government's health insurance marketplace, about 6.4 million people stand to lose $1.7 billion in insurance premium subsidies should a majority of the nine justices find for the plaintiffs (David King and three others). If the court sides with the defendants (the Obama administration), the U.S. health care system would basically remain as is barring future legal or congressional action.
Oregon, along with New Mexico and Nevada, opted to set up its own exchange, but because of IT problems, now uses HealthCare.gov for enrollment. Cover Oregon, the state's initial health insurance exchange, will see its core functions transferred to the Department of Consumer and Business Services (DCBS) on June 30.
As of March 31, 102,253 Oregonians were enrolled in the ACA through Cover Oregon, according to Jake Sunderland, who handles public information for DCBS. Of those, 79,946 (78.2 percent) were receiving premium subsidies, and the average monthly subsidy was $199.
If the Supreme Court strikes down the ability of low- and middle-income people to qualify for tax subsidies, it will definitely have a significant impact in Oregon, which considers itself as having a state-run exchange, predicted Jesse O'Brien, OSPIRG's health care advocate.
"That decision is going to cause a pretty big national crisis with 34 states running their own exchanges," he said.
Nationally, 85 percent of ACA enrollees were receiving an advanced premium tax credit as of March 31, with an average $272 per month subsidy for those who qualify.
A question of wording
Arguments in King v. Burwell hang on the interpretation of the ACA's wording about government-subsidized premiums only being allowed for healthcare exchanges "established by the state." However, the Obama administration asserts that the law, read in context, was clearly seeking to assist the uninsured in every state, including those using HealthCare.gov.
In the plaintiffs' view, healthcare exchanges set up "by" the state necessarily limit tax credits to state-run exchanges, although, in 2012, the U.S. Internal Revenue Service interpreted it to also include federally run exchanges. The administration sees the subsidies as applying to those exchanges established "in" the state (e.g., everybody who qualifies).
"It was an incentive for states to create the exchanges," explained William Funk, a constitutional law professor at Lewis & Clark Law School. "That's a logical answer, but there's no legislative history of the Affordable Care Act to suggest that. The background was more to get things done, and mistakes were made, and this was just one of those mistakes made in terms of wording."
The court heard oral arguments March 4, with Solicitor General Donald B. Verrilli appearing on behalf of the administration, and Michael A. Carvin of the Jones Day law firm representing the plaintiffs.
Observers noted at the time that Chief Justice John Roberts gave no hints about what he might be thinking, but that Associate
Justice Anthony Kennedy asked numerous questions indicating concern about fallout should the court decide the federal exchanges could not offer subsidies and the states then be forced (he used the word "coerced") to set up their own.
King v. Burwell is the second case involving the ACA to come before the high court. The first was National Federation of Independent Business v. Sebelius, which challenged whether Congress had the power to impose the law's individual mandate to buy health insurance.
In a 5-4 ruling written by Roberts and issued June 28, 2012, the court found that the mandate was legal under congressional taxing powers.
Beside court challenges, political challenges to the ACA have repeatedly been presented in Congress, with the U.S. House of Representatives voting on bills to repeal the law 67 times.
Ongoing partisan politics
Like most ongoing skirmishes over the ACA, King v. Burwell is tinged with partisan politics, and whatever the court decides will likely be fodder for the 2016 presidential campaigns.
"Of course, there's a partisan pique to it. These are people who have opposed the ACA since it was created. This is another way to attack it," Funk said.
An Associated Press-GfK poll from late April found that only 1 in 10 respondents believed the court would base its decision on objective interpretations of the law rather than on personal opinions. Reflecting the issue's partisan flavor, two-thirds of Democrats polled said Congress should amend the ACA to keep the subsidies, but only 31 percent of Republican respondents thought so.
Premium hikes coming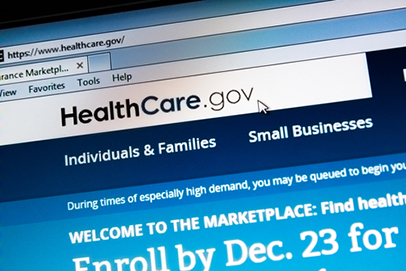 The high court has handed down several split decisions lately, mainly 5-4 and 6-3 rulings, and some say the outcome in King v. Burwell could easily fall along those lines. Roberts upheld the ACA's constitutionality in the 2012 NFIB v. Sebelius case, while Kennedy, often viewed as the court's swing vote, came down on the other side.
Should the majority of the justices find for the plaintiffs, millions would lose subsidized coverage, and premiums are likely to dramatically increase for those who remain insured. The Kaiser Family Foundation recently found that those with ACA-subsidized coverage could see an average premium increase of 287 percent if forced to cover the full cost.
Even if the subsidies are thrown out, the ACA's requirement to carry health insurance still stands, although there's an exemption if the lowest-priced plan available to an individual exceeds 8.05 percent of their household income.
As reported June 9 on National Public Radio, Pennsylvania and Delaware have submitted contingency plans to the federal government in case they lose the premium subsidies.
"Eighty-four percent of those who purchased plans on the marketplace received a financial subsidy, so that is critically important to our constituency that those subsidies are available to them," said Rita Landgraf, Delaware's director of health and social services.
Should the defendants prevail, ACA subsidies would remain, although some premium increases are also likely in that scenario.
Oregon insurance carriers have already submitted their premium requests for 2016. According to the Oregon Insurance Division, the averages range from -1.9 percent for Kaiser Foundation Health Plan of the Northwest to 42.7 percent for PacificSource Health Plans (individual market), and -10.6 percent for Kaiser to 22.2 percent for Samaritan Health Plans Inc. (small group market).
The division is reviewing these proposed premium increases and plans to make decisions by July 1.
×
This article is for premium subscribers. If you are one, please sign in below.
You can see
two
more premium stories for free. To subscribe,
click here
. We depend on premium subscriptions to survive, and they are tax deductible.