May 21, 2012 -- Health safety advocates and members of the midwifery profession are trying to come together to build momentum for a series of regulatory and cultural changes to address increased concern about home births.Oregon's unique rules regarding out-of-hospital delivery have come under the spotlight following high-profile court cases involving infant death and permanent crippling.
May 21, 2012
May 21, 2012 -- Health safety advocates and members of the midwifery profession are trying to come together to build momentum for a series of regulatory and cultural changes to address increased concern about home births.

Oregon's unique rules regarding out-of-hospital delivery have come under the spotlight following high-profile court cases involving infant death and permanent crippling.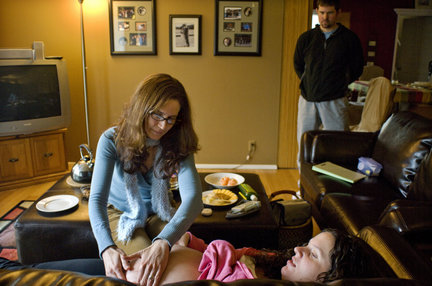 Unlicensed midwives take charge in about 18-25 percent of home births, which account for about 3 percent of the nearly 50,000 births in Oregon annually. But that number is on the rise. Oregon is also the only place other than Utah allowing unlicensed midwives. "This problem will be getting worse and not better if we don't work together," said Melissa Cheyney, chair of the Board of Direct Entry Midwifery, which makes
recommendations to the Oregon Health Licensing Agency.

Cheyney is a licensed midwife who supports a woman's right to deliver at home, and argues it's regrettable that women who choose to give birth outside hospitals can't always be sure that it's safe. Chayney is an assistant professor at Oregon State University with a
doctorate in medical anthropology.

"Although at-home births can be quite safe, it unfortunately doesn't take many poor outcomes to spur on a movement to reform," Cheyney said.

Dr. Stella Dantas, an 11-year veteran obstetrician at Kaiser who decided to hire midwives for her own pregnancy, also has sympathy for the movement. So she's been working with the midwifery community to advocate reform and to testify before the Legislature.

"I really support out-of-hospital births, so it's all about balancing women's needs," Dantas said. "I would support mandatory licensure so that we're not creating two standards of care for people."

Unintended Consequences

Unlicensed direct-entry midwifery became an issue in 1993, the year of a major statewide healthcare reform, when the Legislature decided to allow unlicensed midwives as long as they wouldn't try to get reimbursed by Medicaid.

Former Gov. Barbara Roberts submitted the following comment to the Oregon Health Licensing Agency in 2010: "When I signed the bill into law it was my understanding that low-risk pregnancies and births would be the types of situations that a licensed direct-entry midwife would attend and…it dismays me now to hear about the devastating outcomes that have occurred."

But the practice has become increasingly controversial as midwives duck regulation and take on higher-risk pregnancies, such as multi-fetal gestation or women who previously required a Cesarean section.

"You can't always predict which low-risk birth will turn into a high-risk birth, but it can be done safely if midwives choose their patients carefully and can transfer their patients to a hospital smoothly and in a timely fashion," Dantas said.

Members of the Followers of Christ Church in Oregon City last year received the maximum punishment for second-degree manslaughter in a case of failing to seek medical treatment in a premature pregnancy other than an unlicensed midwife.

Testifying as an expert witness during the trial that eventually sentenced Dale and Shannon Hickman to 75 months in prison, Dr. Joseph W. Kaempf likely weighed heavily in the minds of jurors by pointing out how organizations like March of Dimes have made it well known that the greater the prematurity, the greater the likelihood of death.

Kaempf, a Kaiser neonatologist, pointed out that home births are neither recommended by the American College of Obstetrics and Gynecology nor by the American Academy of Pediatrics.

Holly Scholles, a licensed Estacada midwife, called the actions of the Hickmans under those circumstances "unconscionable." Scholles, who is also president of the Midwifery Education Accreditation Council, argued that a longstanding professional tradition mandates a legal obligation for midwives to call for help in such premature births.

Sharron Fuchs, a medical legal assistant to Attorney Keith Tichenor in Portland, became acutely aware of the lack of training of lay midwives when she delivered a child outside the hospital in 1980. Her child escaped neurological disability, but she never forgot the near miss and testified against midwives getting to bill the Oregon Health Plan in 1993.

"The ongoing failure of the state to formulate uniform evidence based disclosure documents to enforce laws, rules and regulations of health professions participating in out of hospital births, despite the bad outcomes and public outcry for enhanced safety, defies all reason," Fuchs said recently.

But the midwives lobbied strongly for their "low risk" model of care, Fuchs recalls, and "under great pressure of being seen as anti-woman," the legislators were swayed to vote in favor of the legislation.

"The midwives were placed under an overseeing agency presumably as they could not be trusted to oversee themselves and instructed to get malpractice insurance but they made no moves in that direction. In fact, midwives intentionally don't carry malpractice insurance to try to avoid litigation," Fuchs said.

In a lawsuit filed April 2, Kristine and Greg Andrews sued the state of Oregon, Motherwise Community Birth Center, and midwives Nicole Tucker and Christyn King for the medical problems they say their son faces as a result of asphyxiation during birth.

The lawsuit, with a trial scheduled to begin in July, argues for $25 million in noneconomic damages, plus $22.5 million in economic damages for ongoing healthcare and lost wages. The child will need constant care for a near-normal life expectancy, the suit contends, as he is not ventilator-dependent or tube-fed.

Licensed nurse midwives, in terms of managing a normal labor and delivery, can do many of the same things as an OB/GYN. The Andrews' attorney, Bill Savage, argued there's a reason why OB/GYNs practice specialty medicine, and with more pregnant women suffering from diabetes, it's just becoming more important.

"Any credible midwife will know what's going on with the fetal heart rate, and I believe that in our case, if the midwife had gotten the mother to the hospital earlier, she would not have to take care of a child now with cerebral palsy," Savage said.

Getting Better Statistics

Nicole Smith, a biostatistician with the Northwest Portland Area Indian Health Board, said that unlicensed midwives only oversaw 240 to 300 of the 1,200 to 1,500 home births annually during the past five years in Oregon. But Oregon, along with other states in the country, doesn't have data on how many pregnancies were transferred from homes, and
how their status may have affected their outcomes.

"We suspect that transports that occur while the woman is still in labor may be the most relevant risk factor," Dantas said.

Cheyney estimates that 10 to 12 percent of midwife-assisted pregnancies will need to be transported to a hospital either prior to birth or just after. In 2008, Oregon birth certificates started asking whether hospital births were originally planned as out-of-hospital deliveries.

Oregon administrative rules now require that birth certificates include midwives' collected information on transport, such as measurements of the progress of the fetus and dilation.

"Much of this still needs to emerge from the community and not from the regulatory angle," Cheyney said. "There are some midwives and mothers who've had a bad experience with a physician or other provider, as there are providers who have who have resented getting a mother and fetus in bad shape from a midwife. Those emotions run
deep, and those aren't going to be experiences that people forget easily, but I see more than a glimmer of hope that we will make a lot of progress."

A series of grand rounds to hospitals throughout the state will begin the conversation, Dantas hopes.

"When there's an underlying animosity between the midwife and the hospital, that can pose a real barrier to positive reforms," she said.

Cheyney acknowledged that some minority groups in Oregon don't see any reason to come together.

"But midwives cannot exist in a world without physicians," she said. "We need to find a way to come together and build a partnership, and not everyone is there, but the movement is behind us."
Image for this story appears courtesy of The Oregonian.
Comments
Submitted by

Carri Munn

on Thu, 05/24/2012 - 11:23
Permalink
This article lacks obvious references to the risks of birthing in hospitals. Having had one child in the hospital and another in my living room, my experience spans both sides of the issue. In the first delivery, a planned home birth, I experienced toxemia and labored six weeks prematurely. The OB at the hospital administered an induction technique using an off-label drug not approved for the purpose of inducing labor. I later found out that this drug often causes uterine rupture. I was not informed of the unapproved application of the technique nor of any risks. The OB also proscribed narcotics and my baby's initial apgar score was 2. The team in the room had no idea why this was the case. Had my husband not been a clinical pharmacist and directed the medical team what and how much anti-narcotic to administer to our newborn, we would have had a case of malpractice. These are the most egregious of the medical errors and near misses we experienced. However they pale in comparison to the abject disrespect we experienced from medical staff who questioned the care of our midwives, our choices in the hospital, and our intelligence. I was spoken about in the hospital room as though I was not present. I insisted on medical information about risks and responses were terse and demeaning. Overall, I appreciated the opportunity to deliver my daughter in an acute care situation, however, the experience was hugely unsatisfying professionally and emotionally. In contrast, I delivered my son, at home. I was supported. The midwives encouraged me to trust my instincts. I was coached through the experience rather than being told what was happening to me. The direct entry midwives worked as a team to support the whole family and used heart monitors and other common tools to assess progress throughout the labor. I was fully conscious, unmedicated, empowered, and deeply supported. My 9.5 lb baby was born without intervention in less than 8 hours. In addition to the emotional cost, the hospital birth cost in excess of $15,000 more than the home birth. I hope you continue this story. It would be nice for you to share the history of the AMA's rise to power through the policy of medicalizing childbirth.
Submitted by

Coleen Goodwin

on Fri, 06/01/2012 - 16:14
Permalink
Carri, Thank you for sharing your personal experience and for speaking into the absolute intention of the AMA in this news story. I would appreciate an opportunity to speak with you about the birth weight of your first baby born in the hospital at 6 weeks premature. May we connect via email? Thank you! WithMidwives