After the nurses filed a federal complaint and complained to Unity's president, Legacy Health negotiators offered about 10 more dates for bargaining sessions.
Image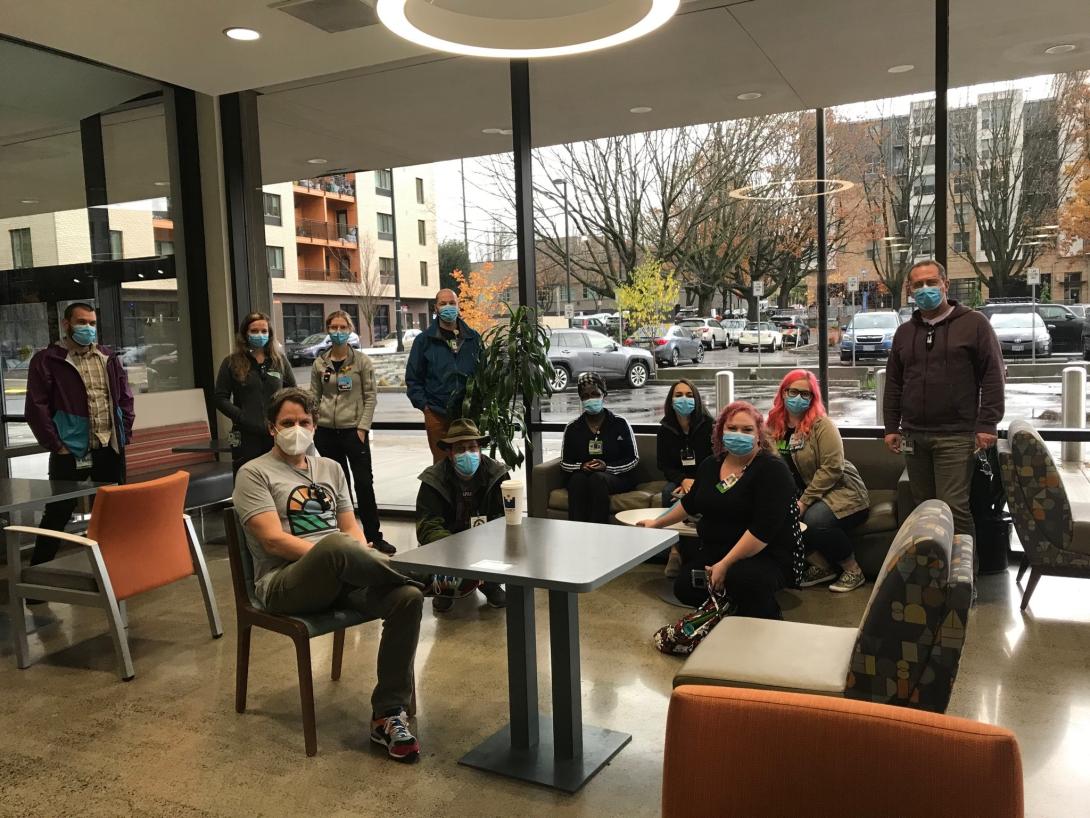 November 23, 2020
A year after federal authorities certified the right of nurses at the state's only emergency psychiatric facility, Unity Center for Behavioral Health in Portland, the negotiations remain stalled.
The 188 nurses at Unity who are organized under the Oregon Nurses Association accuse Legacy Health, which runs Unity, of failing to negotiate in good faith.
Legacy administrators deny that's the case. They said in a statement that a federal complaint filed by the nurses last week amounted to "a tactic to exert pressure in the bargaining process."
The nurses filed the complaint with the federal National Labor Relations Board. They also took a copy to Unity's president, Melissa Eckstein, asking her for help.
"We asked Melissa to lean on her team a little bit to come to a fair contract that services the needs to the patients and nurses," said Sarah Mittelman, a Unity charge nurse and bargaining chair for her peers. "She said she's going to look into it." 
Following that meeting, Unity offered about 10 dates for bargaining meetings to March. 
Mittelman said that marks progress. She said Unity had not proposed many sessions in the past, offered dates after nurses' schedules were set and cut meetings short when they did take place.
Mittelman accused Legacy of being inflexible by refusing to alter schedules to allow key nurses to attend.
But she said she noticed that she was off on the proposed dates. She said administrators told her they expect her to attend. She will have to do so in her free time.
"We are all doing this on our own time," Mittelman said. "We don't get paid to sit in these meetings."
Legacy said it is "unwavering" in its commitment to come to agreement on key sticking points.
"We've made strong progress toward an agreement, even reaching tentative agreements on some of the more than 20 articles under consideration," Legacy's statement said. "We respect and value our nurses. Even as we continue to work in good faith on a wage proposal, Legacy provided a wage increase to Unity nurses in October."
Nurses at Unity get paid a rate that's similar to their peers at Providence Portland Medical Center in Northeast Portland, Mittelman said. That varies, depending on experience and responsibilities, from $39 to $58 an hour.
Salaries are not an issue at Unity, Mittelman said. 
"Nurses feel that they're paid well at Unity," Mittelman said.
"We're concerned about having input in decision-making."
That point is largely what prompted the nurses to organize in the first place, Mittelman said.
Their bargaining unit is pressing for an all-nurse committee to be guaranteed by the contract that will give nurses influence in decisions that affect patients and safety.
Safety has been a continuing problem at the Northeast Portland facility.
Earlier this year the Centers for Medicare and Medicaid Services cited Unity for a series of violations that included sexual encounters in a bathroom, an attempted suicide, invasion of patient privacy, patients escaping, unwarranted use of retraints, a lack of nurses and other trained staff and a failure to investigate and fix problems.
A slew of other problems have emerged since Unity opened 2017. Nurses filed complaints about violence, abuse and neglect of patients. The Oregon Occupational Safety and Health Division fined Unity for patient attacks against employees. And in 2018 the facility risked losing its federal certification following two deaths and other problems.
Now the facility is coping with the pandemic.
Mittelman said staff have enough protective gear, and that the facility has had relatively few patients test positive for COVID-19. Patients can refuse the test, however, and many won't wear masks properly.
The nurses feel if they had more say, the facility would have fewer problems.
But the administration has balked at allowing the proposed committee, Mittelman said.
You can reach Lynne Terry at [email protected] or on Twitter @LynnePDX.