At the same time, the progress in vaccinations means that five counties qualify for the lower risk category and can increase business activities.
Image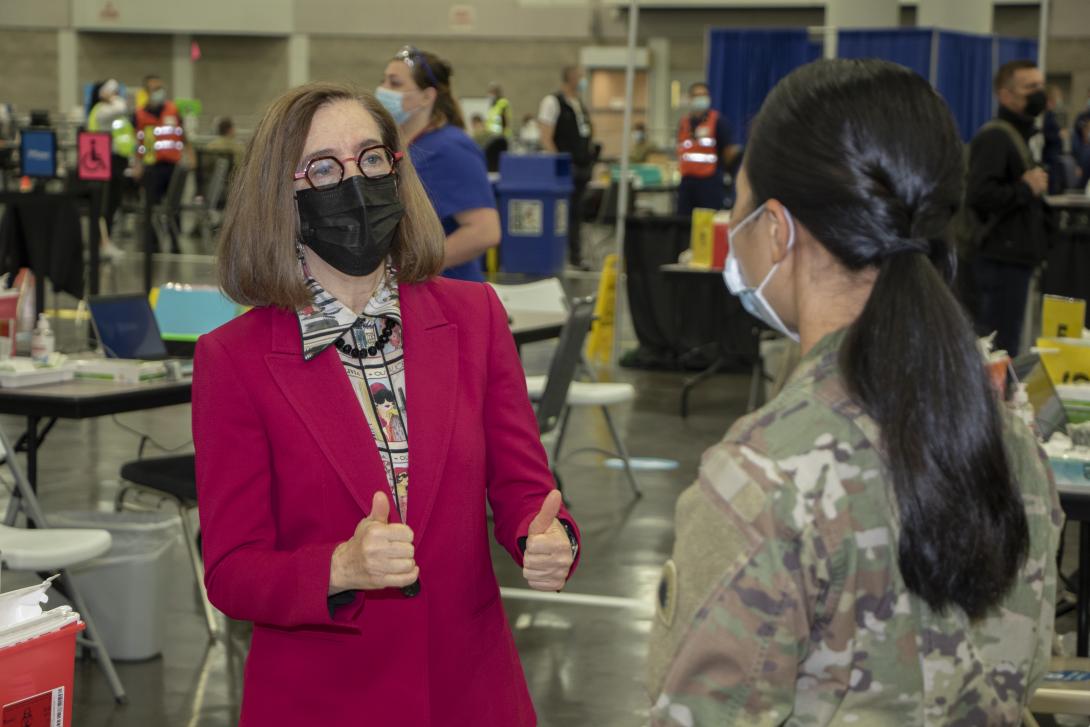 May 18, 2021
Bit by bit, Oregon is reopening from the pandemic. 
Five Oregon counties have vaccinated more than 65% of adults aged 16 and older, which under new rules qualifies them to enter the lower risk category in the state's COVID-19 framework on Friday. That lower level lets businesses, entertainment venues and restaurants operate at more capacity with fewer restrictions, although masks and distancing are still required.  The counties are Benton, Deschutes, Hood River, Lincoln and Washington, Gov. Kate Brown said Tuesday.
It's the first time counties have entered the lowest risk level due to achieving the 65% vaccination rate. Eight rural counties were already in the lower risk category due to declining infection rates, including Gilliam, Harney, Lake, Morrow, Sherman, Union, Wallowa and Wheeler.
Across the state, including in counties with low vaccination rates, Oregonians also have a new option for more freedom: if you are two weeks past your final vaccination, you can visit businesses that let customers go maskless and without social distancing, provided the customer shows proof of vaccination. The Oregon Health Authority on Tuesday released updated mask rules for businesses that want to ease their COVID-19 restrictions for customers who are fully vaccinated with both doses.
The rules confirm what the state last week had indicated it would do.
The new state rules come in response to guidelines from the federal Centers for Disease Control and Prevention that say that fully vaccinated people can resume most indoor activities in public places without masks or social distancing, with some exceptions. The eased-up rules don't apply to health clinics and hospitals, K-12 public schools, childcare facilities, jails and prisons, homeless shelters and long-term care facilities. 
Vaccination Card Becomes Crucial Document
States had the option to follow the federal guidance or keep stricter restrictions. In Oregon's new system, businesses can let fully vaccinated people go unmasked without social distancing if they check the person's vaccination record such as their vaccination card, photo of the card on their cell phone, or other document. The record must show their name, date of birth and date of vaccination. 
People also can choose to wear a mask if they prefer not to disclose that information. 
Businesses have a couple pathways forward. If they want, they can check their customer's vaccine status and ease up mask and social distancing rules. But if a business prefers, it can continue to require all customers to wear masks and practice social distancing. In that circumstance, the business is not required to ask customers for vaccination information. State officials say they want to give businesses flexibility to determine what works best for them.
As they have throughout the pandemic, some Oregon Republicans objected the Democratic governor's latest measures.
The process for easing up on masks in stores was dubbed a "vaccine passport scheme" that forces businesses to "play vaccine police," complained State Sen. Fred Girod, R-Lyons.
 "At every turn, Governor Brown has mistrusted Oregonians to protect themselves and each other. She has resorted to dictatorial edict after dictatorial edict. It needs to stop now. The pandemic is receding. If she can't give Oregonians their freedom back now, when will she?" said Girod, the leader of the GOP minority in the Senate, in a news release Tuesday.
Amid the easing of restrictions, the state continues to push towards its goal of vaccinating at least 70% of the adult population with a first dose of the vaccine, which requires two shots spaced several weeks apart except for the one-dose Johnson & Johnson vaccine. Oregon, with a population of 4.2 million, has vaccinated slightly more than 2 million people and needs to vaccinate roughly another 300,000 to hit the target. State officials expect to hit that target by the end of June.
"It's going to take all of us working together to make sure enough Oregonians are vaccinated to stop the spread of COVID-19 in our communities and end this pandemic," Brown said in a statement.
As he has for months, Dr. Dean Sidelinger, state epidemiologist, urged Oregonians to get vaccinated if they are eligible. 
"Make a plan to talk to your health care provider if you have questions," he said. "Only together can we continue to drive down COVID in Oregon."
Still, questions remain about the pace of vaccinations and how rapidly safety restrictions will be dismantled. For  example, the state's risk framework for counties addresses capacity limits, but not masks. So it's unclear what will become of mask mandates once Oregon hits the 70% threshold and drops its risk framework. 
"We will reevaluate our guidance as we get close to the 70% goal," Sidelinger said, adding that officials will decide if masks will be required or simply recommended.  
"I would anticipate a significant change in our guidance as we reach that 70% goal," Sidelinger said. "We need to get through these last few weeks together."  
Vaccination Cards Easy To Forge
Sidelinger said people can file complaints with the state if they see businesses or people flouting the rules. Still, he acknowledged the process the state is unveiling hinges on residents being honest. Vaccine cards are not photo identification cards and could easily be forged.
"We hope that Oregonians will not lie or cheat or put others at risk by forging a vaccine record," Sidelinger said.
Every week, the state will evaluate which counties reach the 65% threshold and qualify to move to the lowest risk on the state's framework. To qualify for the lower risk threshold, counties also have to submit plans to the state about how they will address gaps in equity as they distribute vaccines.
You can reach Ben Botkin at [email protected] or via Twitter @BenBotkin1.