Trying to Quit Smoking Backfires
How one smoker is facing the difficulty of the quitting process
August 23, 2012 -- The benefits of quitting smoking are undeniable: improve your health; save your life.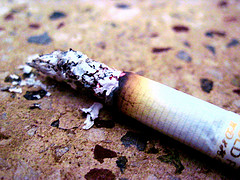 Sixty-nine percent of Oregon's smokers understand this and want to quit. Forty-seven percent have actually stopped smoking for one day or longer in the past year. Racquel Bell is one of those 47%.

In June, Bell attempted to quit her smoking habit of 28 years, her first attempt but not her last. But Bell isn't alone. According to the U.S. Department of Health and Human Services, most smokers who try to quit make repeated attempts before they achieve real success.

"Quitting is very hard," Dr. Charles Bentz, medical director of Legacy Health System's tobacco cessation and prevention program, stressed. "Most never-smokers and many former smokers don't understand this."

Bell knew trying to quit would be hard and that most people don't succeed on their first try, but she never expected to end up smoking more. Before her first quit attempt, which initially involved cutting
back to 5 cigarettes a day, Bell smoked 10-15 cigarettes a day.

"I'm smoking more than I did before I tried to quit, a pack a day. It sucks, and even though I know I don't really need it, I'm doing it anyway. "

Throughout her 28-year habit, Bell has never smoked more than her usual 10-15 cigarettes a day, even during times of financial and family stress. "It's like I need to smoke as much as I can because I know it won't be there (when she tries to quit again)."

This pattern isn't common, according to Wendy Bjornson, director of the Smoking Cessation Center at Oregon Health & Science University.

"People develop a dependence on a certain level of nicotine when they're smoking and tend to keep it pretty steady by either smoking the same number of cigarettes or by smoking fewer cigarettes
differently to get more nicotine out of fewer cigarettes," Bjornson explained. "Their body has adjusted the number of nicotine receptors to match that amount of nicotine so that is the 'dose' that they need to keep themselves stable."

So what's leading Bell to smoke more than ever?

"Many (smokers) use smoking as a means to modulate mood and affect," Bentz said. "Many are fearful about what they'll do to handle stress, and the mood swings that are experienced in the first few
weeks of a quit attempt, and have trouble letting go of this important coping mechanism. Anxiety about quitting smoking might lead some to smoke more to deal with the increased anxiety. Developing new strategies for coping with stress is a key component to successful quitting and many of the best cessation programs include this. This underscores the need for behavioral support for those who want to quit."

Bjornson agrees.

"The extra smoking (Bell's) could be about anxiety," Bjornson said. "It is also hard to maintain at 5 cigarettes a day after smoking 15 a day for very long without a patch or other medication. All the
nicotine receptors are going to still be active but feel very deprived at 5 cigarettes a day. She could be fighting a losing battle trying to stay at 5 when her body wants at least 15. She would really have an easier time of it if she used the medications for awhile."

Bell knows she wants to quit, knows she must, but actually doing it is another story. "I know it's something I have to face again (quitting), but I don't want to. It's really scary. Especially since I tried
before and I know what I'm facing. It's like getting willingly into the ring with someone who just kicked my ass. And it's not a normal ass beating; it's physical, mental and emotional."

Bell wants to be smoke free by her 41st birthday (December) but admits that she doesn't want to do the work. She's also fearful about her health.

"My chest hurt sometimes, and I never go to the doctor" Bell divulged. "I'm afraid to go the doctor, afraid to find out something I don't want to know."

When asked about her continued desire to quit despite knowing how hard it is and how much work is ahead of her, Bell simply said, "I don't want to be the lady on the commercial. She looks like a skeleton with skin," referring to "Terrie's Ad," one of the TV commercials from the Centers for Disease Control's (CDC) new advertising campaign, which inspired her first quit attempt.

When asked what it would take to try quitting again, Bell sat up straight and said, "Just do it and not think about it."
Image for this story by Sudipto Sarkar (CC-BY-NC-ND 2.0) via Flickr.