TriMet adopts $2.50 flat fare, kills free rail zone after heated four-hour meeting
Public testimony stressed effects on transit-dependent riders, including health effects
June 14, 2012 – At the end of a meeting that lasted more than four hours, the bulk taken up by public testimony, TriMet's board of directors voted Wednesday to adopt the last draft of its budget – which was released in April.
At the beginning of September, TriMet riders will face a fare increase to a flat fare of $2.50 (with the end of the "zone" system of tiered fares), the end of the free rail zone and changes to several service lines, the result of a proposal released in April following a series of public hearings and two open comment periods, during which 16,000 comments were submitted to the agency.
While it may have looked like a done deal months ago, near the end of the meeting, board members and general counsel discussed the possibility of holding additional hearings to review an alternative budget proposal put forth by OPAL Environmental Justice, an advocacy group for transit riders which held a rally outside the meeting site across from TriMet's corporate office, in the former Advantis Credit Union building.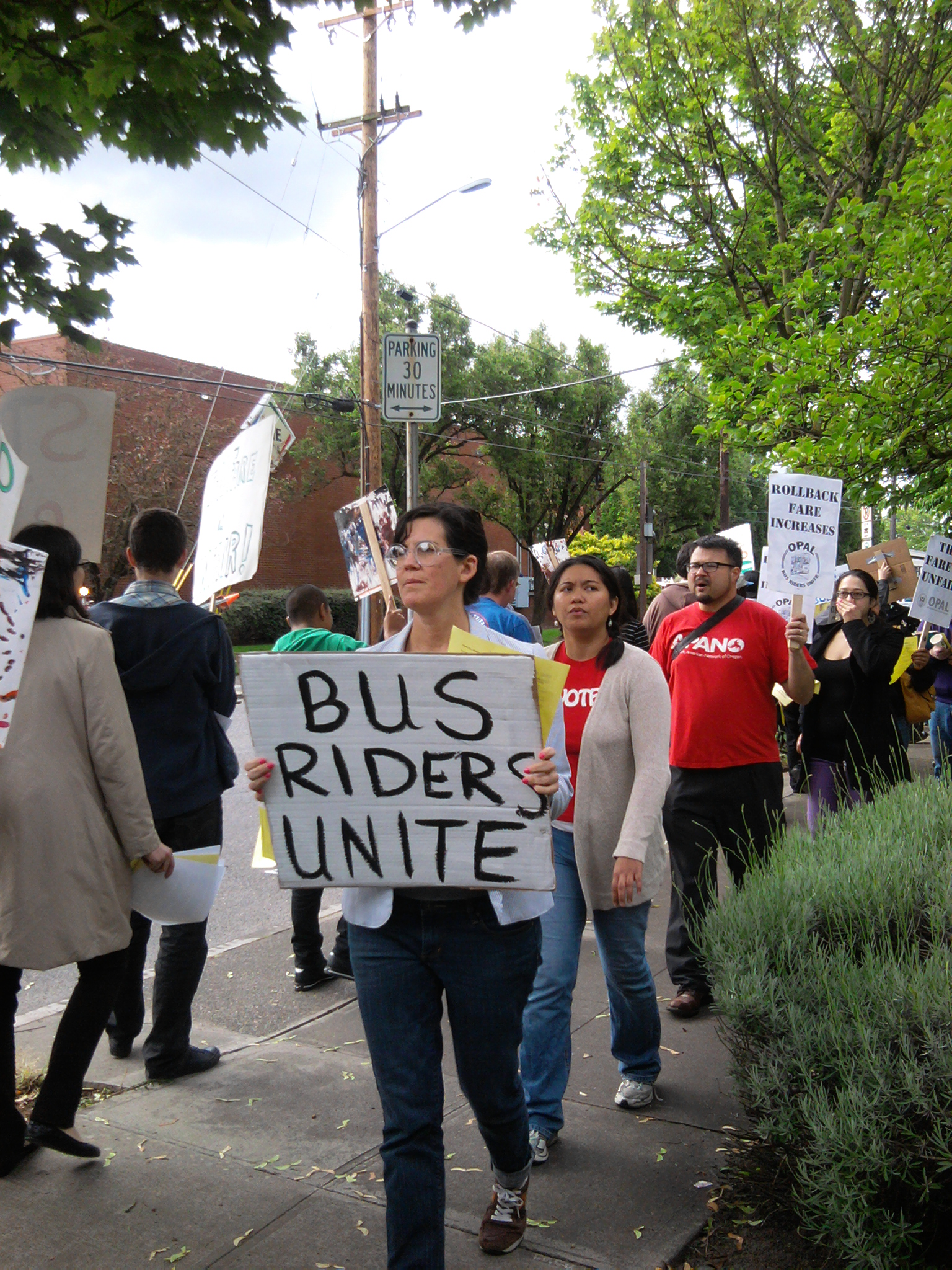 Ultimately, however, the board decided to approve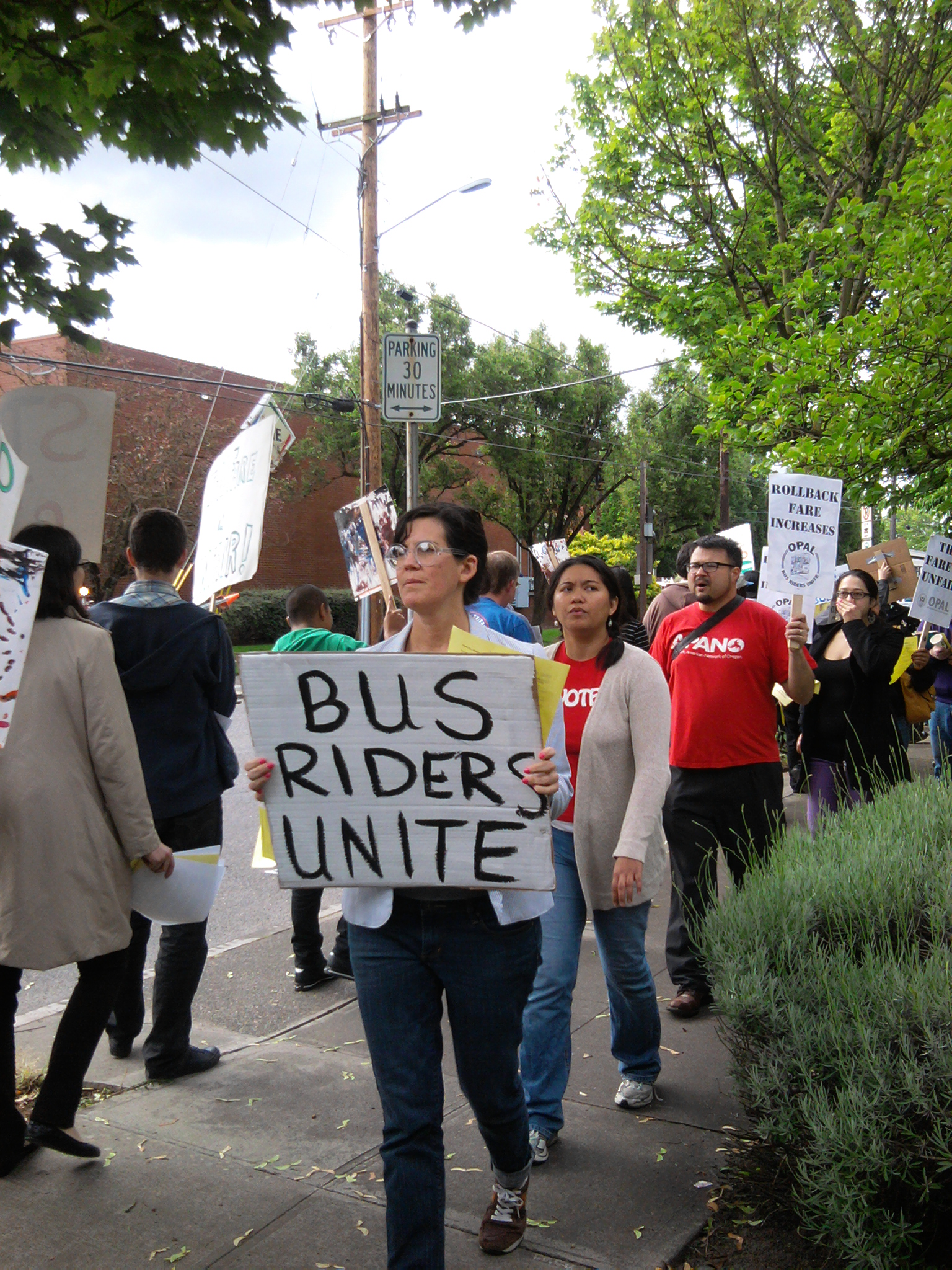 its own earlier proposal – with one amendment, proposed by Consuelo Saragoza, that $1 million of the budget's $20 million contingency fund be set aside to investigate ways to mitigate the effects cuts would have on low-income and impoverished riders, including a policy and economic analysis around the effects of service cuts and fare increases.
The board voted unanimously, by roll call, under the sound of a few dozen OPAL activists chanting, "No more hikes!" and booing the board.
The majority of those testifying were critical of the board's proposed budget. Many speakers said they depended on public transportation to get around, and said the existing fares and recent service reductions already pose a significant hardship. Several focused on the impacts of fare hikes on seniors and people with disabilities – as well as the larger public health effects of reduced service.
Adam Kriss, a member of the Portland Commission on Disability, said service cuts would have a strong impact on seniors and people with disabilities.
"People with disabilities compose 18 percent of the population of Portland, this figure will only increase as the population ages," Kriss said.
Several speakers emphasized the public health effects of diminished transit cuts, including Steph Routh, director of the Willamette Pedestrian Coalition, who said, "When one service is cut, it adversely affects walking conditions."
"You are paralyzing [transit-dependent] families from adopting a healthy lifestyle," said Oregon State University grad student Rusha Tapador, who has been studying the health effects of public transit. One woman in her research group had to take three buses to get to a grocery store with fresh produce she could afford – but eventually stopped, and her family started eating more convenience foods, resulting in weight gain and her husband's heart attack.
Heidi Guenin, transportation policy coordinator at Upstream Public Health, testified about the public health impacts of service cuts. Earlier this year, the Harvard School of Public Health, which performed a health impact assessment of service reductions to Boston's public transit system, which estimated the health effects of vehicle miles traveled, time spent driving, ridership loss, and air quality.
Upstream only had data from TriMet on one of those criteria, but decided to apply the model Harvard's team used to determine how it would affect health in the Portland metro area. The agency has said fare hikes and service cuts will likely result in 1.1 million fewer trips next year – which Upstream estimates will result in 72,000 fewer hours of physical activity and increase mortality by 7.7 percent.
Guenin noted the model assumes 95 percent of transit riders will start driving to work instead. She also said there is little data available about other potential public health effects of TriMet's changes, including decreased air quality and safety stats if more people start driving.
Image for this story by Christen McCurdy.