Image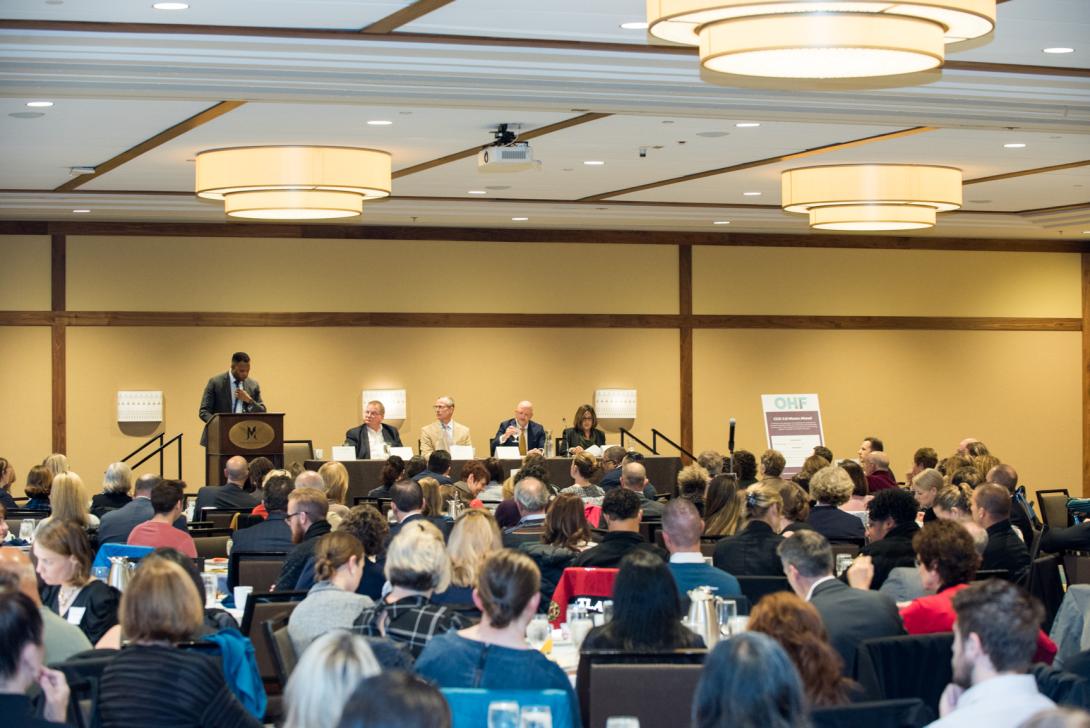 October 17, 2019
Trillium Community Health Plan appears to be breaking down barriers in the Portland area.
The for-profit insurer, which has faced a wall of resistance to entering the Portland-area Medicaid market, has signed about 750 agreements with providers and health care organizations in the tri-county area, according to Chris Hummer, the new CEO of Trillium and its affiliate, Health Net of Oregon.
"At the end of the day, I don't see a problem to be able to carry out our duties with the (coordinated care organization) up here in the tri-county area," said Hummer, speaking at an Oregon Health Forum breakfast on Thursday at the Multnomah Athletic Club in Southwest Portland.
Hummer's presence on the panel, which focused on the rollout next year of so-called CCO 2.0, appears to have sparked controversy and interest, sources said. More than 230 people showed up for the event -- more than usual. The panelists included Patrick Allen, director of the Oregon Health Authority; Sam Chase, executive director for the Coalition of Community Health Clinics; Marni Kuyl, the director of the Department of Health and Human Services; and Hummer.
Chase and Kuyl were late additions to the panel. Originally, Dr. Maggie Bennington-Davis and Andrea Salinas were scheduled. Salinas, a Democratic state representative from the 38th District, which includes most of Lake Oswego and parts of Portland, heads the state House Health Care Committee. Bennington-Davis is the chief medical officer and interim chief of Health Share of Oregon, currently the sole Medicaid insurer in the Portland area. After Hummer was announced as a panelist, Bennington-Davis and Salinas suddenly dropped out, citing schedule conflicts.
Soon after the event started, moderator Jeremiah Rigsby, chief of staff of CareOregon, cited the "elephant in the room" and directed a question to Hummer, asking how Trillium's preparations were going.
Hummer, who said he would pass, joking, did not give any details about the agreements its sealed so far in the Portland area. He referred questions to a spokeswoman, who declined to answer on the spot and did not respond to emailed questions. It's unclear whether Trillium has signed Medicaid agreements with any of the major hospitals in the Portland area, including OHSU, Providence Health & Services and Legacy Health, which are all affiliated with Health Share.
Having a full stable of providers is crucial for getting final approval from the state to operate as a Medicaid insurer in the Portland area starting Jan 1, 2020.
In July, the Oregon Health Authority gave Trillium initial approval to enter the metro market, which has more than 300,000 members. But it has to show that it has enough providers to serve members. Providers and organizations associated with Health Share -- including the three Portland-area county governments which are involved in mental health care -- have opposed opening up the area to competition, saying the system is running smoothly and that adding a new insurer could confuse members and would complicate the paperwork for providers. Multnomah County publicly opposed adding Trillium and OHSU and Legacy Health have resisted signing agreements with the company. 
In August, the Oregon Health Authority created a rule that requires hospitals and other providers to negotiate and sign contracts with Medicaid providers in an apparent effort to back up Trillium and break through the resistance. 
Trillium is currently the only Medicaid provider in Lane County, where it will face competition from PacificSource next year. PacificSource is a nonprofit and so is Health Share. But Trillium was purchased by Centene Corp., a Fortune 500 company. Critics have opposed having for-profit companies in Oregon's Medicaid system, though Moda Health, which backs the coordinated care organization in eastern Oregon, is also a for-profit as is AllCare CCO.
Oregon's Medicaid market is worth $6 billion a year and covers nearly 1 million people or about one in four Oregonians. The Portland-area market is the biggest, with  $1.5 billion a year at stake.   
 Allen said the OHA believes the structure of each coordinated care organization, whether they are for-profit or not, is less important than the work they do. Allen said that with Trillium's experience, it could provide good care in the Portland area.
Allen said he does believe there will be administrative challenges with an added CCO but believes the benefits outweigh those challenges. 
"This is the first job I've ever had where I've been quoted as saying things I'm not sure I really ever said," Allen said, citing "Competition is a good thing." "I don't think I've ever said that," Allen said. "What I have said is, 'Having a choice of CCOs can provide benefits to members' and I do believe that's true."
Chase, executive director for the Coalition of Community Health Clinics,  echoed that sentiment, saying he thinks the controversy around Trillium has overshadowed what's important in health care. 
"At the end of the day, where's the patient's interest in all this?" Chase asked. "What's beneficial to the patients? I think that's lost in the conversation."
Kuyl, director of the health and human services, said the next Medicaid round, dubbed CCO 2.0,  will improve on advances made in the first round, which includes the introduction of medication-assisted treatment for substance abuse to the county jail. 
"We can talk a lot about what needs to be done, but we can take some time to say, 'We've made some progress, and we're doing some good work and we're doing it together,'" she said. 
Toward the end of the panel, Multnomah County District 1 Commissioner Sharon Meieran asked Hummer about how Trillium would provide added value to the tri-counties. Hummer was vague, saying he's only been CEO of Trillium since August. 
He said Trillium has done a lot of good things in Lane and Douglas counties, but say they might not transfer to Portland area. He indicated that Trillium intends to listen to the needs of members. "You've got to sit back and engage people," Hummer said. "The more people you have doing this work, the more creative you get."
Hummer said Trillium has been working with PacificSource to figure out ways that they can cooperate and avoid duplication in Lane and Douglas counties.. 
Hummer said he hopes Trillium and Health Share can work together to in that same way. 
"We need to work collaboratively and remember that the member is at the center of all this, and not allow that other stuff to get in the way of it," Hummer said, "I think that's the proper way to go about it."