January 2, 2013 -- Growing up in southwest Portland – and later studying political science at the Catholic University of America in Washington, D.C. – Tricia Tillman didn't realize public health was an occupation, much less the one where she'd end up. "I kind of stumbled into public health," Tillman said. "I didn't know it was a field at all."
January 9, 2013
January 2, 2013 -- Growing up in southwest Portland – and later studying political science at the Catholic University of America in Washington, D.C. – Tricia Tillman didn't realize public health was an occupation, much less the one where she'd end up.
"I kind of stumbled into public health," Tillman said. "I didn't know it was a field at all."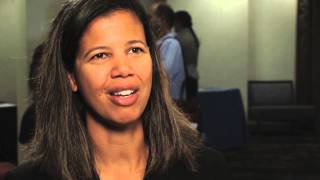 After college, Tillman – now the administrator of the Oregon Health Authority's Office of Equity and Inclusion – accepted an internship as a health educator at El Rio Santa Cruz Health Center in Tucson. The clinic had been created by a group of Mexican-Americans in the 1960s to provide culturally appropriate care to Latinos.
It offered a full spectrum of services, including mental healthcare, dental care, prenatal and child care – and there was a lab and pharmacy onsite. The staff was extremely diverse and the board was made up primarily of consumers (that is, people for whom the clinic was created to serve).
"It informs a lot of my perspective now about what coordinated care organizations can be," said Tillman, both due to the breadth of services offered at the clinic and the inclusion of diverse voices.
After working in Tucson for several years, Tillman moved to Boston, where she received a master of public health degree from Boston University and interned with two community health centers. Part of her research focused on the health outcomes of poor communities and communities of color after Boston's rent control policies ended, leading to gentrification and causing lower-income people to flee to the periphery of the city, where there were fewer amenities.
Now Tillman's seeing a similar phenomenon in Portland. For example, a recent Portland Bureau of Housing survey found that white, middle class Portlanders have shorter commutes, whereas lower-income and minority Portlanders said their commute lengths had increased – which affects stress levels and quality of life.
"The people with the least amount of risk have the most amount of family time," said Tillman, who works with other government agencies to ensure the voices of diverse populations are heard when making health policy decisions. Last spring, her office held a series of 10 different listening sessions with various cultural groups to learn what they needed to be healthier. Overwhelmingly, people talked about socioeconomic issues – jobs, transportation and housing – rather than access to care.
"It is important to recognize that historically, the healthcare system like many other systems in our nation, were established under systems of segregation and slavery," Tillman said. "Oregon has a painful history of oppression directed at American Indians, African Americans, Asians and Latinos. Consequently, these communities are overrepresented among Oregon's low-income populations and now make up 40 percent of the Medicaid population."
Tillman said these historic dynamics have not only created health inequities and other barriers for diverse communities to engage, but also have created barriers for professionals in healthcare leadership to engage and respect the experiences and insights of the diverse low-income communities they serve.
The most important first step government agencies can take is making sure coordinated care organizations develop partnerships with culturally diverse stakeholders. "Equity in healthcare and in the social determinants of health begins with diversifying who is at the table when strategies are explored and plans are being developed and implemented."
Also, emphasizing prevention is critical, she said. Just as the majority of spending within the healthcare system goes toward treatment and not prevention, the majority of discussions about health issues are about access to care, not access to prevention.
Yet, Tillman sees some government agencies taking a step in the right direction, though, noting that Portland's Comprehensive Plan includes plans to address health issues from a preventive standpoint (such as specific plans for community gardens and walkable neighborhoods.). That's significant, because it shows that government agencies outside of healthcare are starting to take prevention seriously.
Her office has provided grant funding to three health equity coalitions around the state which have researched social determinants of health in their local communities. For instance, the Benton Linn Health Equity Alliance worked to identify food deserts in its counties and proposed possible solutions (such as expanding public transit services to make sure people living in food deserts can access grocery stores more easily).
"The membership of those coalitions is intentionally diverse, culturally and professionally," Tillman said, and have given the state insight into what communities need to be healthier.
Once the voices of diverse communities are brought in, there's a huge return on investment, said Tillman. She pointed to the Alliance of Culturally Specific Behavioral Health Providers – which is working with the Tri-County Medicaid Collaborative (now Health Share of Oregon) to make sure it provides culturally appropriate care – and the  Benton Linn Health Equity Alliance (Benton and Linn Counties, OR) and Let's Talk Diversity Coalition (Jefferson County, OR), which are working with CCOs in those regions.
"Our hope is to really work as a partner to help move from providing philosophical support to make sure the infrastructure is there to serve the people we need to."  
TO LEARN MORE
Comments
Submitted by

Christen McCurdy

on Wed, 01/09/2013 - 16:37
Permalink
This article has been updated to note that the Tri-County Medicaid Collaborative is now called Health Share of Oregon. The organization changed its name Sept. 1, when it officially launched as a coordinated care organization.