Traditional Healthcare Workers Join CCO Movement
This work force is intended to help people lead healthier lives, as well as save money
July 1, 2013—Traditional health workers and their impact on Oregon's healthcare system, particularly the Oregon Health Plan, were the subject of an all-day conference sponsored by Acumentra Health last week.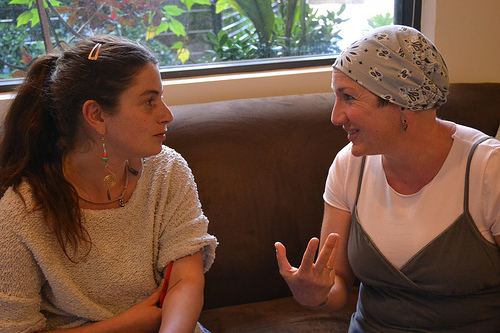 The legislation creating coordinated care organizations (CCOs) requires them to use three types of traditional healthcare workers: community health workers, peer wellness specialists and patient navigators. Doulas, and other types of workers, can also be used.
The intention and hope is that the workers can help patients with little access to healthcare lead healthier lives, make the healthcare system focused on effectively serving patients, and save money. 
"This is not about a workforce that does the same thing, but more cheaply," stressed Dr. Tina Castañares, board chair of Northwest Health Foundation, who delivered the keynote address. "If we allow only that, we will lose an immense opportunity. They are a resource that can no longer be ignored."
Traditional health workers help patients navigate the healthcare system by conducting home visits, establishing a close connection with the patient, and motivating people to improve their health. Traditional health workers often belong to the communities they work with. For example, someone who speaks Spanish may visit patients in a migrant camp, and an African American doula may help pregnant African American women.
Patients seen by traditional health workers often have little or no access to the healthcare system, or understand how it functions. Often, they are low-income, vulnerable, migrant workers or speak little English.
"Traditional health workers can be a really key bridge," Castañares said, by helping people get the healthcare they need.
Many of the conference's presenters focused on how their CCOs or health programs use traditional health workers. According to FamilyCare's community engagement manager Carol Burgdorf-Lackes, the main question CCOs are trying to answer is how to move "from an acute care medical model of healthcare to a more community-based" organization.
CareOregon—which is a member of Health Share of Oregon, a CCO serving the Portland metropolitan area—FamilyCare CCO and AllCare Health Plan (the CCO serving southern Oregon) all embed traditional health workers in primary care clinics, which allows them to communicate directly with physicians. Some do home visits in churches, shelters and other community spaces.
FamilyCare is currently looking into incorporating doulas, and working with Wallace Medical Concern to help patients manage their diabetes. The CCO is also working the Latino Network, the Coalition of Communities of Color, the Immigrant & Refugee Community Organization and homeless youth agencies to learn more about health disparities in specific cultures. "We need to know how to address these health disparities," Burgdorf-Lackes said.
AllCare Health Plan is still trying to figure out how to embed traditional health workers into its physician offices, said Heather Hartman, clinical integration coordinator. The CCO is challenged not only by its size —it provides healthcare to all of Jackson, Josephine, and Curry counties, and the southern tip of Douglas County—but also by the fact that many of its providers are small, independent practices. "They might not be able to house a traditional health worker in their clinic," she said.
Issues with licensing, credentialing, billing and training were also discussed. Members of the Oregon Community Health Worker Association, a newly formed organization to represent and advocate for traditional health workers, spoke about the need to develop a standardized, statewide training and licensing requirements.
Billing codes also need to be developed for the jobs performed by traditional health workers such as home visits, Burgdorf-Lackes said. "A lot of the work we're doing now is unfunded," she added.
The conference's mood was largely positive and optimistic. But Maria Pena, a North Central Public Health District community health worker, worried that the sudden popularity of health workers could dilute their job, mission and efficacy.
Community health workers used to be a marginalized part of the healthcare system. "Everyone wants to be one," she said. "When you call yourself a community health worker and you work behind a desk, it's different than when you're working with migrant workers in the camps. We have to use that label carefully."  
Image for this story by Wendy Kenin (CC BY-ND 2.0) via Flickr.
Amanda Waldroupe can be reached at [email protected].