Toxic Toys Bill Likely to Make a Comeback
Advocates aren't sure if they'll bring the bill back in 2014 or 2015, but hope to reintroduce it as soon as possible
August 30, 2013 – Advocates say they plan to bring back the Toxics Disclosure for Healthy Kids Act, which passed out of the House but died in the Senate this spring – but aren't yet sure when they'll put it on the table.
Chris Hagerbaumer, deputy director of the Oregon Environmental Council, which was instrumental in drafting the original bill, told The Lund Report that the group intends to bring back the bill next February when the Legislature convenes, but Rep. Alissa Keny-Guyer (D-Portland), who cosponsored House Bill 3162 with Rep. Jason Conger (R.-Bend), wants to meet with stakeholders, including the council, before making a firm decision about when to reintroduce the bill.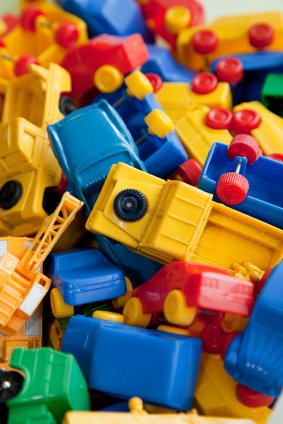 "My preference is to move forward with it this session," said Keny-Guyer, who wants to get a feel for what stakeholders would like to see before moving ahead.
When she does so, Keny-Guyer intends to reintroduce the full bill without any major changes.
"There was no good policy reason to not support the bill. My strong preference is to do it in the full form," she said.
Hagerbaumer said the council also hoped to see the full bill, rather than the version that was pared down in this year's legislative session and ultimately died in committee after some key senators withdrew their support without comment.
"The issue came toward the end of the legislative session," Hagerbaumer said. "I don't think it really was the policy, it was just what happens with politics."
The bill would have required toy manufacturers to disclose whether their products had any of the 19 toxins, and initially had some Republican support in the Senate, but failed to make it out of committee after a series of other progressive bills were killed by one vote, leaving the Senate Rules Committee reluctant to put another likely-to-fail bill up for a vote. In July, Sen. Elizabeth Steiner-Hayward (D-Beaverton/Portland) called the bill an "innocent bystander of a lot of other negotiations at the end of the session."
While Keny-Guyer is taking a temperature check among likely supporters, Hagerbaumer said the council intends to spend some time reaching out to Republican senators and Democrats who seem likely to be swayed.
"The House passed it with flying colors. There was a good deal of Republican support in the house. We'll be spending time in the interim [before the legislature reconvenes next February] reaching out to them," Hagerbaumer said.
HB 3162 was modeled on laws in Washington and California that require manufacturers to disclose and phase out the presence of chemicals likely to appear in certain children's toys – not just lead but BPA, formaldehyde and cadmium.
Any large company that does business in those states likely does business in Oregon, so requiring the same rules of disclosure makes sense, Keny-Guyer said. "If they sell in Oregon, they are already selling in Washington.
By the time HB 3162 died it had been trimmed of a requirement that manufacturers phase out use of certain chemicals after five years and focused only on disclosing the presence of those chemicals, but now advocates say they're going to go forward with the full bill.
"We actually think it has a very good chance of passing in a form that really will protect kids," Hagerbaumer said.
Christen McCurdy can be reached at [email protected].