Image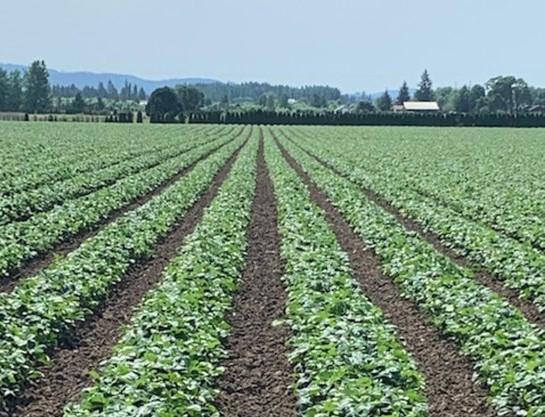 June 1, 2020
Four days after the Oregon Health Authority announced a cluster of coronavirus cases in the Willamette Valley, the agency had no new updates.
As of Thursday, there were 48 positive cases at two Townsend Farms locations in Fairview and Cornelius — 41 people in Multnomah County and seven people in Washington County, OHA said. The agency said there were 13 additional pending tests at that time.
Townsend Farms supplies a variety of fresh and frozen fruit to retailers as private label goods. According to its website, it's a multi-generational family business that began in 1906.
Margaret Townsend, owner of the farm, said a total of about 340 seasonal migrant farmworkers traveled from Mexico and arrived at the two farm locations over Memorial Day weekend. They were tested for COVID-19 when they arrived.
Prior to the employees' arrival, Townsend said, the company worked with the Oregon Occupational Safety and Health Administration (OSHA) to implement new COVID-19 farmworker housing guidelines.
Townsend said that all of the workers are currently staying in housing at the farms — with people who have tested positive for COVID-19 staying in separate quarantine housing.
The farmworkers did not make any stops along the way for other jobs, and it is believed they came into contact with coronavirus before arriving in Oregon, Townsend said.
When asked Thursday, OHA officials also said they believed the workers came into contact with the virus before arriving in Oregon, though the agency could not confirm where the workers had traveled from.
Townsend said of the seasonal farmworkers who did test positive, one was hospitalized and another had a fever and cough. Other than that, "everyone was asymptomatic," Townsend said. State and local health officials have not confirmed that information.
She said all of the farmworkers in quarantine housing are being paid and food is provided to them.
"If you have a positive test at Townsend Farms, goodbye. Home two weeks until you see a medical provider and I will pay you to stay home," Townsend said. "We don't dock their vacation. We don't dock their sick leave."
Townsend said the latest cases are separate from an outbreak at the company's Fairview processing plant in April in which she said the company closed its evening shift for 18 days and conducted its own contact tracing.
"To date, the processing plant and office staff employees have all been tested," Townsend Farms said in a statement. "Since May 12, no further processing plant employees have tested positive."
Townsend acknowledged four prior complaints filed by employees through the OSHA. She said the company has worked with OSHA to get some citations cleared, including ones regarding cleanliness and social distancing, and that those complaints are "unsubstantiated."
Townsend said the company began strict sanitation early on in the coronavirus pandemic, along with purchasing 900 rapid COVID-19 tests through Legacy Go Health, and it eventually got additional testing help through the Virginia Garcia Clinic and other agencies. 
As of March 13, she said "all of our staff at all of our locations were trained on the CDC requirements for COVID, and everyone had to sign a log that they were trained." She said the company that retrained people once a week as new CDC requirements arose.
She also said employees are regularly screened for symptoms and have their temperatures checked twice a day. People are required to wear personal protective equipment and follow social distancing guidelines.
News of the cases at Townsend Farms follows other coronavirus cases affecting farmworkers throughout the Northwest.
Olivia Quiroz, executive director of the Oregon Latino Health Coalition, said that migrant farmworkers are a particularly vulnerable population.
"For the farmworker community, from a health perspective, this is a more vulnerable group now with COVID-19," Quiroz said. "To begin, the average life expectancy for the farm worker community is 49. They are becoming more ill and die younger than the general population."
On Friday, the Oregon Health Authority announced a new outbreak associated with a fruit processing plant in Hood River County.
And in Clark County, Washington, health officials continue to investigate 120 positive coronavirus cases associated with an outbreak at Vancouver fruit processor Firestone Pacific Foods. Five of those people are not Clark County residents.
Townsend said her company is continuing to test workers and will continue following county and state guidelines going forward.
This story was originally published by Oregon Public Broadcasting.