Tomei Wants Tobacco Money Spent on Prevention
The state has received $1 billion from the tobacco master settlement agreement, but thus far that money has not gone to tobacco prevention
February 20, 2013 -- In a landmark lawsuit brought by state attorneys general in 1998, the major tobacco companies settled with the states for $206 billion to compensate them for decades of false advertising while selling a product that causes cancer and has greatly increased public health costs, particularly for Medicaid.
So far Oregon has received $1 billion from the tobacco companies, but instead of being spent to offset the high cost of tobacco to public health, that money was committed to pay down bonds for 10 years amid an economic recession in 2003.
As those bonds are paid off, Milwaukie Democratic Rep. Carolyn Tomei is pushing legislation to make sure that that newly freed cash will go where it was intended.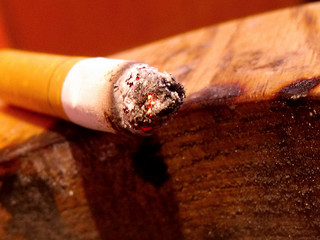 "Tobacco companies were forced to pay for their years of deception and lies," Tomei testified Monday before the House Health Committee. "Oregon received more than $1 billion from the tobacco industry and not one penny has gone to tobacco prevention, not one penny."
Tomei's legislation would change that, potentially marking as much as $120 annually to tobacco-related expenses.
House Bill 2136 calls for 10 percent of the money to be dedicated to the Tobacco Use Reduction Account, which funds the Tobacco Prevention and Education Program. The remainder of the program would be given to the Oregon Health Authority for "healthcare initiatives" that Tomei hoped could help the state's coordinated care organizations stem tobacco use on a local level.
"This year's final debt-service payment could not be better timed," Tomei said, citing Oregon's transformation in healthcare delivery for the Oregon Health Plan with the emergence of coordinated care organizations.
Tobacco use is particularly high among poor Oregonians, as 30 percent of Oregon Health Plan members smoke, twice the state average.
The bill will likely be amended to maintain funding to pay the costs of tobacco law enforcement, which had previously been funded and requires about 1 percent of the annual settlement money. Attorney Fred Boss of the Oregon Department of Justice testified that those funds must continue and had been inadvertently eliminated by the legislation.
The money for enforcement is the only part of the tobacco settlement money under current law that is not at the discretion of the Legislature.
Health Committee Chairman Rep. Mitch Greenlick, D-Portland, said he supported the bill but delayed a vote to reinsert the tobacco enforcement provision and to give time for critics an opportunity to comment.
A competing bill was heard a week earlier from Rep. Jason Conger, R-Bend. His measure, HB 2638, would earmark $20 million of the tobacco money to the coordinated care organizations for wellness promotion programs. "Part of the grant would have to include engaging the patient in their health," Conger said at the time.
His proposal could include anti-smoking efforts. Tomei's bill does not specify how the OHA would spend its roughly $120 million beyond funding "health care initiatives," giving the authority the discretion to fund either wellness or tobacco prevention if it chooses.
The Tobacco Prevention and Education Program predates the tobacco settlement and was created in 1996 when voters agreed to more than double the cigarette tax. Alejandro Queral of the Northwest Health Foundation said that Oregon's per-capita cigarette consumption rate fell in half during the program's first 10 years.
Queral cited an analysis of California's tobacco prevention program to showcase how prevention works. Between 1989 and 2008, the state spent $2.4 billion on tobacco control and saved $134 billion in healthcare costs.
Tobacco cost Oregonians $1.3 billion in direct medical expenditures just in 2009, according to the Oregon Health Authority.
Other than Rep. Jim Weidner, R-McMinnville, who suggested that all the revenue from the settlement go toward the state Tobacco Prevention and Education Program, the bill had no opponents. But, Greenlick said, he was sure there were critics.
Image for this story by Dale M. Moore (CC BY-NC-ND 2.0) via Flickr.