Tobacco Prevention Bolstered by Partnership
Trillium Community Health Plan and Lane County work together to achieve the triple aim
October 2, 2012 -- When it comes to reducing the incidence of smoking, Trillium Community Health Plan, has come up with a novel approach. As one of 13 coordinated care organizations around the state, Trillium is integrating physical and mental healthcare for people on Medicaid to improve outcomes and keep costs sustainable.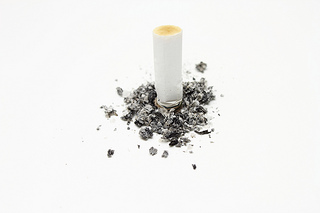 "To help reduce the human and financial costs of behavior-based conditions, coordinated care organizations will be reporting on and working to lower the prevalence of tobacco use and other metrics and will be expected to report improvements for the populations they serve," said Dr. Bruce Goldberg, director of the Oregon Health Authority. "This will be a powerful incentive for local CCOs to take extra measures to provide services that reduce high-risk behavior and increase preventive measures."
Trillium, based in Lane County, is meeting that challenge, by partnering with the Lane County Public Health Department to focus on tobacco prevention and to help its members become healthier.
"Tobacco's toll on Lane County is huge," said Dr. Patrick Luedtke, its chief health officer and medical director.
Lane County has 50,492 smokers, which represents 13,500 people with serious illnesses related to tobacco use. Also, 23% of all deaths in Lane County were caused by tobacco use in 2010, according to Luedtke (http://www.lanecounty.org/Departments/HHS/PubHlth/Documents/lanefac.pdf). In terms of dollars, Lane County spends $127 million annually on medical care for tobacco-related illnesses and $116 million in productivity is lost each year due to tobacco-related deaths.
Luedtke, a member of Trillium's board of directors, encouraged the organization to devote $10 per member per year on evidence-based prevention measures, which ends up being approximately $1.33 per month  – including tobacco cessation, immunizations and chronic disease prevention. Based on Trillium's current population, it will have at least $550,000 this year to focus on such activities.
Those funds will be used to hire a community epidemiologist and two community health analysts, who'll support both Lane County and Trillium in carrying out the strategies outlined in its CCO application and transformation plan and implement specific evidence-based prevention practices.
Analysts will help pregnant women and people with behavioral health issues quit smoking, assess the tobacco policies of the campuses of its providers and contractors, and then working to increase the number of tobacco-free properties and look for any gaps in meeting best practices. Meanwhile, the epidemiologist is expected to analyze data for the Trillium and Lane County's tobacco prevention and other prevention initiatives and also focus on priorities in Trillium's transformation plan.
"Trillium cut loose some of their global budget to support tobacco prevention at the county level to help achieve population health," Luedtke explained.
"Improving the health of the population requires thinking outside of the box. Trillium's partnership with Lane County, including public health, will help us achieve our goal of better health, better care and lower cost," said Terry Coplin, Trillium's CEO.
"This is just one example of the work happening in Lane County and in local public health departments across the state," Goldberg noted. "This means we are making real progress in having local government and local health care delivery systems work together to improve the health of their communities."
Luedtke described the work being done by Trillium and Lane County as something quite simple but powerful. "We have a big heart and we have evidence (of the benefits of tobacco prevention) on our side."
A 2008 Trust for America's Health report concluded that an investment of $10 per person per year in proven community-based programs to prevent smoking and other tobacco use, increase physical activity, and improve nutrition could save the country more than $16 billion annually within five years.
Image for this story by Matt Trostle (CC BY 2.0) via Flickr.