Sen. Laurie Monnes Anderson, D-Gresham, favors limiting the ban to 17, over the objections of the Knight Cancer Institute that 17-year-olds are most at-risk of developing melanoma from tanning beds
April 4, 2013
April 5, 2013 -- The tanning lobby won a major concession today in the Senate Health Committee, which voted to scale back a ban on carcinogenic tanning beds for minors.
The tanning ban in House Bill 2896 would now apply only to 16-year-olds, after Sen. Laurie Monnes Anderson, D-Gresham, said she favored an amendment that would upset proponents and opponents of the ban equally. The bill that passed the House last month banned tanning beds for anyone under 18.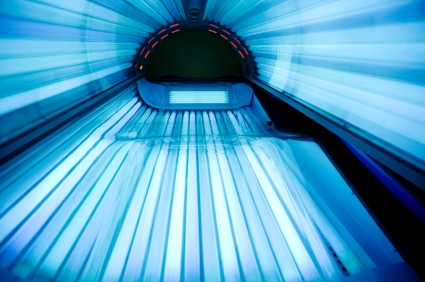 "It is a significant weakening of the bill," said Suzy Funkhouser, the lobbyist for Oregon Health & Science University.
Funkhouser said 17-year-olds are the group of minors most likely to use tanning beds.
Dr. Brian Druker, a national cancer expert at the Knight Cancer Institute at OHSU, said at an earlier hearing that people who begin tanning before the age of 35 are 75 percent more likely to develop melanoma than those who do not.
According the Centers for Disease Control and Prevention, 13 percent of all high school students say they use tanning salons, as well as 32 percent of 12th grade girls — a group that would no longer be restricted under the new amendment.
A vote was delayed on the full bill after it was unclear whether Monnes Anderson's move would inadvertently weaken current law, which requires parental notice for children under 18 to use tanning beds.
The parental notification law for minors is outlined by rules from the Oregon Health Authority, not by statute. Legislative counsel Lori Freeman said the new statutory tanning ban on children under 17 could be interpreted to inhibit the authority's ability to set rules for people over 17.
"They have broad authority, but it has to be backed up in statute," Freeman said.
Sen. Elizabeth Steiner Hayward, D-Portland, strongly opposed the amendment, although she said she would still support the bill on the Senate floor, since it was better than nothing.
"I think we're doing a significant disservice to the younger people," Steiner Hayward said.
California and Vermont already ban tanning for anyone under 18. If Oregon decides to set the ban at people under 17, it would mirror the law in New York.
The House passed the 18-and-over standard easily, with bipartisan support from seven Republican representatives. If the Senate passes a different standard, a conference committee will have to work out the dispute between the two chambers.
At a public hearing last month, Sen. Betsy Johnson, D-Scappoose, specifically railed against lowering the standard, though at the time, the tanning lobby was pushing for 16 — the same as allowed currently. Johnson said the tanning lobby successfully killed a similar ban against teenage tanning in Washington state this spring.
Senate President Peter Courtney also testified before the Senate Health Committee, telling them he had a nephew in Rhode Island who has melanoma: "He's completely a mess. He's given up."
"If we're going to error on the side of over-regulation, let's do it in the area of stopping children from getting cancer," Courtney said. "We limit children using tobacco and alcohol."
The tanning lobby also testified, with Peter Lamka of Tan Republic disputing the health hazards that Druker raised about tanning beds. Lamka said skin cancer rates have been rising since the 1940s. "I'm afraid indoor tanning beds weren't around to blame."
Lamka argued that tanning was no more harmful than a glass of pinot noir or a pint of Hefeweizen — i.e., alcoholic beverages illegal for anyone under 21.
He also proclaimed the health benefits of tanning bed exposure, including Vitamin D intake — mirroring an ad campaign Tan Republic has on billboards along Interstate 5.
"Vitamin D deficiency is common," Druker responded. "The safest, most effective way of getting Vitamin D is an oral supplement."
"The industry is targeting the population that has the highest Vitamin D levels — affluent Caucasian girls," Druker added.