Survey Shows 62% In Oregon Want Roe v. Wade Reinstated
In a survey conducted by the Oregon Values and Beliefs Center, 1,572 Oregon residents aged 18 and over were asked a variety of abortion-related questions following the U.S. Supreme Court's ruling to overturn the historic Roe v. Wade decision.
Most significantly, 62% of Oregonians would vote to reinstate Roe v. Wade if given the opportunity, while 22% would vote to keep it overturned.
Secondly, 72% of Oregonians believe abortion in all or most circumstances should be legal, while 23% statewide said abortion should be illegal.
There is about an 18% difference between rural and urban residents on the topic of abortion, showing how support for legal abortions remains strong across Oregon.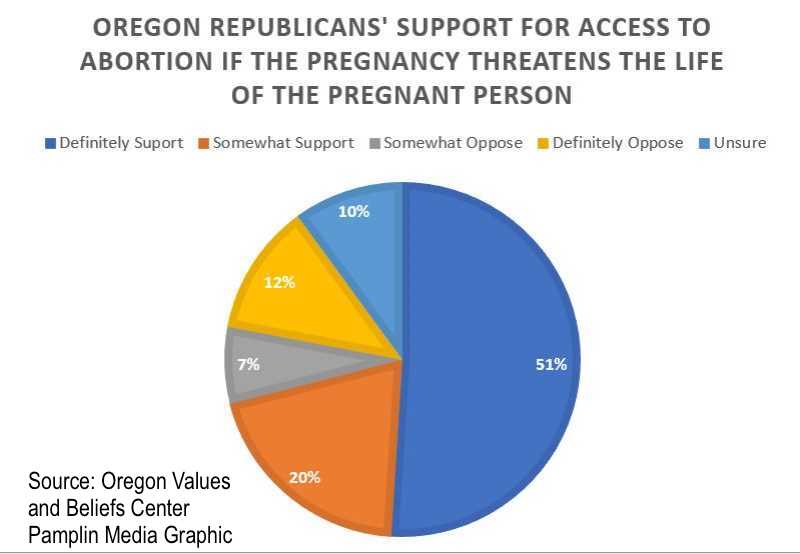 Recent election results in Kansas to oppose a total abortion ban are mirrored in Oregon's rural, Republican areas. Very rural Oregonians and Republican Oregonians overwhelming oppose a total ban on abortion, with 71% of Republicans supporting abortion access for people whose lives would be threatened by the pregnancy.
Strong opposition to a total ban among Oregon's independent and non-affiliated voters (82%) may explain something about how abortion is playing out in Oregon's three-way gubernatorial race so far. Republican Christine Drazan is downplaying abortion, and non-affiliated gubernatorial candidate Betsy Johnson is preventing any daylight between her and Tina Kotek on this issue.
While much of Clackamas County is deemed suburban, neighboring communities such as Estacada, Eagle Creek, Beavercreek and Sandy are described as rural.
According to the survey, 79% of Oregonians living in urban areas are more likely to says abortion should be legal in all or most cases. This compares to the 61% of rural Oregonians who believe the same.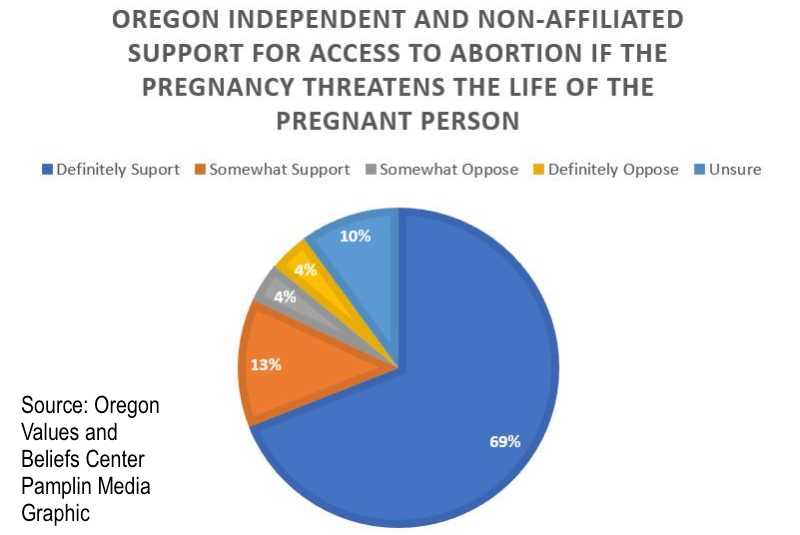 "Abortion is a health issue, not a political one," said Marla Edge, a woman who lives in suburban Clackamas County. "Women should be able to determine what is best for them."
The survey did not provide regional data about all Oregon counties, but did include direct quotes from a few Clackamas County residents.
"Choice is just that, women (with the advice of anyone whose opinion and/or knowledge they trust) have autonomous control over their own bodies, not the state and certainly not a religious faction imposing its beliefs on the rest of us," wrote Scott Hays, a male suburban Clackamas County resident. "Women who do not believe in abortion or who do not think it is the right thing for them to do are free to make that choice."
The survey also reflected differing voices on the topic of abortion rights.
"The only time I cannot support someone's right to abortion is when they use it as a form of birth control," said Lynn Spuhler, a man from rural Clackamas County. "I know women who have had three or more abortions. Abortion should be limited to one or two."
The survey was conducted July 8-16 as President Joe Biden signed an executive order to protect reproductive rights in light of the reversal of Roe v. Wade on July 8. Whether or not this executive order altered responses to the reversal of Roe v. Wade cannot be shown through the data.
This article is used with permission of the Pamplin Media Group. Read more from Oregon's largest source of independent local news at pamplinmedia.com.
×
This article is for premium subscribers. If you are one, please sign in below.
You can see
two
more premium stories for free. To subscribe,
click here
. We depend on premium subscriptions to survive, and they are tax deductible.