The toxic chemical likely wafted from the now-defunct J.H. Baxter creosoting plant
March 7, 2023
Dioxin contamination in some yards in a Eugene neighborhood is so severe that young children could be harmed by routinely playing in the dirt, and eggs laid by chickens that roam about the gardens could be dangerous to eat, the Oregon Health Authority has warned in a new draft report.
The 49-page report on neighborhood dioxin pollution thought to have been caused by the now-shuttered J.H. Baxter wood creosoting factory in northwest Eugene is part of a wide-ranging multi-year federal and state evaluation of contamination at and around the 42-acre site.
The health authority findings have further alarmed neighbors and environmental advocates who for years have complained about the plant. Neighbors say the report underscores their long-standing belief that they've been exposed to chemical hazards from Baxter.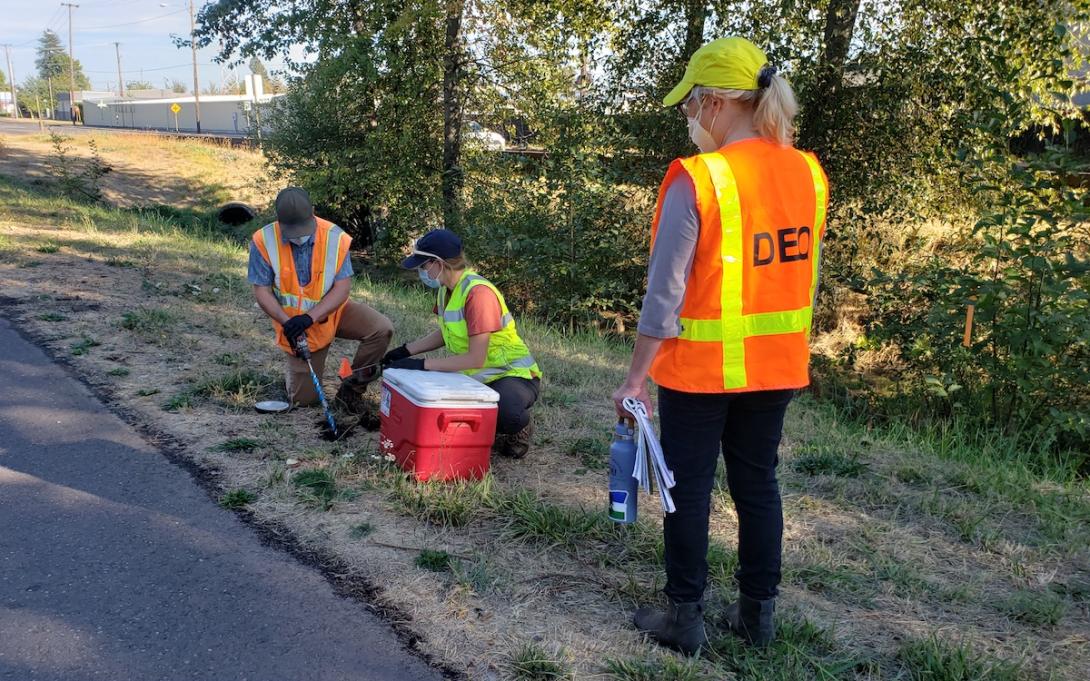 One neighbor has been eating eggs from chickens on his property for years, and another who recently started raising chickens now realizes the eggs may be hazardous, said Lin Woodrich, co-chair of the Active Bethel Community neighborhood group.
Aside from Baxter, there's also a large railroad yard, another wood treatment plant, and other heavy industrial facilities nearby. "That whole neighborhood is already overburdened… in a cumulative fashion with other environmental problems caused by industrial sources," said Lisa Arkin, executive director of Eugene-based environmental group Beyond Toxics. The new report "doesn't really capture that cumulative chronic exposure problem," she told The Lund Report.
The health authority is seeking public comment on the report through June 2.
For nearly 80 years, until January 2022, California-based Baxter soaked telephone poles, railroad ties and other timber products with rot-prevention chemicals, including creosote and pentachlorophenol. Over the past decade, the company's practices drew increasing criticism from neighbors and fines from state and federal regulators for chemical mishandling and emissions violations. Baxter shut the plant in 2022 and agreed to pay a $300,000 state fine. But the company has not paid, and interest is accumulating at 9% a year, said Dylan Darling, a spokesman for the Oregon Department of Environmental Quality.
The health authority and the DEQ are evaluating off-site dioxin pollution allegedly caused by dust and fumes blowing from the Baxter plant and settling on nearby homes, while the federal Environmental Protection Agency is evaluating soil and groundwater contamination on the factory acreage, Darling said. At the site, Baxter would immerse timbers in large, pressurized containers filled with creosote and other preservatives, then stack the chemical-soaked wood in large open-to-the-air warehouses to dry.
Darling said the DEQ considers Baxter liable for the dioxin cleanup costs. But the state figures the company may be unable to pay, and is using state funds for the soil testing.
At one time, Baxter had large wood-treating facilities in California and Washington, as well as the Eugene plant. But those appear to be closed, and it is unclear what, if any, assets the company has. The Oregon Department of Revenue and Department of Justice are investigating the issue, Darling said.
The company's registrations in Oregon and California are still active, while its registration in Washington was terminated when it failed to renew in 2022. The company's website is out of date and lists a disconnected phone number.
State and federal soil testing in 2021 and 2022 found high concentrations of dioxins in the yards of seven homes near the Eugene plant. Dioxins are highly toxic chemical by-products of some manufacturing, including creosoting.          
The state is conducting more testing at those seven homes to determine how deep into the soil the dioxin has penetrated and how much polluted earth needs to be dug up and removed, Darling said. The state will test as deep as three feet down, he said. The state hopes to do the removal this summer, he said. Meanwhile, the state also plans to test an additional 28 home sites for dioxin, he said. The agency will use state funds for the work.
In the meantime, the draft report warns that on the heavily contaminated home sites, children younger than 6 could be harmed if they "come in contact with bare soil regularly for one year or longer." Plus, if backyard chickens live in the residential yards with high contamination, "it could be harmful to eat eggs laid by those chickens," the report warns.
The report also concluded that "the increased cancer risk from long-term or chronic exposures to dioxins from J.H. Baxter is low."
OHA will host a public meeting on the report on April 22 at the Petersen Barn Community Center in Eugene. Comments can be emailed to [email protected] or sent via postal mail to: Oregon Health Authority – EHAP; 800 Oregon St., Suite 640; Portland, OR 97232.
More information about the Baxter site can be found here and here.
---
You can reach Christian Wihtol at

[email protected]

.