State May Bring Back Rural Loan Repayment Program with $4 Million
A similar program recruited 79 healthcare providers to rural Oregon between 1993 and 2008, but was cut in 2009. The new bill could attract as many as 96 providers to underserved parts of the state
Editor's Note: This article has been amended from an earlier version to correct and clarify aspects of the program's implementation.
February 12, 2013 — Oregon would restore $4 million in the next biennium to fund a loan repayment program that assists primary healthcare providers willing to take Medicaid clients and work in rural areas, under a bill being pushed by Sen. Elizabeth Steiner Hayward, D-Beaverton.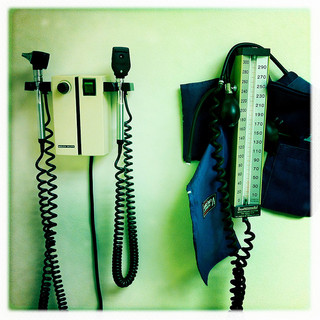 A similar program ran for nearly two decades before it was cut in 2009 in the depths of the recession.
"Many of Oregon's rural communities face a shortage of primary care providers," Steiner Hayward said at a public hearing on Senate Bill 440 before the Senate Health Committee on Monday.
An Oregon Healthcare Workforce Institute report released this month said that the state has lost 300 primary care doctors in the past two years.
Tina Edlund, chief of policy for the Oregon Health Authority, said 33 of the state's 36 counties are designated as having underserved access to primary care providers, with shortages not limited only to rural Oregon.
Steiner Hayward said the primary care physician shortage would only get worse with the implementation of the Affordable Care Act next year, when thousands of new patients will get healthcare insurance coverage.
Most of the counties with poor doctor to patient ratios are in Eastern Oregon, although one of the worst rates is in Columbia County, immediately northwest of Portland, where there are over 2,000 patients per physician.
"I'm very proud to be a co-sponsor of this legislation," said Sen. Chip Shields, D-Portland. He said he didn't want to detract from the importance of the bill, but even in Portland, where the loan repayment program may not apply, low-income patients have trouble seeing a doctor. "We shouldn't assume that everyone in Multnomah County have great access to primary care."
SB 440 passed on a 5-0 vote out of the Health Committee, which referred it to the Joint Ways & Means Subcommittee on Human Services.
Republican Sen. Jeff Kruse, whose Roseburg-based district spans a large swath of rural communities in the southwest corner of the state, said he was glad to see the program's budget doubled from an initial offering of $2 million, but added, "That doesn't spread that far."
Steiner Hayward agreed: "We're talking about 96 providers. … It's nowhere near sufficient to fund our healthcare needs."
The amount a candidate can receive is generally calculated from their student debt burden. In the past, doctors have received $61,000 on average, and nurse practitioners have gotten $25,000 over four years. Recipients who renege on their commitment have faced a 25 percent penalty.
The restored program would not limit repayment eligibility to MDs and DOs but would also include nurse practitioners, physician assistants, dentists, psychologists, psychotherapists and social workers.
"Providing community healthcare to publicly insured and uninsured populations is not exactly a profitable endeavor," said Scott Ekblad, director of the Oregon Office of Rural Health. Medicare reimburses medical providers at lower rates than private health insurance and Medicaid's reimbursement is even less.
Sarah Williams, a fourth-year medical student who received $30,000 from a state loan forgiveness program to help with her loans, said despite the assistance, she and her husband — a fellow medical student — will each leave school with about $250,000 in debt, plus an expected 25 years of interest.
"It'll be about a million dollars in the end to go through medical school," said Williams of her and her husband. She said that while she felt a calling to family practice, it's a decision other students don't make when specialists can expect twice the salary of primary care physicians.
Williams was helped through a $525,000 program funded in 2011 that helped active students enrolled in Oregon Health & Science University's Rural Scholars program. She said she is committed to return to an underserved part of Oregon to practice medicine after she finishes her residency.
Dr. Lisa Dodson, an associate professor of family medicine at OHSU, argued that a loan repayment program, as compared to a loan forgiveness program, makes it less likely the money will help people committed to making their careers here. "It attracts people who have no ties to Oregon to come here," Dodson said.
Ekblad said that the previous repayment program did prioritize the recruitment of candidates with ties to Oregon to help the state retain its healthcare providers after the terms of the loan program ended.
In the old loan repayment program, which ran from 1993 to 2008, "of 79 awarded, we know that there are at least 41 still serving rural communities," Ekblad said. He said he was only able to track those who claim the rural healthcare provider tax credit on their Oregon income taxes, but there could still be others in the state.
"I don't have a problem with people coming from out of Oregon, because usually when they come to Oregon, they stay," said Sen. Laurie Monnes Anderson, D-Gresham.
Steiner Hayward came to Oregon as a resident physician two decades ago but stayed to become president of the Oregon Academy of Family Physicians as well as joining the Oregon Senate in 2012.
The restored program does not include naturopathic physicians, unlike the previous program. Steiner Hayward said the restriction came down from the Centers for Medicare & Medicaid Services, which awarded the state $1.9 billion in extra funding so that Oregon could implement coordinated care organizations to transform its Medicaid program.
CMS would not allow the extra Medicaid dollars to be used for naturopaths, and providers who enroll in the rural loan repayment program are required to accept Medicaid patients. Phil Donovan, a lobbyist for the Oregon Association of Naturopathic Physicians, said the state of Washington's rural loan repayment program includes naturopaths.
Naturopathic physicians have been regulated in the state by the Oregon Board of Naturopathic Medicine since 1927. They are primary care practitioners trained as specialists in natural medicine and educated in conventional medical sciences, but are not orthodox medical doctors.
"It's with a bit of bitter irony that we got into the program when there was no funding, but now that there is funding that gets changed," Donovan said.
Sen. Shields said with some doctors refusing to take Medicaid patients because of low reimbursement rates, he told Donovan hoped the naturopaths could care for them when the CMS waiver expires.
"If you want to dive into the lucrative world of Medicaid, jump in, the water is fine," Shields said.
Image for this story by Tim Baker (CC BY-NC-SA 2.0) via Flickr.