The health system says the closure was safe, but it didn't get prior Oregon Health Authority approval
March 21, 2023
Teddy Glemser's plan to have a third child now centers on not giving birth in her Chevy Silverado pickup truck. 
On Sunday, March 19, Legacy Health officials shut down a birth center at Legacy Mount Hood Medical Center despite numerous warnings by the state that doing so risked sanctions such as a suspended or revoked license.
Now, a state agency is investigating, lawmakers are looking into the issue, and local residents are planning for what to do now that the hospital will be referring most pregnant patients elsewhere.
A resident of Sandy who is not yet pregnant, Glemser was planning to have her third child at Legacy Mount Hood, which is about a 20 to 25-minute drive away in Gresham. But after Legacy followed through with plans to close the hospital's maternity unit, Glemser said a trip to the nearest birthing center is at least 45 minutes away — with no traffic.
She said her birth plan now involves lining her truck's leather seats with lots of towels and some sort of plastic cover. That's on top of her concerns about her history of bleeding and complications after delivery.   
"Delivering a child can be a very messy process," she said. 
Legacy's closure of the maternity unit follows weeks of pushback and was marked with a candlelight vigil Friday night outside the hospital that critics organized. Elected leaders and community members have raised alarms over the longer distances expectant mothers will now have to travel as well as the reduced care for the less affluent and more diverse communities the hospital serves.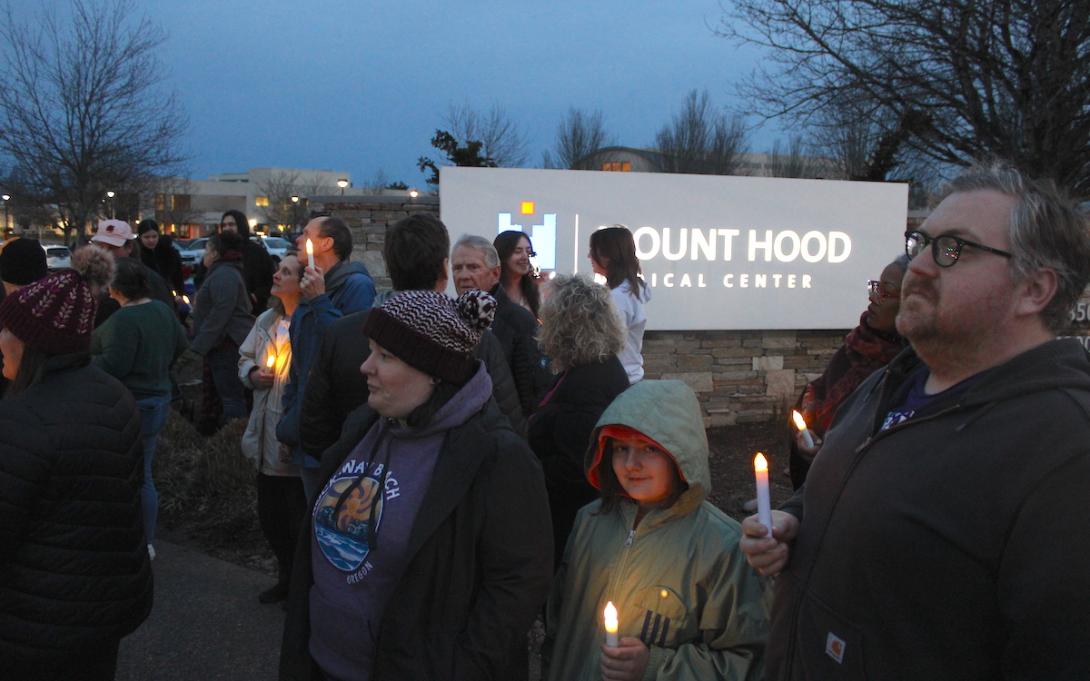 "This is a critical service," Tamie Cline, president of the Oregon Nurses Association, told The Lund Report at the vigil outside Mount Hood Medical Center that drew roughly 100 people. Cline, whose union is seeking to unionize nurses at the hospital, called the closure a "travesty." 
Previous statements from Legacy said the hospital can't keep the maternity unit open safely after sudden staff resignations and that it would go on divert status on March 17, meaning patients will be sent elsewhere. 
The Oregon Health Authority has warned Legacy the hospital is risking its license by closing the maternity unit without state approval. On Monday the health authority issued a statement saying it's investigating Legacy's closure of the maternity unit and it is "highly concerned" that patients are being sent elsewhere. 
"OHA has been very clear with Legacy that it cannot cease providing required maternity services at its Family Birth Center without receiving OHA approval of a waiver," reads the statement. 
Legacy, which operates six hospitals, is trying to reassure the public and state health officials that the closure was necessary and that it has taken precautions to ensure pregnant patients receive adequate care. So far, Multnomah County officials and companies that would transfer patients say they are on board with Legacy's plans. 
Legacy managers on Friday responded to questions from the Oregon Health Authority offering new details on how it intends to transport patients to its Randall Children's Hospital, 17 miles away in Portland, and how the closure will affect the community. 
"We understand this decision has significant impact on the community, particularly for expectant people and families who were planning to give birth at Mount Hood Medical Center," reads Legacy's response to health authority's questions obtained by The Lund Report. "We deeply empathize with the stress and uncertainty this may cause and understand the birth of a child is one of the most important events in a family's life."
Questions over transfers
State regulations require hospitals that want to halt maternity services to first obtain a waiver from the health authority. To get a waiver, hospital administrators must explain what alternatives they considered and how patients will benefit from the closure. 
After Bahaa Wanly, president of Legacy Mount Hood Medical Center, submitted the hospital's waiver request on March 6, Anna Davis, a health authority manager, responded with roughly two-and-a-half pages of questions. 
Some of her questions concerned what agreements Legacy had with air medical transport service Life Flight Network and ambulance provider American Medical Response to transport patients from Mount Hood Medical Center to Randall Children's Hospital.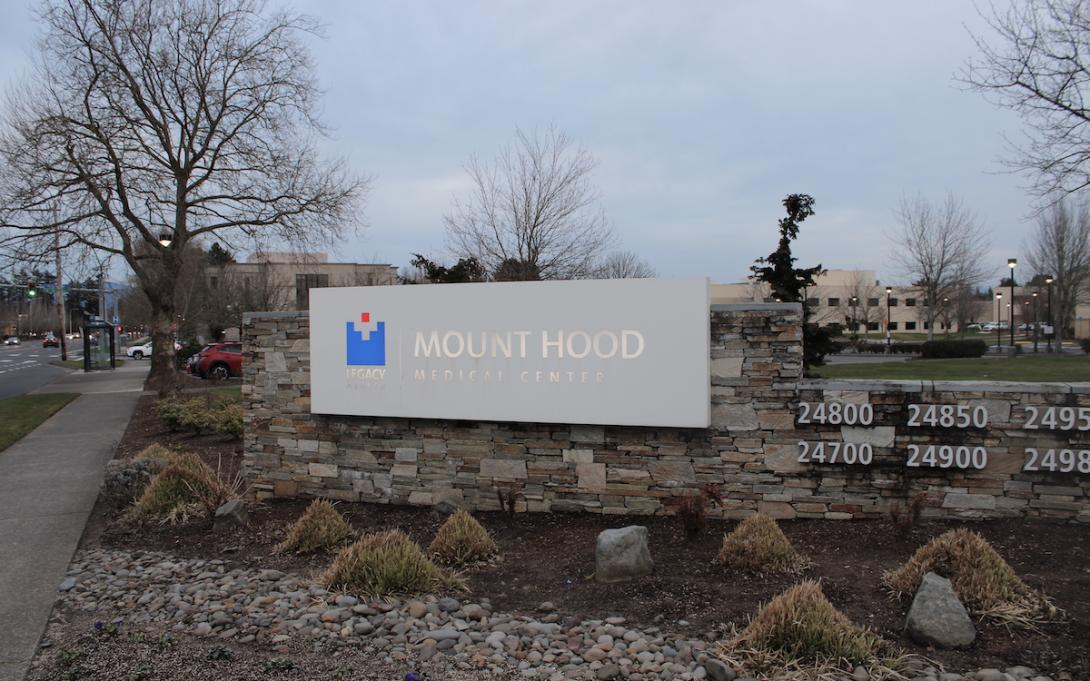 The unsigned answers Legacy submitted state the hospital has a "rapid mechanism" to summon a life flight helicopter to transfer patients to Randall Children's Hospital if they are "at risk for imminent delivery." Hospital administrators are expecting wait times for transfer to be low and that pregnant patients have been notified they need to have their delivery elsewhere, the document states. 
"Life Flight can transport a patient from Mount Hood to Randall in seven minutes," reads the document. "We will activate a Code 3 ground ambulance transfer if a flight is unavailable. This is how we currently transfer other time-sensitive patients, such as walk-in patients suffering a heart attack."
Three east Multnomah County lawmakers issued a statement last week raising concerns about Legacy's plans to use Life Flight to transport patients with complications. According to the statement, the average Life Flight ride costs $40,000 and the lawmakers worry that the cost will fall on financially vulnerable and under-insured families. 
Victor Walco, Life Flight director of business development, told The Lund Report his company has been working closely with Legacy's leadership in preparation of the maternity unit's closure. He said Life Flight recently conducted training with Mount Hood Medical Center staff simulating a patient transfer.  
Life Flight doesn't have an estimate on how many pregnant patients it expects to transport from the hospital, said Walco. But he said Life Flight expects an increase that might end up looking like a "few more calls." He said most patients who require an air transport are experiencing a preterm delivery or have complicating conditions, such as hypertension, he said. 
Once Life Flight receives a call for an air transport, a helicopter can be airborne within 10 minutes depending on the weather and the availability of crews, he said. 
Natalie Hannah, spokesperson for Life Flight, said that company guidelines advise against transporting a patient in labor who is more than 5 centimeters dilated. She said the guideline, which doesn't have the force of a policy, is meant to reduce the number of births in helicopters and clinicians ultimately make the call. 
Nicole Michel, spokesperson for American Medical Response, told The Lund Report in an email that it may send a third crew member to patient transfers depending on the severity of the situation. She said the company does not have a policy prohibiting crews from transporting patients who are more than 5 centimeters dilated. 
"We have been working closely with Legacy and Mt. Hood Medical Center on a response plan," she said. "They notified us well in advance of the birthing center closure."
Julie Sullivan-Springhetti, Multnomah County spokesperson, said in an email, "We are confident in Legacy Mount Hood's continued access to emergency services, and have plans in place to transport patients to alternate hospitals for the services that are being lost with the closing of the family birthing center."
She provided The Lund Report with a document stating that all imminent or complicated deliveries will be transported to the nearest hospital emergency department and all others should be transported to facilities with obstetric services. 
If patients are transferred to the two nearest birthing centers, Providence Portland Medical Center and Adventist-Portland, they will be protected by the No Surprise Billing Act and won't receive out-of-network charges, according to the document submitted by Legacy. 
Other concerns
Legislators and others have raised concerns that patients will end up paying for costly helicopter rides. 
"Transfers to a higher level of care are paid for by hospitals," states the document Legacy submitted to the health authority on Friday. "Life Flight does bill the patient's insurance company and accepts what payment they receive, without passing along any unpaid balance to the patient."
It further stated that Legacy has hired 18 additional registered nurses and tech staff to support the increase in deliveries elsewhere from the Mount Hood Medical Center. Legacy also won't allow Randall Children's Hospital to refuse admissions, according to the document. 
Just 15% of pregnant patients from east Multnomah County ZIP codes deliver their babies at Mount Hood Medical center with the rest giving birth at other hospitals, according to the document. 
The health authority asked Legacy for the number of emergency obstetrical patients at Mount Hood Medical Center over the last four years along with a breakdown of patients' racial and ethnic identities. Legacy responded with numbers showing that it saw around 14 emergency obstetric patients on average each year within that time frame. Of the total 55 emergency obstetric patients, about half were people of color. 
Legacy noted in the document that it was difficult to determine how the maternity unit's closure would impact marginalized communities because of the small data set. 
Hospital management intends to train all emergency department staff for obstetric emergencies and has already trained "a targeted number of staff and providers to ensure 24/7 coverage," according to the document. 
"It is not our intention to train emergency department staff and providers to the standard of obstetric clinicians," the document states. "The training is intended to provide hands-on emergency skills to stabilize patients in acute situations."
But state Rep. Zach Hudson, D-Troutdale, told The Lund Report last week that despite the training and skills of staff pregnant patients will not have access to the same services in a maternity unit, such as access to epidurals. Legacy did not respond to an email from The Lund Report asking if epidurals would be available. 
"Although it is an emergency solution," Hudson said. "It's not a well constructed or comprehensive solution."
---