Spike in Hospital Pharmacy Charges for Major Joint Replacements
Half of Oregon's hospitals increased daily pharmacy charges for major joint replacements by 10 percent or more between 2014 and 2015. A third of these hospitals hiked daily pharmacy charges for this common inpatient procedure between 20 to 109 percent during the same time period.
Legacy Emanuel Medical Center in Portland topped the charts, doubling its daily pharmacy patient charges for Major Joint Replacement and Reattachment (MS-DRG 470) procedures between 2014 and 2015. The 109 percent rate hike brought the total daily pharmacy price tag for this procedure from $552.72 to $1,157 in 2015.
Providence Seaside Hospital also doubled its daily pharmacy charges for MS-DRG 470 – though the price tag starts much higher at $1,260.21 and ends at $2,542.87. Columbia Medical Center in the Dalles was close behind these hospitals, hiking daily pharmacy charges by 92 percent during the same period, bringing the total daily charge to $1,464.
After analyzing 1.3 million Medicare inpatient claims for hospital charges related to MS-DRG 470 in 2014 and 2015, Hospital Pricing Specialists (HPS) found that the average daily pharmacy charges increased across the U.S. by 22 percent. In Oregon, the average increase for MS-DRG 470 daily pharmacy charges was a few percentage points above the national average at 25.3 percent. Here's a link to the HPS hospital cost data.
When asked for comment, Rick Louie, principal at HPS, offered these insights: "Hospital inpatient drug prices have increased by over 20 percent from 2013-2015. We found this in our data and it was also published by the National Opinion Research Center (NORC). The increase in prices aren't coming from over utilization. Instead the increase is being driven by higher prices from the drug companies. Hospitals have different strategies for absorbing the higher drug prices. Some do nothing because they are worried that higher prices will be noticed by the patients. Other hospitals realize they lose money on insured patients who have pre-negotiated rates, but they'll make more money on uninsured or out-of-network patients so they pass along the drug price increases."
MS-DRG 470 is the medical code for lower extremity joint replacements and reattachments. The number, 470, denotes procedures without major complications or comorbidities and includes hips, knees, or ankles. According to CMS, hip and knee replacements are the most common inpatient surgery for Medicare beneficiaries. However, costs and quality of care varies across the country.
MS-DRG is the "Medicare Severity-Diagnosis Related Group" and is a payment classification system for grouping a Medicare patient's hospital stay. The more precise the diagnosis the higher the Medicare reimbursement, explains Value Healthcare Services.com. The fixed hospital rate starts as DRG and additional classifications enables Centers for Medicare and Medicaid services (CMS) to pay increased reimbursements to hospitals serving more severely ill patients.
Oregon's average covered charges for the MS-DRG 470 procedures in 2014 reported by CMS was $43,470, with Medicare payments an average of $13,181 out of 5,057 hospital discharges. The average length of stay for hip and knee replacements has decreased steadily from 10 days in 1990 to about three in 2014, reports Accelero Health Partners. Oregon's average hospital charges for MS-DRG 470 can be accessed at the CMS website here.
In the midst of all of these rate hikes, twelve hospitals maintained or decreased their daily pharmacy charges for the MS-DRG 470 procedures during this same period. Among those in the Portland metropolitan area are Oregon Health Sciences University (OHSU decreased rates 8.3 percent) and Kaiser Sunnyside Medical Center (decreased 10.1 percent). The most striking drop in daily pharmacy charges between 2014 and 2015 was Samaritan Pacific Communities at a 41 percent decrease.
Here are the Oregon hospitals listed in the HPS database (14 out of 46) that increased its MS-DRG 470 daily pharmacy charges by more than 20 percent between 2014 and 2015. As shown in the table below, Legacy Emanuel Medical Center is at the top of the list.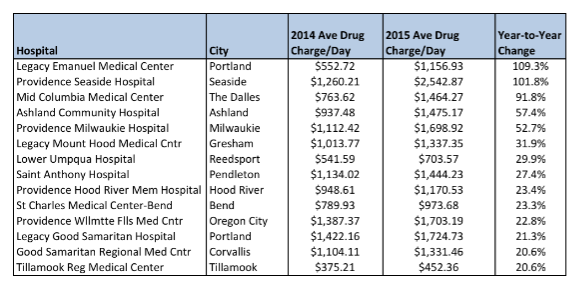 The next tier of Oregon's hospitals, listed below, raised daily pharmacy charges for MS-DRG 470 between 10 and 18 percent between 2014 and 2015.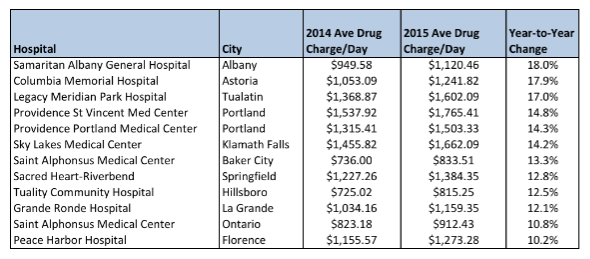 The Lund Report reached out for insights about why one hospital (Legacy Emanuel Medical Center) would raise its rates for MS-DRG 470 daily pharmacy charges by 109 percent while another hospital (OHSU) would decrease its rates by 8.3 percent for the same services. Neither hospital was able to provide comments before going to press.
×
This article is for premium subscribers. If you are one, please sign in below.
You can see
two
more premium stories for free. To subscribe,
click here
. We depend on premium subscriptions to survive, and they are tax deductible.