December 2, 2016
With their party gaining control of both the White House and Congress, some Republican voters are growing hesitant about outright abolition of the Affordable Care Act and instead favoring a more circumspect approach of scaling it back, according to a poll released Thursday.
Republican opposition to the ACA remains strong among voters for President-elect Donald Trump, with 81 percent of his supporters viewing it unfavorably, according to the survey from the Kaiser Family Foundation that was conducted after the election. (KHN is an editorially independent program of the foundation.)
Trump voters, however, also support many of the individual consumer protections in that law.
Trump and the Republican Congress have vowed to repeal the 2010 health care law and replace it with a not-yet-specified alternative. Lawmakers are mulling a variety of approaches, from immediate repeal to keeping the law operating until a substitute is designed, even if that takes several years.
A smooth transition is important for the 20 million people who gained health insurance through the law, and Republicans do not want to be blamed for lapses in coverage.  The poll found that of those who want the law replaced with a Republican alternative, there is twice as much support for devising a replacement plan before repealing the law as there is for getting rid of it first.
The public overall remains essentially split on the Affordable Care Act, the poll found, with 43 percent wanting it repealed or scaled back and 49 percent wanting to keep or expand it, according to the poll.  Among Clinton supporters, 79 percent hold favorable views of the law.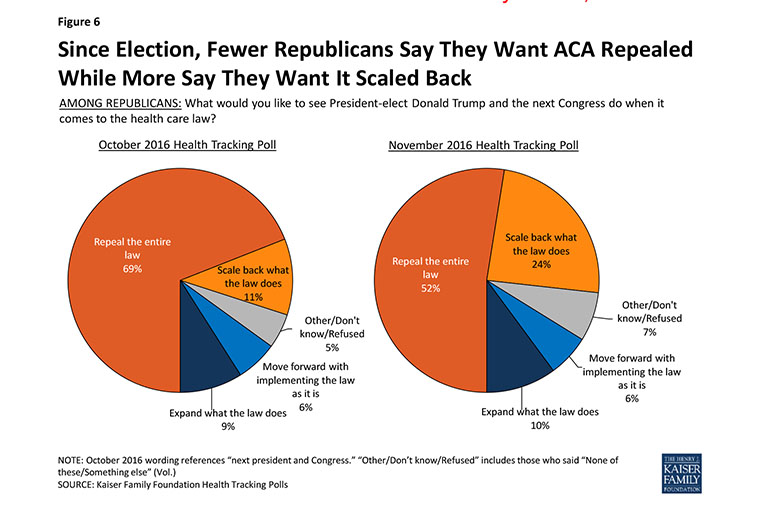 With its diminishment now a political likelihood, the portion of Republicans who want to repeal the law has decreased to 52 percent from 69 percent last October. The poll identified a "slight uptick" in the share of people who want the law scaled back but not eliminated. That view is now twice as popular among Republicans: 24 percent want to scale it back, up from just 11 percent in October.
The poll found strong Trump voter support for some of the consumer protections that were part of the law, including allowing young adults to stay on their parents' insurance until age 26, reducing the amount Medicare beneficiaries have to pay for prescription drugs and providing financial assistance to lower income Americans to buy insurance.
More than 60 percent of Trump voters supported these provisions as well as the law's ban on letting insurers refuse to sell policies to people with histories of medical problems. Two-thirds of Trump voters also favor letting states have the option of expanding Medicaid programs to cover more low-income adults, as 31 states and the District of Columbia have done.
The law's requirement that people buy insurance, also known as the "individual mandate," remains highly unpopular. Republicans have said they will do away with it and are considering other ways to encourage people to stay insured.
The poll found the law played a "limited role" in voters' election decisions, which were more influenced by the direction of the country, Trump's and Democratic nominee Hillary Clinton's personal characteristics and employment. Only 8 percent said health care was the most significant factor.
The poll was conducted from November 15 through 21 among 1,202 adults. The margin of error was +/- 3 percentage points.
[email protected] | @JordanRau | Kaiser Health News