Image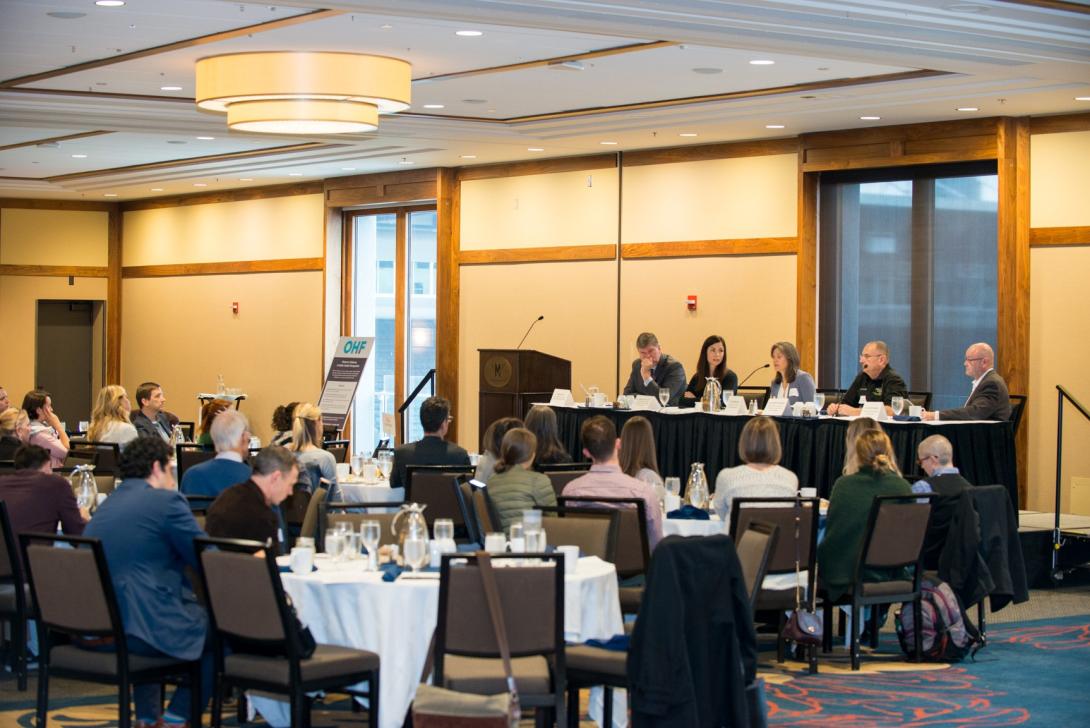 April 23, 2019
Society expects health professionals, government officials and lawmakers to take action to reduce public health risks from communicable diseases. Safety regulations also aim to prevent vehicle deaths. But guns, which are designed to kill, are exempt from public health consideration even though they raise the suicide rate and are responsible for scores of deaths every year,  an Oregon Health Form experts panel said Tuesday.
The United States' approach to gun safety needs to change, the panelists agreed, through new regulations, enforcement of existing laws and education.
"We have very good rules for cars, don't we?" said Dr. Martin Schreiber, chief of trauma, critical care and acute care surgery at Oregon Health & Science University.
"You must wear a seat belt. You can't be intoxicated," Schreiber said. "We don't have any such rules with our weapons. No one has a rule about firing a weapon while intoxicated. Nobody has a rule about safety mechanisms such as only a certain fingerprint can fire a weapon or the weapon recognizes the owner and can only fire if the owner is firing the weapon."
Schreiber was joined on the panel by Kathleen Carlson, OHSU-Portland School of Public Health associate professor of epidemiology; Dr. Lisa Reynolds, a pediatrician at The Children's Clinic and a volunteer with Moms Demand Action for Gun Sense; and Dr. David Lehrfield, Oregon Health Authority's emergency medical services and trauma systems medical director. Dwight Holton, Lines for Life CEO and Oregon's former U.S. Attorney, moderated the discussion.
About 75 people attended the event at Multnomah Athletic Club in Southwest Portland. The health forum is affiliated with The Lund Report, also a nonprofit.
"This is a tremendous health problem, just like any health problem," Schreiber said. "If you had a measles outbreak you would vaccinate people and take care of it. If you had a pneumonia outbreak, you would deal with a pneumonia outbreak.
"Well, we have an outbreak of injuries from weapons," he said. "And why would we ignore that when we take care of other health problem?"
Oregon is taking steps to deal with gun violence. It's among the top states nationwide for its gun violence prevention laws but still has a higher rate of gun deaths than the national average, said Reynolds, who closely tracks gun control legislation. That's likely because 80 percent of Oregon's gun deaths are due to suicide, she added.
Oregon's laws "have not adequately addressed the suicide aspect of gun violence," she said.
But she noted incremental progress in the state.
In 2015, the Oregon Legislature approved a law requiring background checks on gun sales, whether through private citizens, over the internet or at gun shows. Oregon is one of 21 states, plus the District of Columbia, that has background checks.
A background check, she said, verifies that a prospective gun buyer is not a prohibited owner — not a convicted felon, not convicted of a violent misdemeanor such as domestic violence or not severely mentally ill.
"We know background checks are one of the best ways to save lives from gun violence," she said, adding that in 2017 background checks kept guns away from 170,000 prohibited buyers nationwide.
In 2017, the Oregon Legislature passed the Extreme Risk Protection Order, also known as the "red flag law," or "gun violence restraining order."
The order allows family members or law enforcement to petition a judge to have someone's guns removed for up to a year by providing proof that the person is a threat to themselves or others. There is an appeal component, as well. Oregon is one of 15 states, with Washington, D.C., to have such a law.
Enforced for the first time last year, 74 orders were filed with 62 granted, Reynolds said. Six to eight suicides were likely prevented as a result, she said.
Also last year, Oregon passed a law prohibiting convicted stalkers from purchasing and possessing guns. Along with that, the state last year established an active alert system — if a prohibited person attempts to buy a gun and is thwarted by a background check, local law enforcement is alerted.
Providing research for policymakers dealing with gun violence has been challenging for more than two decades because federal funding has essentially been thwarted, said Carlson, an investigator at the Health Services Research Center at the VA Portland Health Care System.
That's because of what's known as the "Dickey Amendment," attributed to the action of a now-deceased Republican congressman from Arkansas, Jay Dickey. The 1996 amendment prevented the federal government from investigating the public health effects of firearm-inflicted violence.
Carlson said she had first-hand experience with the amendment's effects shortly after its passage as she saw mentors in her graduate-level training have their gun violence research end abruptly.
There's no federally funded research in the area "because it could potentially be perceived as supporting gun control," Carlson said.
On this score, Reynolds noted that other sources are stepping into the funding void left by the federal government. She referred to a New York Times editorial published over the weekend that said the California Legislature has allocated $5 million for a new center devoted to gun violence research.
Lehrfield, in his Oregon Health Authority role, knows the statistical impact of firearms in Oregon better than most. But even he said, "We need better data. We need better data systems to tell us about the true burden of firearms. We need true research and effective strategies to prevent firearm injuries and deaths."
Nevertheless, Holton urged people to seek out health authority data available online at the Oregon Health Authority page, "Looking at Incident-based Cases for all Violent Deaths in Oregon."
Holton, whose nonprofit provides resources for suicide prevention, urged the panel to imagine "their magic wand" and suggest the one thing that would stem gun violence.
Schreiber, a U.S. Army Reserve colonel, who noted that he, like all soldiers, was required to leave his government-issued weapons behind when coming home from a combat zone, had a direct solution.
"Take all the weapons away," he said. "I would start very strategically with the assault weapons. There's no reason any citizen should have an AR-15 or an M-16, a rocket launcher, an RPG, a mortar launcher or any of these other things that people have.
"That all needs to go away. That should go away first.
"And then, I'd start working on the handguns. And anything that is left is a smart weapon that fires when the owner's holding it, when it's not aimed at the owner himself or herself. Or when some little kid is holding the weapon.
"That's what I'd do if I could wave my magic wand. Don't tell the Army or anybody else," he said to laughter and applause.
Allan Brettman can be reached at [email protected].