Some Oregonians said a Legacy Health website for scheduling vaccine appointments would not let them complete a reservation Monday morning.
Image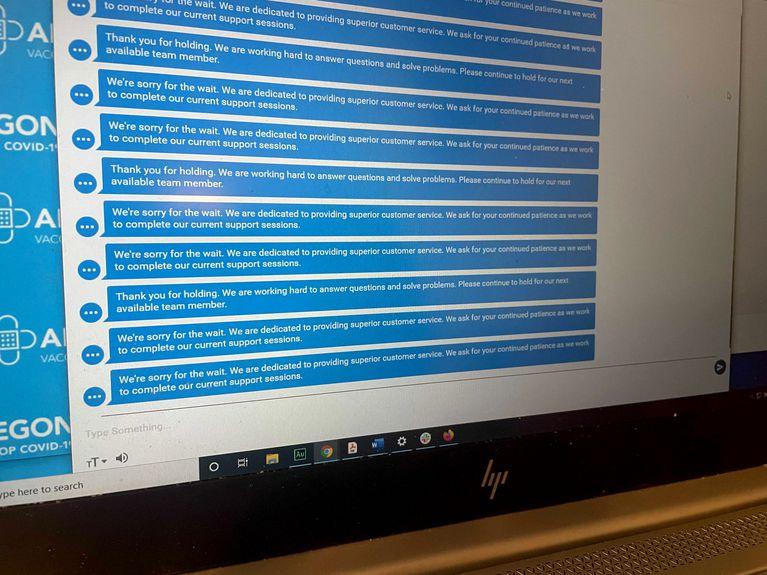 February 23, 2021
Ellen Stein and her husband felt well prepared when Oregon opened up COVID-19 vaccine appointments for people age 70 and up on Monday.
Computer savvy and well informed on their options, the Washington County couple logged on to a state vaccination website right at 9 a.m., when 7,300 new appointments came open in the region. They also called 211, the public service line that assists people in scheduling vaccinations, and were ready to reach out to Albertson's and other pharmacies that are doling out doses.
All the preparation didn't help. Stein was left shaking with frustration Monday afternoon, after waiting for more than an hour for a Legacy Health website that refused to finalize her appointment.
"Finally at 10:50 it gave up on me," Stein said. "It looked like the system had crashed. It was so full it wouldn't go any further."
Meanwhile, 211 told her she had to call back because it was busy. Nearby pharmacies were booked up.
The Steins were far from alone Monday. As Oregon further expanded its vaccination rollout to include more seniors, it appears a flood of demand wasn't the only thing hampering the ability to receive a vaccine appointment.
Stein posted a short video clip to Twitter of a Legacy webpage, which showed a "loading" animation of a beating heart she said hadn't changed for more than an hour.
A Clackamas County man, Andy Grossberg, had the same problem while trying to help his 72-year-old mother-in-law get an appointment Monday. Both Stein and Grossberg said once they clicked on the "CAPTCHA" tool meant to ensure they were not bots, the website would go no further.
"The CAPTCHA was the culprit because it would time out before their server could process the submitted information," Grossberg told OPB. "Oh, and that beating heart 'waiting' animation they have was infuriating!"
After an hour of continuously reloading his application, Grossberg said he eventually obtained an appointment for his mother-in-law.
It's not clear how many people like Stein and Grossberg experienced difficulty Monday. The Oregon Health Authority did not respond to an inquiry about the Legacy site and other issues that had been reported. A spokeswoman for Legacy called an OPB reporter to ask more about the difficulties people had shared, but did not respond to questions.
But the problems are also not entirely surprising. State health officials have been clear that they expect some degree of pandemonium, as the state opens up vaccination appointments to new groups.
After a controversial decision to prioritize teachers over seniors, the state began allowing Oregonians 80 years of age and over to sign up for vaccines on Monday, Feb. 8. Each week since, the state has opened eligibility further. Next monday, March 1, Oregonians between the ages of 65 and 69 will have their first opportunity to score an appointment.
Each subsequent population group allowed to sign up adds many thousands to the existing backlog of Oregonians vying for appointments, a dynamic that's led to frustrations with each passing week. According to The Oregonian, as many as 212,000 Oregonians became newly eligible to receive the vaccine on Monday alone.
"There is going to be a little bit of a traffic jam," Oregon Health Authority Director Patrick Allen told reporters last week. "There was always going to be something of a traffic jam."
Despite the difficulties, the Oregon Health Authority has said repeatedly Oregon is on track to give 75% of those age 65 and up at least one dose of the vaccine by April, if not sooner.
Stein said she was undeterred by her frustrations Monday. If she can't get an appointment sooner, she'll be ready bright and early Thursday, when new appointments open up.
"I'm super disappointed," Stein said. "We were down, and then it just got stuck."
This story was originally published by Oregon Public Broadcasting and is posted here through a content-sharing agreement among Northwest media outlets.