June 20, 2013 — The Senate voted down the rate review measure 12-18 that passed the House last week after Sen. Chip Shields, D-Portland, was unable to secure enough votes in the more conservative upper chamber.
June 20, 2013
June 20, 2013 — The Senate voted down the rate review measure 12-18 that passed the House last week after Sen. Chip Shields, D-Portland, was unable to secure enough votes in the more conservative upper chamber.
Shields was opposed on the floor Tuesday by Sen. Laurie Monnes Anderson, D-Gresham, who has been an outspoken supporter of Regence BlueCross BlueShield this session as the insurer has worked behind the scenes to kill any attempt to increase public oversight of the rate review process for the individual and small group markets.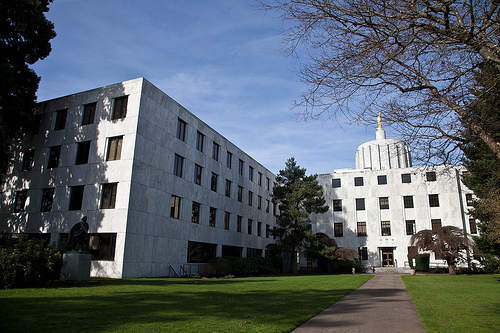 "I think the House did a good job in making health insurance companies justify premium increases and those ideas are good for those in the individual market and small businesses," Shields told The Lund Report. "It was an important bill and deserved an up or down vote."
The Senate had passed a very weak version of Senate Bill 413 in April, so the measure will now go to conference committee. The gulf between the position of Monnes Anderson and progressive House Democrats is wide, but reform advocates and Rep. Mitch Greenlick, D-Portland, remained optimistic.
"I'm hoping to get something good out of conference committee," Andrea Salinas, a lobbyist for the Service Employees International Union, told The Lund Report. "We'll talk to some of the moderate Republicans. There's got to be something in there that's more robust than what the Senate had but less than what the House passed."
"I'm hoping one or two of the amendments will hold up in the compromise," Greenlick told The Lund Report after the measure was voted down by the Senate.
The House amendments to Senate Bill 413 direct the Department of Consumer and Business Services to develop a standardized and objective measure of medical inflation by 2015. The agency also needs to partner with the Oregon Health Authority and assess how well insurance companies are imposing cost controls on providers such as physicians and hospitals.
The last thing the House amendments do is require insurers to notify consumers in writing about the Department of Consumer & Business Services rate website, http://www.oregonhealthrates.org, and insurance companies must also offer their members an opportunity to sign up for electronic notifications from DCBS.
The rate review notification piece was already a steep compromise from the original SB 413 that Shields introduced in February, which would have required insurance companies to notify their members directly if they wanted to raise rates above 7 percent annually.
The notice portion of the bill had the most public opposition from insurance companies, which allege that it would burden them with too much paperwork. It would also make it harder for their rate hikes to fly under the radar of the public.
But Greenlick told The Lund Report that asking DCBS and the Oregon Health Authority to collaborate to draft cost containment metrics for insurers might face more private scrutiny. "I think there was some concern at least among the Democrats who opposed it that the cost containment assessment was premature."
Regence Drafts Measure
The earlier version of SB 413 that the Senate passed had been championed by Monnes Anderson and Regence BlueCross BlueShield, who took the idea of notifying consumers of rate hikes and turned it into a bill which merely requires Regence and other insurers to provide notice to customers of the DCBS' health rates website. Insurers would be allowed to hide that notice in information that members receive when their insurance plan comes up for renewal, often months after the Insurance Division approves their rates.
Monnes Anderson told her Senate colleagues that that deal was reached after negotiations with insurance companies, SEIU and the Oregon State Public Interest Research Group. "We worked very hard on this bill," she said.
But OSPIRG's Jesse Ellis O'Brien said his organization did not support her changes, which were written on behalf of Regence. SEIU agreed to them only so the bill could survive and actively supported the changes that passed the House. Many SEIU members do not receive health insurance through their employers and have no other option but to purchase coverage themselves on the individual market.
All Senate Republicans agreed with the Gresham Democrat along with a bloc of conservative and moderate Democrats — including Portland Senators Elizabeth Steiner Hayward and Rod Monroe as well as Sen. Betsy Johnson of Scappoose.
Monnes Anderson denounced the House amendments on the Senate floor, accusing Greenlick and the House Democrats of pushing through changes without a proper public hearing.
However, several people had testified on the proposed amendments to SB 413, including John A. Powell, the lobbyist for Regence, as well as representatives of OSPIRG and SEIU.
OSPIRG and SEIU supported the House amendments, along with the Main Street Alliance, a progressive small business group. Those amendments were opposed by Regence.
Former public utility commissioner Sen. Lee Beyer, D-Springfield, and osteopathic physician Sen. Alan Bates, D-Medford, supported the House version of SB 413 on the Senate floor.
"The House has made it better," Beyer said. "This is a good piece for consumers. It'll help us keep consumer rates low."
Bates was particularly supportive of the amendments that will give DCBS more tools to closely examine the assumptions used by insurance companies when submitting their rates to the Insurance Division.
Currently, insurers are permitted to submit a written narrative on cost-containment strategies, which often lack any quantifiable data. The House amendment would require actuaries at DCBS to collaborate with health policy experts at the Oregon Health Authority.
"This opens up a process that's been too long closed to the public," Bates said.
Self-Referral Bill To Become Law
In a separate vote, the Senate approved another bill 23-7 that Monnes Anderson had earlier tried to kill — Senate Bill 683. This bill works to stop hospitals from canceling referrals when patients choose to have imaging tests performed outside the hospital or want to see a physical therapist not employed by the hospital.
Monnes Anderson had opposed the bill, requiring Shields to get the support of Republican Sen. Larry George of Sherwood to work it through his committee. On Tuesday she voted for the bill, telling her colleagues that the House had made significant improvements.
But the changes were minor and technical and the substance of SB 683 that passed in April remains the same. Shields specifically reiterated that providers must talk to patients informing them when the hospital has a conflict of interest in a referral.
"This notification must happen except in the case of emergencies when it's impractical," Shields said. Violators can be fined $1,000 by the Oregon Health Authority.
Now SB 683 heads to the governor for his signature.
Image for this story by Jessica Paterson (CC BY 2.0) via Flickr.
Christopher David Gray can be reached at [email protected].
Comments
Submitted by

Kris Alman

on Sun, 06/23/2013 - 11:41
Permalink
According to Orestar, Monnes Anderson has received $7000 from Regence Oregon Political Action Committee and Regence Blue Cross Blue Shield Of Oregon since Oct. 2008. No doubt the Senator will be rewarded for her actions.