Sen. Fred Girod, R-Stayton, has proposed a bill that would mandate that dentists test the cleanliness of their equipment weekly, but forgive dentists who have been disciplined and fined by the board for overlooking a rule ordered by the Board of Dentistry.
February 5, 2014
The Legislature's only dentist and the director of the Board of Dentistry traded barbs in a hearing of the Senate Health Committee, with Sen. Fred Girod, R-Stayton, accusing the board of racking up fines against good dentists based on petty accusations that they had improperly followed state guidelines.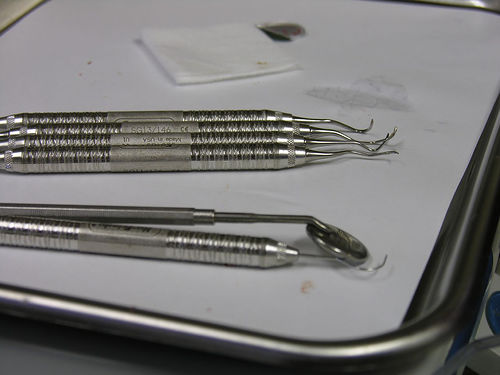 The fines stem from a rule change that the board made requiring dentists to test their equipment for microscopic spores once a week instead of once a month. The board changed the rule in 2004, but only started to level fines against dentists in 2012.
"It's a money grab," Girod charged, noting that an oral surgeon could be fined $6,000 for every dentist and clinic under their supervision, quickly bringing the fines close to six figures. The fines could also blacklist dentists since consumers may avoid dentists with a blemished record. He said of the board: "I think they need to be put in their place."
Dentists normally use a device called an autoclave to sterilize their equipment and supplies with high pressure and steam. The autoclave removes common germs as a well as deadly pathogens such as HIV or hepatitis from equipment. But to ensure the machine is operating correctly, dentists send samples of sterilized supplies off to a lab such as the Oregon Health & Science University for further testing.
A lot of the heightened concern over sterilization stems from outrage over a patient contracting HIV from an unsanitary Oklahoma dental office. But Girod told The Lund Report that case had nothing to do with the actions of Oregon dentists, since the Oklahoma dentist didn't even use an autoclave to sterilize his equipment with heat and pressure. The Oregon violations stem from dentists who are otherwise following the proper sterilizing protocols but don't test their equipment frequently enough to the board's liking.
Dentistry board director Patrick Braatz vehemently denied Girod's accusations that the fines were just a moneymaker for the board. He said the board had sent out multiple notices over the years to dentists about the rule change, and the rule was listed in the book of guidelines that's given out to each dentist annually.
An investigation into a particularly egregious violation in July 2012 compelled the state to start checking for weekly autoclave tests for spores. A dentist in Lake Oswego was found to be reusing disposable items and failing to sterilize equipment at all.
"One did not do any testing at all in 2012," Braatz said. "One forged their results."
Girod said he would not defend dentists who were clearly violating other laws under the board's jurisdiction, but said the vast majority of dentists caught up in this rule violation were otherwise following the letter of the law. Braatz conceded that only four out of 37 dentists fined for inadequate spore testing were fined for other violations. None of those 33 tested positive for spores, said Girod, and several had been told by OHSU that they were in compliance.
Girod and the Oregon Dental Association have sponsored Senate Bill 1519, which would codify the board's rules about spore testing into state law, reverse the fines and expunge the records of dentists hit with penalties. It would also immunize OHSU against lawsuits from dentists who thought they were in compliance after the medical school laboratory approved their samples.
George Okulitch, the lobbyist for the Oregon Dental Association, was more measured in his remarks than Girod, but still admitted the board's penalties had been unfairly and arbitrarily administered.
"Very few knew of this rule," Okulitch said. "Spore testing exists as an important stop-gap to ensure equipment is working."
Sen. Elizabeth Steiner Hayward, D-Beaverton, was receptive to the concerns of Girod and the dental association: "It's a huge problem in the healthcare industry about how to disseminate the information," she said. A primary care physician, Steiner Hayward said she felt inundated by data on best practices and hadn't closely read the Oregon Medical Board's handbook since she became licensed in 1992.
All parties agreed that weekly testing would be a good idea going forward, but the board and the association are split over forgiving dentists for the violation.
Health Committee Chairwoman Sen. Laurie Monnes Anderson, D-Gresham, asked if the parties could reach a compromise over the expungement of past fines and violations, but Girod insisted that this part of the bill was most important, even though it's set off sparks within the Board of Dentistry.
For the bill to go forward, the Senate Health Committee must vote on it by the end of next week. The bill does have bipartisan backing from Sen. Alan Bates, D-Medford and Rep. Peter Buckley, D-Ashland.
Braatz said SB 1519 may be limited in its ability to expunge the records of dentists who didn't comply properly with the spore-testing rule since information, once entered in the federal databank, cannot be removed by state officials.
"People on the boards, they get very aggressive," Girod told The Lund Report. "It's a fine line between weeding out a bad apple and having too much oversight."
Christopher can be reached at [email protected]. 
Image for this story by Judy Baxter (CC BY-NC-SA 2.0) via Flickr.