SEIU 49 Protests Layoffs at McKenzie-Willamette
The union is also asking the for-profit hospital to increase the amount spent on charity care.
Right before Thanksgiving, the Service Employees International Union, Local 49 found out that about 30 of its members would be lose their jobs by Christmas.
McKenzie-Willamette Medical Center, the for-profit hospital in Springfield, told SEIU that it planned to eliminate 15 full-time equivalent positions, many of them in housekeeping, sterile processing and nutrition services – while the restructuring would affect 30 people in all, due to a reduction of hours or the elimination of positions that were already part-time.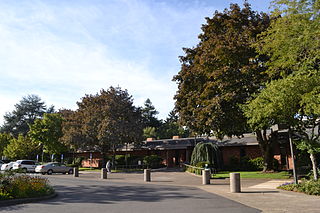 "The biggest department is actually housekeeping, the folks that keep the place sterile and clean," said spokesman Angus Maguire.
Last week, union members held a demonstration, and attempted to deliver a holiday greeting card to the hospital's human relations department signed by 100 hospital staff who were in solidarity with the workers – but the demonstrators were intercepted by hospital security, who ended up delivering the card to the office instead
"Folks are normally a little worried about standing up and speaking out right at the workplace," so only about 10 people chose to demonstrate, Maguire said.
In addition to its concern about the layoffs, the union is asking the hospital to improve its record on charity care. As The Lund Report reported earlier this year, McKenzie-Willamette Medical Center is one of the state's worst spenders on charity care, only devoting 3.2 percent of its revenue to caring for patients who are unable to pay, while other hospitals across the state spent at least 5 percent of their dollars helping people who aren't able to pay their hospital bills.
Oregon only has two for-profit hospitals and McKenzie-Willamette, which changed its designation in 2003 – isn't hurting for money, according to figures compiled by the Oregon Health Authority and released by the union. In 2011, it reported an operating margin of 18 percent despite a steady climb in revenue, and a steady dip in patient admissions.
"These are challenging times for hospitals across the country. Operational efficiency is critical as fewer patients seek inpatient hospital care, government reimbursement for services is less, and hospitals still bear the burden of uncompensated care," said McKenzie-Willamette spokesperson Jana Waterman. "High-quality care for our patients is always our top priority. While we recently made a small number of staff adjustments across our hospital, they will not impact the care provided for our patients. We remain focused on efficient operations and are committed to providing excellent healthcare services for our patients and community."
Asked to respond to the union's request for an increase in the amount of charity care provided by the hospital, Waterman said, "Our hospital has long-standing charity care policies and medically necessary emergency medical care is provided regardless of a patient's ability to pay. In 2012, we provided nearly $20 million in charity and uncompensated care. All members of our community benefit from the property taxes we pay that support government services and infrastructure. And, we continue to reinvest in our facility to expand our services and enhance the quality of care."
In response, McGuire said, "They are making some claims that they are predicting a fall in income with the Affordable Care Act. We don't really have any hard data. In general we're seeing folks like insurance companies and hospitals look to this moment to make decisions that they already wanted to make."
SEIU 49 filed a ballot measure in October that would require nonprofit hospitals to devote a minimum of 5 percent of their revenue toward charity care services, as a condition of maintaining their tax-exempt status. Since that ballot measure wouldn't apply to McKenzie-Willamette, the union intends to initiate discussions about setting a minimum amount for charity care.
Christen can be reached at [email protected].