Researchers from the OHSU-PSU School of Public Health surveyed social service agencies and found gaps in services and workforce across the addiction treatment and recovery continuum.
Image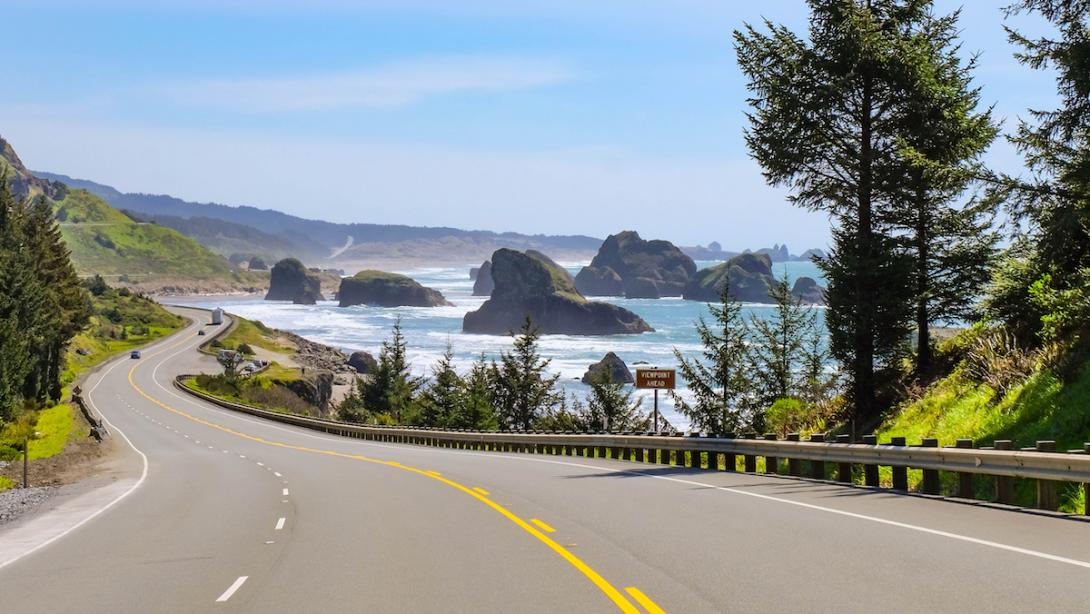 September 30, 2022
Oregon's treatment and recovery system for people struggling with addiction is about half the size it should be to meet demand, according to a comprehensive state-funded analysis released Friday.
The report details substantial deficits in services across the continuum, from harm reduction programs such as syringe exchanges to inpatient and outpatient treatment and resources to help people sustain their recovery.
"We see huge gaps in care availability across all services, but we also see gaps in access and barriers such as transportation or travel time — as well as gaps in culturally and linguistically relevant services," said report co-author Katie Lenahan, a research project manager at the Oregon Health & Science University-Portland State University School of Public Health.
The analysis is intended to support the Alcohol and Drug Policy Commission's 5-year strategic plan for addressing substance use disorder in Oregon and was funded by the Oregon Health Authority. Researchers spent a year gathering and  cross-referencing Oregon Health Plan billing records, federal drug use data, resource inventories and provider surveys, with 164 providers participating in data collection.
While Oregon has long ranked high among states in rates of addiction and near the bottom for access to drug and alcohol treatment, the study represents the first known effort to quantify specifics about its shortages on a county by county basis.
Its findings were grim. Substantial shortages in programming, facilities and labor exist in every county and region of the state, the researchers  found. Every county is at a moderate to high risk for having a substance-related hospitalization rate that's above the national median, according to the report.
The public health researchers also found shortages in the workforce, with an overall gap of 66% between positions filled and workers needed. They also found the addiction services workforce is less diverse than the racial demographics of the state.
In an interview with The Lund Report, Lenahan said the analysis is intended to be a "first step" in understanding what the treatment landscape looks like in Oregon.
The report represents a  snapshot of available services between September 2021 and September 2022 , offering an estimate of how many more services are needed and where.
Lenahan said the data has been validating for people working in the behavioral health field who have lamented the shortages for years.
"While the data doesn't surprise us," she said, "it's still shocking to see the numbers on paper."
In early October, an interactive online dashboard and map with the report's findings will go live on the Alcohol and Drug Policy Commission's website. There are no concrete plans to keep it updated at this time, Lenahan said.
Gaps identified in the analysis include:
Outpatient: a 35% gap in outpatient treatment statewide, with 203 additional facilities needed.
Inpatient: a 60% gap, with 283 additional facilities needed.
Detox: a 27% gap in residential detox, with 28 additional facilities needed.
Recovery Housing: a 55% gap, with 3,859 additional beds needed.
Recovery Community Centers: a 94% gap in these organizations, which serve as a connection to community and resources for people in recovery. An additional 137 are needed.
Syringe Exchanges: a 58% gap in services, and 61 additional exchanges are needed.
Fentanyl Test Strips: a 35% gap in facilities needed for distribution, with 44 more needed.
Naloxone: a 28% gap in facilities distributing the opioid overdose-reversing drug. Another 94 facilities are needed.
School Based Prevention Classroom Activities: a 30% gap, with 5,315 more classroom activities that focus on promoting health and safety behavior change in youth are needed across the state.
Workforce Equity: While disparities persisted across Black, Native American, Native Hawaiian/Pacific Islander and multi-racial prescribers, the largest gap was among people who are Hispanic or Latino. "While 13.2% of Oregonians are Hispanic or Latino, only 6.3% of non-prescribers and 0.4% of prescribers in the substance use disorder workforce are part of this demographic," the report states.
Overall Service Gap: Statewide, there is an overall 49% service gap in services. The region containing Clackamas and Washington counties has the largest service gap, at 72%.
Capacity: Most substance use disorder service providers lack capacity to meet demand for services. In Southern Oregon, 72% of organizations reported they had inadequate capacity for services. Providers struggling to meet demand in other regions hovered between 50% and 55%.
Image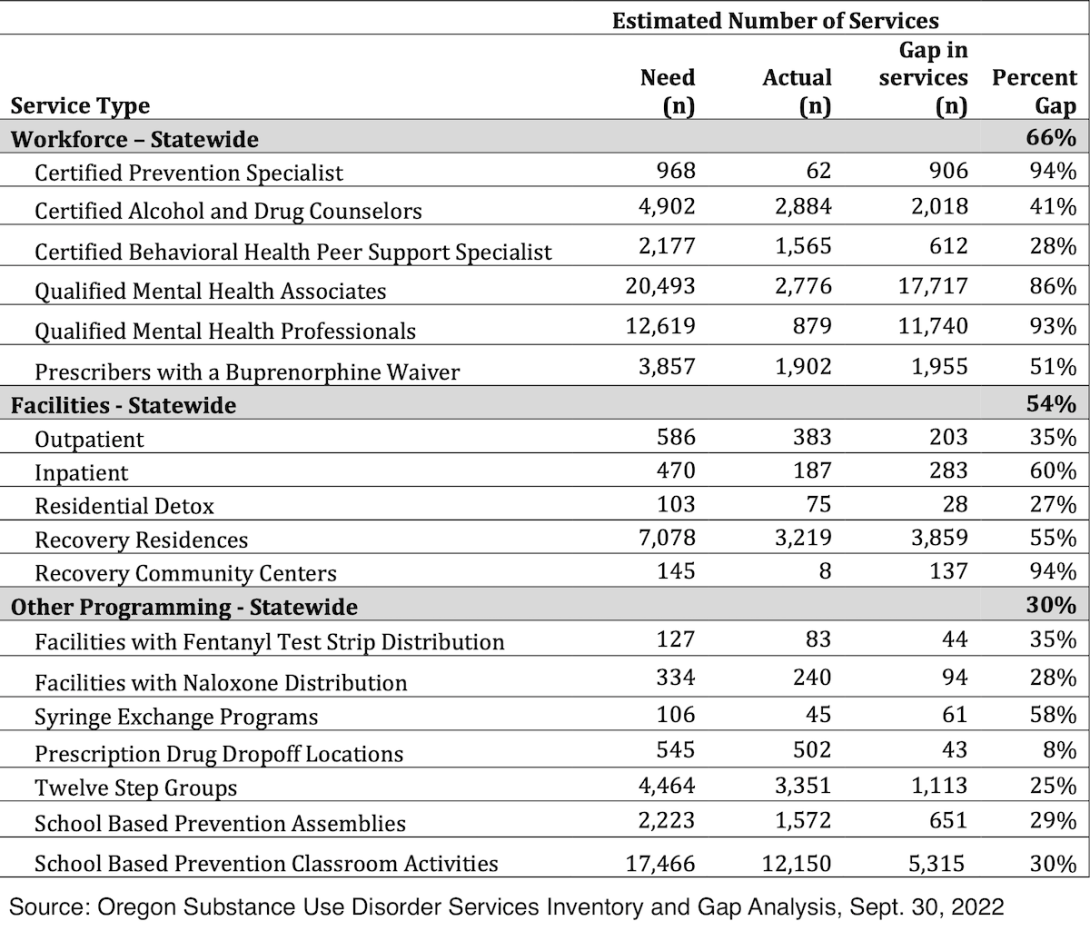 Actual Need Is Greater
Researchers said the gaps were likely an underestimate. They employed federal survey data that did not include several populations with high rates of substance use disorder: people experiencing homelessness, people living in congregate settings or transitional housing, or people who are incarcerated. 
"So whatever we see here, the problem is actually worse," said Elizabeth Waddell, a co-author of the report who is an associate professor at OHSU-PSU School of Public Health. 
Even considering only persons living in households, Oregon ranked first in the nation for illicit drug use in 2020. Oregon had the highest rate of meth use and prescription opioid use, while ranking dead last for access to treatment.
Another caveat to the new analysis: Gaps were assessed by comparing services available in each county versus the population of the area. It did not account for geographical distance. So while Eastern Oregon only shows a 39% overall gap in services — the lowest — it does not reflect the size of the region and how far some people would have to travel to access those services.
Image

In determining how many services were needed, researchers took into account actual service usage rates among populations of people who have substance use disorder using national and Oregon-specific data. This means that the report's finding of services needed does not reflect what would be needed to serve everyone who has substance use disorder; rather, it reflects what would be needed  for every person who wants services to actually access them.
"These are all baseline, minimum numbers to provide care," said Waddell.
About 65% of service providers in Oregon participated in the survey, with prevention and recovery organizations most likely underrepresented, according to the report.
A Baseline For Measure 110
Oregon's drug decriminalization law, Measure 110, is infusing about $300 million into treatment, recovery and addiction services every two years. According to the report's authors, this analysis can serve as a baseline to measure how well that money is improving the system.
That's because at the time of the study's completion, only about 10% of the new law's first round of funding had been spent.
Lehanan said Measure 110 focus on equity and culturally responsive services mirrors the findings and recommendations of the report.
She said organizations say they not only don't have the funding and staff to meet the demands of their clients, they also don't have the resources to provide culturally relevant and linguistically specific services. 
At the time of the survey, about 1 in 5 providers reported increased funding through Measure 110.
Officials and providers told The Lund Report they hope the Measure 110 Oversight and Accountability Council will take the gap analysis into consideration as it funds addiction services.
Image

Recommendations
Given the minimal service infrastructure Oregon has right now, the state should take a "no wrong door approach" to connecting people to services, Waddell said.
"So, Oregonians who go into the emergency room, Oregonians who go into the criminal justice system, temporary housing — these are all settings where there's opportunity for immediate linkage to community services," she said.
The report calls on the state to address its findings with incentives for linguistically and culturally relevant services and increased support for organizations to employ peer support specialists.
It also called for additional syringe exchange and drug checking services and the expansion of medication assisted treatment for opioid use disorder through telemedicine and mobile services.   
Read the full report.  
You can reach Emily Green at [email protected] or via Twitter at @GreenWrites.