Public Health Division Looks to Improve Breastfeeding Rates
Numerous grant-funded projects throughout the state are aiming to reduce barriers, increase awareness of breast feeding, and encourage mothers
June 1, 2012— Although 90 percent of Oregon women start out breastfeeding their newly born infants, only 21 percent continue breastfeeding until their infant is six months old. Oregon's Women, Infants and Children (WIC) program hopes to get that number higher with the help of additional dollars from the U.S. Department of Agriculture.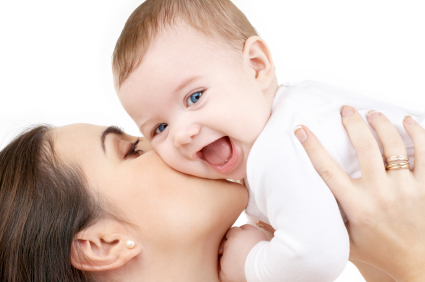 "What we're hoping to see is a step forward with maternity care practices, and more evidence-based infant care," says Diane Garrett, a special projects coordinator in the WIC program.
In 2011, Oregon's WIC program won a $2.4 million dollar performance bonus from the USDA for having one of the highest breastfeeding rates in the nation. The money has been disbursed to 25 counties to fund projects that will encourage women to breastfeed their child for the first six months of the infant's life.
"We want any woman who has made [the choice to breastfeed] to easily continue breastfeeding," said Sue Woodbury, the state's WIC director.
Woodbury emphasizes the numerous health advantages of breastfeeding as a main reason for working toward increasing the breastfeeding rate. Studies have shown that breastfeeding can help an infant's intestinal tract, which is not fully developed at birth, finish developing. A mother's breast milk can also help immunize infants, as well as reduce the risk of obesity, diabetes, asthma and other chronic health conditions. For the mother, breastfeeding can help reduce their pregnancy weight, and reduce the risk of high cholesterol, and cardiovascular diseases.
The WIC program is a program within Oregon's Public Health Division that works with low-income pregnant, postpartum and breastfeeding women with infants and children under the age of 5. Income guidelines are slighter higher than other state assistance programs; to be eligible, a family of four must make $42,643 or less. The program serves approximately 112,000 people in Oregon a month.
The program provides food packages and food coupons to supplement a family's diet and ensure the woman and child are eating a healthy amount of fruits, vegetables and certain dairy products. "The WIC program is a very powerful prevention program," says David Brown, Multnomah County's WIC director.
The program also offers nutrition classes, and promotes breastfeeding. "Breastfeeding has always been a cornerstone of the WIC program," Woodbury says.
Woodbury and Garrett say the grant money was used to fund projects that specifically focused on building community coalitions that work to encourage breastfeeding, as well as projects that seek to reduce barriers to breastfeeding. Some of those barriers to continue breastfeeding include institutions—such as childcare settings, a mother's workplace, or hospitals and medical providers—that do not encourage breastfeeding. Problems with lactation and societal norms also play a part. "We have a society that isn't always comfortable or accepting of breastfeeding in public," Garrett says.
The grant funding must be spent by September 30. Woodbury, like many of the grantees, hopes that the projects will be able to establish programs strong enough to have a long term impact.
In addition to two research projects focusing on particular barriers to breastfeeding in the African American and Native American communities, Multnomah County is producing a training video teaching childcare facilities how to properly store and keep breast milk. Brown hopes to disperse it to as many childcare facilities as possible.
"We realized that in licensed day care facilities…there's no real policy on the storage or maintenance or maintenance of breast milk," he said.
Benton County, in collaboration with Linn County, is seeking to revitalize a breastfeeding coalition that became defunct a few years ago. Kelly Volkman, Benton County's WIC director, says the county health departments are working with 10-15 coalition members to provide trainings and assistance in helping the coalition get off the ground. She expects that the coalition will develop a strategic plan for increasing breastfeeding rates all women in Benton and Linn counties to be finished by September.
"We're really trying to mobilize a community," she said. "We want this to be community led, and not agency led."