Public Health Division Continues Preparing for How Climate Change Will Affect Health
In addition to hiring an epidemiologist who will analyze possible health impacts of climate change, the state is working with county health departments to develop local adaptation plans
September 3, 2013—The Oregon Public Health Division has hired an epidemiologist who will focus on determining how climate change will affect people's health, both regionally and individually.
"It's not really a traditional epidemiologist," said Julie Early-Alberts, program manager of the Public Health Division's Climate and Public Health program, in the sense that the person will not be investigating outbreaks of specific diseases in specific geographic areas.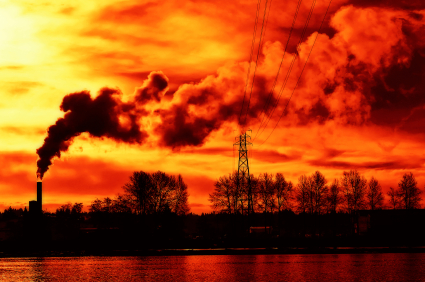 Public health officials describe the potential health impacts caused by global warming and climate change as the biggest public health threat of the 21st century. In 2006, the Centers for Disease Control (CDC) established its Climate Ready State and Cities Initiative, which provides states with grant funding and other resources to help state health departments develop projections of how each state's climate and weather patterns will change if temperatures increase.
Oregon is one of 16 states to receive grant funding from the CDC. In 2010, the state's public health department was given a three-year grant totaling $250,000, and another three-year grant cycle started this month.
Over the next couple years, the Climate and Public Health program will develop a qualitative, descriptive analysis detailing predictions of how Oregon's climate will change, and how people's health will be impacted. Early-Alberts said an advisory committee will be formed to recommend ways for how different parts of the state can adapt to a changing climate.
"With the best science we have and the best efforts to predict what's happening, it's really difficult to say," how people's health and lives will be impacted, said Early-Alberts. "One way to mitigate those health impacts is to increase the resiliency of communities."
According to the University of Oregon's Climate Leadership Institute, the average temperature of Oregon weather is expected to increase between .2 and 1 degree Fahrenheit each decade. Winters in the Willamette Valley are expected to be three to five degrees warmer; summer temperatures in Central and Eastern Oregon could increase as well, and the Cascade mountain range's snowpack is expected to decrease by as much as 80 percent by the end of the 21st century.
It's expected that there will be more extreme weather events in Oregon, such as heat waves, droughts, snow and rainstorms.
Determining exactly how Oregon's climate may change as a result of global warming is difficult. It is similarly difficult to identify how global warming will impact population and individual health.
Early-Alberts said the Climate and Public Health program has divided Oregon into three geographic regions to analyze potential health impacts: the coastal area, Willamette Valley and southern Oregon, and Eastern Oregon's high desert plateau.
"Even within those three larger regions, a lot of climate impacts are going to be very different," she said.
Extreme weather events could cause a wide range of health problems. Flooding as a result of storms in the coastal area and Willamette Valley, for example, can cause property damage, injuries or deaths, cause mold to grow in damaged homes, which can cause breathing problems, and bring about water-borne illnesses. Hotter weather and poor air quality can exacerbate cardio-vascular conditions like asthma, cause more cases of severe heat stroke, and worse allergies.
A changing climate and warming temperatures can also increase the range of insects that transmit communicable diseases, such as ticks and mosquitoes—some species of which are already present in Oregon and transmit illnesses like the West Nile Virus.
People at particular risk of climate-related health affects include people who are low-income, live in rural communities, children, pregnant women, the elderly, and those considered to be socially isolated.
Flooding and a decreased snowpack in the Cascade mountain range could also affect the availability and safety of drinking water.
When the Public Health Division first received grant funding from the CDC, the Climate and Public Health program decided to model its program after the Public Health Division's health impact assessment program, which evaluates various projects and political policy in Oregon and identifies related health impacts.
The Climate and Public Health dispersed its grant funding from the CDC to the Benton, Crook, Jackson and Multnomah county health departments, as well as the North Central Public Health District in Northeastern Oregon. Each county then created local adaptation plans.
Each county's adaptation plan, which is currently being finalized, identifies the most significant environmental effects that global warming can cause in that geographic region, associated health risks, and possible ways to address and mitigate those impacts.
Multnomah County's adaptation plan specifically addresses how heat waves, warmer temperatures and pollutants will affect the metropolitan area's air quality. As a mitigating solution, the county health department might spearhead planting more trees in areas where there's a lot of concrete or asphalt to provide cooling and fresher air.
Crook County focused on possible increases of communicable diseases, and is beginning to develop ways to monitor and prevent disease outbreaks. The North Central Health District is located in an area of Oregon where agriculture and farming is both a way of life and the predominant source of jobs. Its adaptation plan focused on the likelihood of drought, and how it will impact people in terms of physical health problems, availability of drinking water, and prevalence of emotional health problems like anxiety and depression.
In the next three years, Early-Alberts said the state's climate health program intends to work more closely with health departments and help them being implement some of those recommendations.
Solutions like planting trees to reduce hot spots along sidewalks and parking lots may not sound much when it comes to addressing global warming. But Early-Alberts still thinks local solutions can have an impact.
"Even though climate change is a global problem, we really need to be responding at the local level," Early-Alberts said.
Amanda Waldroupe can be reached at [email protected].