Public Health Budget Calls for $4 Million in Tobacco Dollars for Prevention
The money marks the first time tobacco master settlement agreement money would be dedicated to the state tobacco prevention fund, but the amount approved is only one-third the $12 million floated earlier this session by Rep. Tomei.
June 5, 2013 — The Joint Ways & Means Subcommittee on Human Services voted Tuesday to approve a preliminary budget for the Oregon Health Authority's Public Health Division, putting up $4 million from the tobacco master settlement agreement for prevention.
If the figure goes forward as the Legislature enacts the budget, this would be the first time Oregon dedicated tobacco settlement dollars directly to tobacco prevention programs, but the $4 million figure is a steep drop from the $12 million asked for earlier this session by Rep. Carolyn Tomei, D-Milwaukie, and public health advocates such as Tobacco-Free Oregon.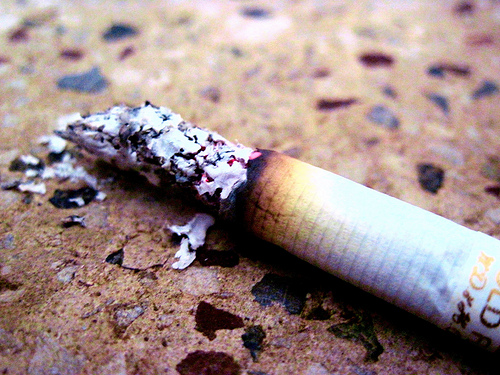 "This is a great first start," said Stephanie Tama-Sweet, the lobbyist for the American Heart Association. "We've still got a few weeks. We're hoping for additional funding."
Sen. Alan Bates, D-Medford, told The Lund Report that he was surprised at the $4 million number and would have liked to see more money go toward tobacco prevention, but the amount was set by the budget committee co-chairmen: Sen. Richard Devlin, D-Tualatin and Rep. Peter Buckley, D-Ashland.
"That was not my decision," Bates said. "This is not the final bill yet."
Devlin told The Lund Report that it was unlikely any additional funds would be added from the tobacco settlement fund. 
"The co-chairs of Ways & Means wanted to get some resources into tobacco cessation," Devlin said. "They also wanted to put some dollars in physical education."
Schools will get $4 million from the tobacco fund to offer pupils more gym and recreation classes, helping them comply with state mandates.
Devlin noted that Gov. John Kitzhaber's budget didn't direct any money from the tobacco settlement to smoking prevention, instead earmarking the entire $120 million to the Oregon Health Plan. The budget chairmen have replaced the $8 million they removed in tobacco dollars from the state Medicaid program budget with money from the general fund.
Dr. Mel Kohn, the outgoing state public health director, told The Lund Report that the $4 million will go on top of $8.25 million already in the tobacco fund for the next biennium.
"This is a big deal in part because we've never had any money for this from the tobacco settlement agreement," he said.
But public health advocates wanted a bigger commitment and held out hope that the tobacco prevention and education program could receive a boost.
"We're hoping if there's some grand deal, it'll be increased in the end," said Brett Hamilton, the executive director of Tobacco-Free Oregon.
Kohn said the U.S. Centers for Disease Control and Prevention recommends that Oregon put $40 million into tobacco prevention, but Hamilton said anti-smoking advocates thought they'd "be laughed out of the Capitol" if they asked for that much money.
Instead, they asked for 10 percent of the $120 million that Oregon anticipates receiving in tobacco dollars over the next two years.
Kohn said although some of the tobacco master settlement agreement has gone to pay state bonds unrelated to health, "the lion's share" of the tobacco dollars have supported the Oregon Health Plan, the state's Medicaid program for children and low-income residents.
The new coordinated care organizations, charged with delivering healthcare for those residents, have a financial incentive to invest in improving health outcomes through programs such as tobacco prevention, since they have to pay all their healthcare costs using a global budget.
Although 30 percent of Oregon Health Plan members report that they smoke, roughly twice the state average, Kohn said that ratio was typical of national figures, which show a disproportionate number of low-income people smoking.
Already, Trillium Community Health Plan in the Eugene area has partnered with the Lane County Health Department to fund a county-level tobacco cessation program, and Hamilton said the Coos Bay CCO had also shown interest in this approach.
About a decade ago, the state Tobacco Prevention and Education Program lost all its funding for a biennium, and Kohn said the Public Health Division saw evidence that smoking rates began to rise after years of decline.
At about the same time, Oregon reduced its cigarette tax by 10¢, the only state to actually lower its tax in years.
Separate bills this session have aimed at raising tobacco taxes, either locally or statewide. Rep. Mitch Greenlick, D-Portland, supported House Bill 2575, which would raise the tobacco tax $1, but that bill never had a vote or second hearing in the House Revenue Committee. A separate measure, HB 2870, allowing counties to raise their own taxes has passed the House but is still sitting in the Senate Finance Committee awaiting a work session.
Multnomah County Commissioner Jeff Cogen has said that if HB 2870 passes, Oregon's largest county would seek a 50¢ tax to pay for public health.
"The price of tobacco is a very powerful tool to reduce smoking," Kohn said, especially among low-budget young people.
The Oregonian has reported that legislative budget discussions have considered raising cigarette taxes 10¢ to help fund mental health — but Hamilton said such a tiny tax increase would be insignificant in reducing smoking rates.
Image for this story by Sudipto Sarkar (CC BY-NC-ND 2.0) via Flickr.
Christopher David Gray can be reached at chris@thelundreport.org.