Public Health Advocates Seek Stiffer Immunization Exemption
Oregon has the highest rate of kindergarteners who are not vaccinated, setting up the state for an epidemic, public health officials claim
February 21, 2013 — By the end of the 20th Century, vaccines had once common illnesses like polio and measles and whooping cough down for the count. But once rare infectious diseases have started returning in the past decade, as more and more parents have stopped having their children vaccinated.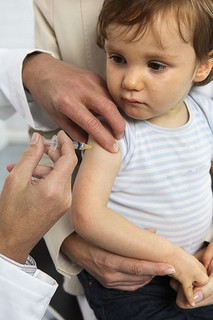 Oregon has been mainly spared the whooping cough outbreaks that have hit its neighbors Washington and California in recent years, but public health advocates say it's just a matter of time before the state has one of its own.
"If we allow vaccine rates to go low enough, we'll see an impact on the vulnerable," said Dr. Jay Rosenbloom, a Lake Oswego pediatrician.
Oregon's rate of kindergarteners exempt from vaccinations has tripled in the past 10 years, and it now tops the list of states with exempt children after the previous leader, Washington, toughened its laws letting parents receive a waiver.
Rosenbloom said he had a baby die in his care from whooping cough. And while the infant was too young to be vaccinated against the disease, better immunization rates may have kept the disease from floating around where she could get sick.
Lane County's public health officer, Dr. Pat Luedtke, said whooping cough, also known as pertussis, is "incredibly contagious," and one infected person could pass the disease onto 15 or 17 other people, whereas a flu victim typically infects only two or three other people.
Oregon public health advocates would like to get out in front of a statewide, preventable epidemic before it happens by making parents show greater knowledge of vaccinations before they opt out.
"There's such silly nonsense out there," Rosenbloom said. "We want to make sure parents can make informed decisions."
Senate Bill 132 would require parents to get a waiver signed by their child's healthcare provider or watch an online health video from the Centers for Disease Control and Prevention about vaccinations before they can sign a waiver exempting their child from vaccination at the start of kindergarten.
The bill was not without its detractors. Oregon's current non-medical exemption letter says that parents filing the form are citing a religious exemption — which can be any belief system under Oregon law. The religious language is omitted from the exemption in SB 132 — a point of contention for a few dozen letter writers and Sen. Tim Knopp, R-Bend.
Knopp said he could not support the bill if it infringed on anyone's religious beliefs.
But supporters note the bill would still allow parents to exempt their child for any reason, after showing informed consent.
"They can absolutely exempt for religious reasons. They can exempt for philosophical reasons. They can exempt because they believe the moon is made of green cheese," said Dianne Danowski Smith, spokeswoman for the Oregon Pediatric Society. "It's an irony in a way -- the language actually broadens the exemption."
Luedtke said it's easier to get a child exempt from immunization than to submit a record of vaccinations. A record of shots might require a review of health department records, but to skip out a parent only needs to sign the exemption form.
SB 132 has also received criticism from the Oregon Chiropractic Association's Vern Saboe, who had earlier expressed concerns about SB 132 and the ethical right of parents to give informed consent to their children's vaccinations. He said he would drop opposition to the bill if chiropractors are allowed to sign the parents' consent forms as a healthcare provider.
"There's a risk to not getting them, there's a risk to getting them." Saboe said "We want to make sure that chiropractic physicians can provide the quality information."
Saboe has submitted an amendment to SB 132 giving chiropractors the right to serve as healthcare practitioners by statute rather than leave that determination up to the Oregon Health Authority, with whom the chiropractors' organization has disagreed about their involvement in coordinated care organizations.
Senate Health Committee Chairwoman Sen. Laurie Monnes Anderson held off a vote on SB 132 so that an agreement could be reached to meet religious concerns and those of the chiropractors.
"I'd like the Oregon Pediatric Society to work through these issues," she said.
The state average for kindergarteners with non-medical vaccination exemptions is 5.8 percent in 2012, a rise from less than 2 percent in 2001. Disparities in vaccination rates vary widely across Oregon, irrespective of population density.
According to the Oregon Health Authority, the highest rates of exemption are in rugged Curry County at 12 percent, followed not far behind by populous Lane County at 8.5 percent. Meanwhile, rural Malheur County's exemption rate is below 1 percent while suburban Washington County's rate is also relatively low, at 3.8 percent.
In April 2012, a whooping cough outbreak spiked to 5,000 cases in Washington — the highest level since the 1940s, which followed an epidemic in California with rates also not seen since baby boomers were babies.
"This is what keeps public health officers up at night," said Luedtke.. "Schools were closed. Mass gatherings were changed."
Lorraine Duncan, the immunization program manager for the Oregon Health Authority, said within counties, individual schools can have extremely high rates of unvaccinated children, including one school in Ashland where 30 percent of kids are exempt.
Ashland has the highest rate in the state despite a series of whooping cough outbreaks in the small college community in the past 10 years.
According to the Oregon Health Authority, a school needs to have a 94 percent immunization rate against whooping cough and measles to develop what Luedtke called a "herd immunity."
A worldwide drop in immunizations came after a now-discredited study in the British medical journal, The Lancet, linked vaccines to autism, a paper that was later found to use falsified data. Hollywood celebrities like Jenny McCarthy and Jim Carrey have also spoken out about perceived dangers of contracting a range of illnesses from vaccines, which public health doctors and officers have called false.
Image for this story by Sanofi Pasteur (CC BY-NC-ND 2.0) via Flickr.