Public Education Employees Shed Thousands of Pounds
Medical costs related to obesity in adults in Oregon amounted to $ 1.6 billion in 2006, according to the Oregon Health Authority
October 22, 2012 -- Oregon public education employees have lost nearly 200,000 pounds in a 20-month period that began in October 2010 after the state added free Weight Watchers classes as a benefit, an administrator for the Oregon Educators Benefit Board (OEBB) told The Lund Report.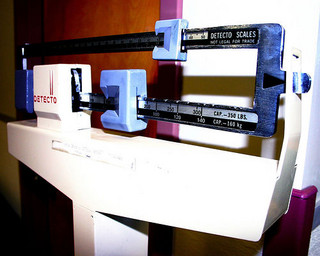 Joan M. Kapowich, who also administers the Public Employees' Benefit Board, said those workers lost over 175,000 pounds since the free weight loss classes became part of their benefits in 2009.
Some 20 percent or 12,181 of OEBB employees participated in the Weight Watchers classes, meaning they achieved an average 16-pound weight loss. Kapowich said participation was "a much higher percentage than expected." Employees arrange when and where to take the classes that are available in the community, online or at work. Work meetings are held either before or after work or at lunch time, she said. Employees have to attend 10 of 13 sessions for the program to remain free, she said.
If employees fail to attend 10 sessions they have to pay $ 155.35 for the work program, $ 119.86 for the community program or $55 or the online one, depending on which option they signed up for.
The 197,254 pounds lost by 12,181 employees between Oct. 1, 2010 and June 30, 2012 only reflects at-work weight loss and not those of employees attending meetings in the community or online. The OEBB just expanded the program to allow children ages 10-16 to enroll. Spouses and domestic partners have been eligible since last year.
Weight problems are costly. Weight Watchers was selected by the OEBB and PEBB health plan providers, which include Providence, Kaiser Permanente and ODS, Kapowich said.
Weight Watchers has well established partnerships with private businesses to help employees lose weight, a company spokesperson said. The nearly 50-year-old company is branching out to the public sector. In addition to PEBB and OEBB, Weight Watchers is working with the city of Austin, the city of Virginia Beach and the Virginia Beach City public schools.
A 2009-2010 survey of state school employees showed that compared to the general population, fewer Oregon educators were overweight, but more were obese. The Centers for Disease Control and Prevention say a Body Mass Index (BMI) for normal weight is between 18.5 and 24.9. An overweight person has a BMI of 25 to 29.9, and anything 30 and over is considered obese.
So for example a woman who is five feet and four inches tall and weighs 130 pounds has a BMI of 22.3. That's on the higher end of normal, but still within the normal range. But if she were 20 pounds heavier, her BMI would be 25.7 and she'd be overweight. With a weight of 175, or 45 pounds heavier, she'd have a BMI of 30 and be considered obese. There are many online calculators such as this one (http://nhlbisupport.com/bmi/) where you can determine your BMI.
The survey showed 38.1 percent of all Oregon adults as overweight and 24.5 percent obese. PEBB employees came in at 35.2 percent overweight but 25.9 percent obese, while 33.7 percent of OEBB workers were overweight and 28.1 percent were obese. Both sets of public employees had much lower smoking rates than the average Oregonian.
PEBB figures showed there was some fluctuation in the participation and the amount of weight lost. In 2009 workers lost 67,727 pounds but last year that was down to 37,440, which still accounted for 7.7 percent of employees, with 3,780 workers participating in the program. However last year employees were required to complete an online health assessment, and Kapowich noted that "any time you add a new step or condition it can impact participation."
Kapowich said PEBB enrollment has risen significantly this year in part because PEBB added spouses and domestic partners to the program. Next year PEBB will add children 10 and older. Employees have already lost 28,387 in the first half of this year, compared to the 37,440 lost in all of 2011, she noted.
"The weight loss itself is great news. But we want members to increase their physical activity levels to enable them to maintain their healthy weight and improve their health status and welling being for the long term," Kapowich said.
Weight Watchers is increasing its focus on physical activity this year, she said, and the state's health insurance providers have website tools to track the physical activity levels of employees, who are also offered gym memberships at a discounted fee.
As for Weight Watchers, Kristi Widmar, a spokesperson, says activity has been one of four key pillars of the program for years. Others include healthy eating, behavior change and support. The company focuses on a point system whereby participants get an individualized points goal and foods are assigned point values based on their nutrition and calories. The weight loss company recently teamed up with Philips to launch ActiveLink, a fitness monitor that translates activity to Weight Watchers points. The idea is to have participants change their lifestyles and accomplish their weight loss goals and keep the pounds off through a combination of eating and exercising sensibly.
Image for this story by wader (CC BY-NC-SA) via Flickr.