Image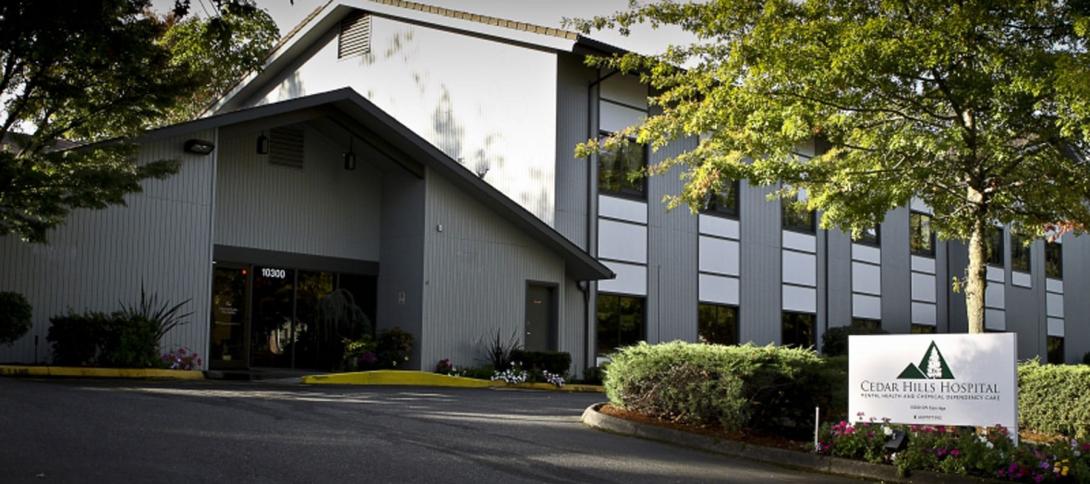 December 10, 2019
A Pennsylvania-based Fortune 500 health care company is having a tough time elbowing its way into the Oregon market, judging by a lawsuit the company filed against five Oregon Medicaid insurers and its stymied attempt so far to build a psychiatric hospital in Wilsonville.
After months of litigation, Universal Health Services and the five insurers remain at odds over who's responsible for nearly $2.5 million worth of emergency-room treatment at  Cedar Hills Hospital in Portland. The 98-bed hospital, owned by Universal Health, treated the patients from 2014 to 2018.
At the same time, Universal is taking another run at winning state approval to build a 100-bed psychiatric hospital in Wilsonville. Its latest application comes two years after its previous attempt was rejected amid opposition from Oregon hospital systems.
Universal Health's woes illustrate the difficulties an out-of-state and for-profit company can face trying to make inroads in a state whose health care system is dominated by a tightly interconnected net of nonprofit hospital and insurance systems.
"There's a longstanding (health care) leadership in Oregon … and it's difficult for a new person to break in," said Michael Sorensen, director of business services at Cedar Hills.
Cedar Hills Hospital - which Universal Health acquired in 2012 as part of a package of nine psychiatric hospitals across the West - claims the five coordinated care organizations it is suing should reimburse the hospital for serving an undisclosed number of low-income Medicaid patients who were treated in the hospital's emergency room.
The five Medicaid insurers asserted they're not liable, in part because they've never included Cedar Hills in their networks of approved health care providers. Also, the insurers argued, federal law forbade insurers until 2018 from using Medicaid money to pay for services at large psychiatric hospitals – so-called "institutions of mental disease," such as Cedar Hills, located in Southwest Portland. 
The insurers either declined to comment or did not respond to The Lund Report. 
The hospital filed the lawsuits earlier this year in Washington County Circuit Court against the five insurers: Portland-based Health Share of Oregon; Columbia Pacific CCO and Jackson County CCO, both subsidiaries of Portland-based insurer CareOregon; Roseburg-based Umpqua Health Alliance; and Portland-based FamilyCare Health, which has closed its Medicaid business. The lawsuits were subsequently merged into one. Cedar Hills is seeking a total of $2.45 million, plus interest.
Cedar Hills argued in court documents that the insurers should include it on their in-network list of contracted providers, but they refused, saying they already have enough psychiatric care providers on their panels. The hospital has asked the judge to rule that each insurer has "an obligation to negotiate in good faith a provider contract with Cedar Hills."
"It has been very difficult to get coordinated care organizations to contract with us," Sorensen said. While the hospital has contracts with all major commercial insurers and with the Veterans Administration, it has contracts with only two coordinated care organizations: Yamhill County CCO and Trillium Community Health  Plan, he said.
The lawsuit parallels a major push by Universal Health in Oregon: to build and open a $35.8 million psychiatric hospital in Wilsonville south of Portland.
The application comes at a time of heightened emphasis in Oregon on improving mental health care. The hospital would include a range of in-patient and out-patient services from psychiatric care to substance abuse treatment.
But in 2017 state regulators in rejected a previous application, saying Universal Health failed to show the hospital was needed. "Hospital care is the most expensive level of care in the mental health system," the Oregon Health Authority said in its rejection. "Less costly and more effective alternatives to the building of more resource-intensive inpatient psychiatric beds are preferable."
But this summer Universal Health filed a new application, arguing that beds were lacking.  Critics, including officials at Portland's Unity Center for Behavioral Health, a 107-bed psychiatric hospital opened in 2016, have opposed it, saying inpatient hospitals are too expensive and the state should focus on lower-cost community-based services, including outpatient care and community housing.
In both the Wilsonville project and the Cedar Hills lawsuit, Universal Health is up against some of the same big health care powers.
Unity Center was created and funded by four big nonprofit hospital systems in the Portland area: Legacy Health, Oregon Health & Science University, Adventist and Kaiser Permanente. All those systems are also among the founders and governors of Portland-based Health Share of Oregon, the biggest target in the Cedar Hills lawsuit. Cedar Hills says Health Share owes it more than $1 million for emergency room treatment of Health Share Medicaid patients. CareOregon is also a founder and governor of Health Share. Cedar Hills says CareOregon's Columbia Pacific CCO and Jackson County CCO owe the hospital $212,850 and $395,600, respectively.
Pennsylvania-based Universal Health is a global heavyweight in behavioral health care. It has more than 350 hospitals and other facilities in the United States and the United Kingdom, staffed by more than 87,000 employees. In 2018, the publicly traded company reported a profit of $779 million on revenues of $10.8 billion.
In its Washington County Circuit Court complaints, Cedar Hills paints a picture of a psychiatric hospital that has effectively been frozen out of some reimbursement payments by Medicaid insurers in Oregon, while at the same time being required under federal law to take in and care for Medicaid psychiatric patients undergoing emergencies who either walk into the hospital or are referred to it from other hospitals.
Sorensen said that Unity Center as well as many major Portland-area hospitals, refer patients to Cedar Hills, demonstrating that Cedar Hills is a vital part of the behavioral health care system.
"In nearly every instance in which the patients at issue were transferred to Cedar Hills from the referring hospital, the patient had been determined to be in need of emergency psychiatric care which the referring hospital was unable to provide. Hence the need for the transfer," Cedar Hills wrote in its complaint.
"The care provided to these patients was care that was required of Cedar Hills in order to stabilize the patient and prevent him/her from injuring or harming him/herself or others," the hospital wrote.
Cedar Hills argued that while federal law may have barred the use of Medicaid money to pay for care at psychiatric hospitals, all five Medicaid insurers also receive state money to cover Medicaid patients and that the insurers could use that money to pay Cedar Hills.
In their responses, the insurers noted that the federal government has long prohibited the use of Medicaid funding for hospital psychiatric care under the principle that states are responsible for long-term psychiatric care of low-income residents at large facilities.
That prohibition was in place until Jan. 1, 2018, when new federal rules allowed states to use Medicaid funds for limited, short-term psychiatric hospital care under some circumstances, the insurers argued. One of those conditions is that the psychiatric hospital must be in-network on the insurer's provider list, the insurers argued.
The insurers also argued that the state pools federal Medicaid and state dollars, and the insurers can't segregate out the state dollars.If Cedar Hills wants state money, it should ask the state, the insurers said in court documents.
Court hearings on preliminary motions are set for later this month. A jury trial is tentatively scheduled for next summer.
You can reach Christian Wihtol at [email protected].
Comments
Submitted by

Laura Grandin

on Wed, 12/11/2019 - 08:47
Permalink
The metro area definitely needs more psych beds, but I appreciate the reticence to contract with Universal Health. I've read some pretty appalling accounts of its behavior in other communities. If even a third of what's detailed in the multiple lawsuits filed against Universal by past patients and their families is accurate, Universal isn't good for people, especially those who don't  have their wits about them. 
Submitted by

Greg Walker

on Sun, 12/15/2019 - 06:25
Permalink
Nearly three years ago I lobbied / testified on behalf of Cedar Hills Hospital to see the proposed Wilsonville facility receive the necessary Certificate of Need. My professional concerns were published in this guest editorial - https://www.oregonlive.com/opinion/2017/05/how_many_veterans_have_to_die.html UHS offers its Patriot Support in-patient program at selected hospitals across the country. Cedar Hills in Portland is one of these facilities. Its military program is one of the best in the country and the Wilsonville hospital was, at the time, tagged by UHS to provide a similar program for Oregon's trans-generational veteran population as well as for our National Guard troops needing high quality in-patient behavioral health and substance dependency services. Opponents in Salem as well as those noted in the article representing private and non-profit hospital systems in Oregon, to include the healthcare workers' union, successfully squashed the bill that would have seen our veterans and Guard members provided this level of care and treatment which none of the others in the state offer to date. Unity, hawked during the hearings as a better solution, has proven to be a nightmare as the Oregon Health Authority well knows. UHS/Cedar Hills Hospital should prevail in their lawsuit regarding reimbursement and it is a crying shame such a suit even has to be filed. Oregon's mental health "system" is among the worst performing in the country and this is sadly historical. Much "chit chat" in Salem to improve it - but little action to make it so. It is hoped the Lund Report will follow this story closely. As a now retired military healthcare advocate in both the Department of Defense and private sector I know we here in Oregon can and must do better!
Submitted by

Shannon Campbell

on Fri, 08/07/2020 - 11:08
Permalink
I absolutely agree that "we here in Oregon can and must do better!"
I'm not convinced that approving this facility is actually doing better.
I'm glad you've known veterans with good experiences at Cedar Hills. Sincerely - I'm glad when anyone has a good experience during a time of crisis with their care providers. However, that doesn't mean it's the norm.
I was recently a patient in one of their non-veteran inpatient psych wards, and I cannot recommend them. I have worked in behavioral health a long time - I'm familiar with legal requirements, insurance requirements, and therapeutic best practices. I witnessed CH routinely run afoul of all of these in my time there. After getting out, I started doing more research, and discovered the avalanche of complaints about and investigations into their parent company, UHS - so many of which validated my and fellow patients' own experiences as not just aberrations, but usual practice.
Buzzfeed did a surprisingly in-depth investigation, the articles from which can be found here: https://www.buzzfeed.com/tag/universal-health-services (I admit some skepticism for putting "Buzzfeed" and "in-depth" in the same sentence, but what they report has been verified across multiple sources).
I hope that we can expand both capacity and quality in Oregon's system - and find and support providers capable of both.