Though the death rate from COVID-19 has dropped since the pandemic hit, the hospital system wants to be prepared if there is an overflow of deaths.
Image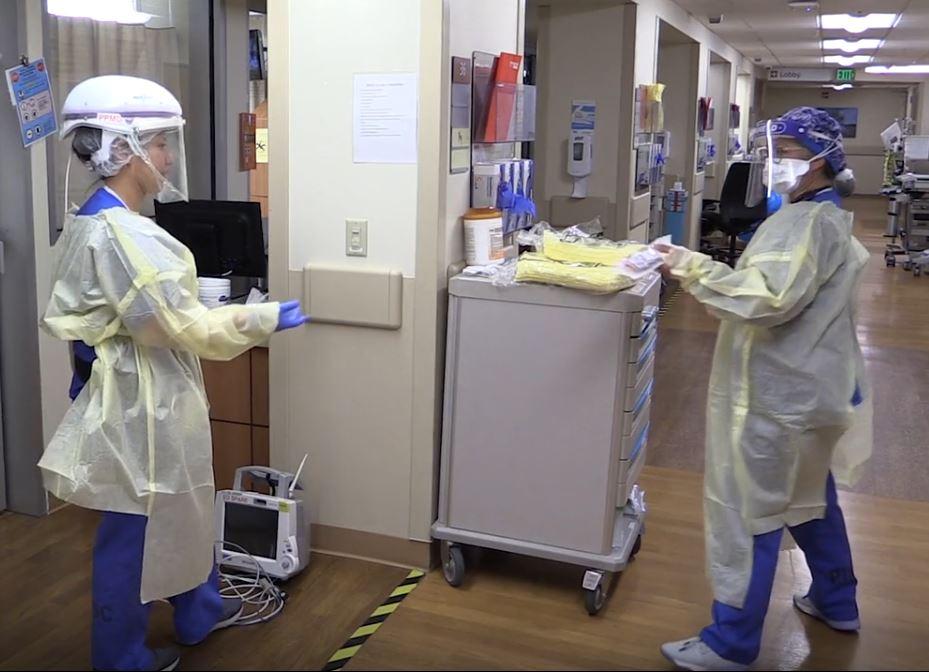 November 20, 2020
Providence is preparing for a spike in COVID-19 deaths and a potential overflow of emergency department patients. 
The hospital system said it's setting up emergency surge tents and will park morgue trailers outside its two hospitals in Portland: Providence St. Vincent Medical Center in Southwest Portland and Providence Portland Medical Center in Northeast. 
The number of deaths in Oregon has skyrocketed from 700 less than three weeks ago to 800 this week. And emergency room departments are reporting a steady stream of sick people staggering through their doors. On Friday, the Oregon Health Authority reported yet another new daily high: 1,300 patients sickened. More than 450 people with COVID-19 are now being treated in Oregon hospitals. Providence in Oregon is caring for 90 of them, with nearly 75 at its two hospitals in Portland.
"Though treatments have improved and more patients are surviving COVID-19, we need to extend our limited morgue capacity so that we can respectfully handle all patients who die," Providence said in a statement. "In alignment with our mission and values, these are sacred spaces. As such, our spiritual care team of chaplains will bless these spaces when they arrive, and will be providing support to ensure we honor and respect the care of all who have died in this difficult time." 
Like elsewhere, Providence's staff is working around the clock.
"The nurses that I work with, they're the real stars in this and the real troopers through this whole process, because on our COVID units, on the general medicine floor, they have been at this nonstop since the spring," Dr. Justin Jin, a Providence infectious disease physician, said in a video provided by the hospital system. 
Jaclyn Center, a registered nurse for Providence critical care services, said it's discouraging to see people deny the severity of the pandemic.
"It might not be serious for you personally, but it's serious for every other person in this hospital right now." Center said. "We're all working hard, the patients are sick."
And even when people no longer have the virus, they can become so-called long-haulers who battle symptoms for months.
"I've seen what it does," Center said. "They end up on (an oxygen machine), they end up on (prolonged) life support."
And they can be breathless and tired for months.
Providence owns eight hospitals in Oregon, including Providence Milwaukie Hospital in Milwaukie and Providence Willamette Falls Medical Center in Oregon City. All of them are preparing for surge capacity.
Oregon Health & Science University, which has seen nearly 6,000 COVID-19 patients since the pandemic started, is now treating 15 COVID-19 inpatients. Six more patients are at Hillsboro Medical Center and 25 are at Adventist Health Portland. Both facilities are affiliated with OHSU. A total of 22 patients have died from COVID-19 at OHSU since the pandemic hit.
OHSU doesn't expect to need extra capacity. In the spring, it converted a lecture hall for COVID-19 patients. A spokeswoman said the hospital has an emergency plan if it runs out of room in its morgue.
Legacy Health, with two hospitals in Portland, has 17 COVID-19 patients at Legacy Emanuel Medical Center in North Portland and eight at Legacy Good Samaritan Medical Center in Northeast. A spokeswoman said the hospitals do not plan to erect any surge tents -- though it does have the equipment. It has morgues at five hospitals. It has three hospitals outside Portland: Legacy Meridian Park Medical Center in Tualatin, Legacy Salmon Creek Medical Center in Vancouver and Legacy Mount Hood Medical Center in Gresham.
In its release, Providence said it plan to use the surge tents as a first stop for emergency room patients. 
"Initially, we will use these spaces to assess people as they come in and provide socially distant space while they wait to be seen," it said in its statement. 
The hospital plans to treat COVID-19 patients in medical and surgical beds -- not in intensive care units.
Providence providers -- like other health care workers in Oregon, asked the public to cooperate with the latest guidance from the state and limit contacts with people outside their household.
"We could really use everybody's help, just to make it a little bit easier on us," Center said. "Wear your mask, stay away from people if you can, and that will just give us a little bit of room to continue doing the work that we need to do."
You can reach Lynne Terry at [email protected] or on Twitter @LynnePDX.